Wheelchairs like any machine need regular maintenance and repair.
However, wheelchair users may not know where to get their chairs maintained or are unable to afford it.
The Stout Vocational Rehabilitation Institute wants to help with regular free wheelchair clinics. The most recent clinic was held June 24-25 at the Vocational Rehabilitation Building, 221 10th Ave. E.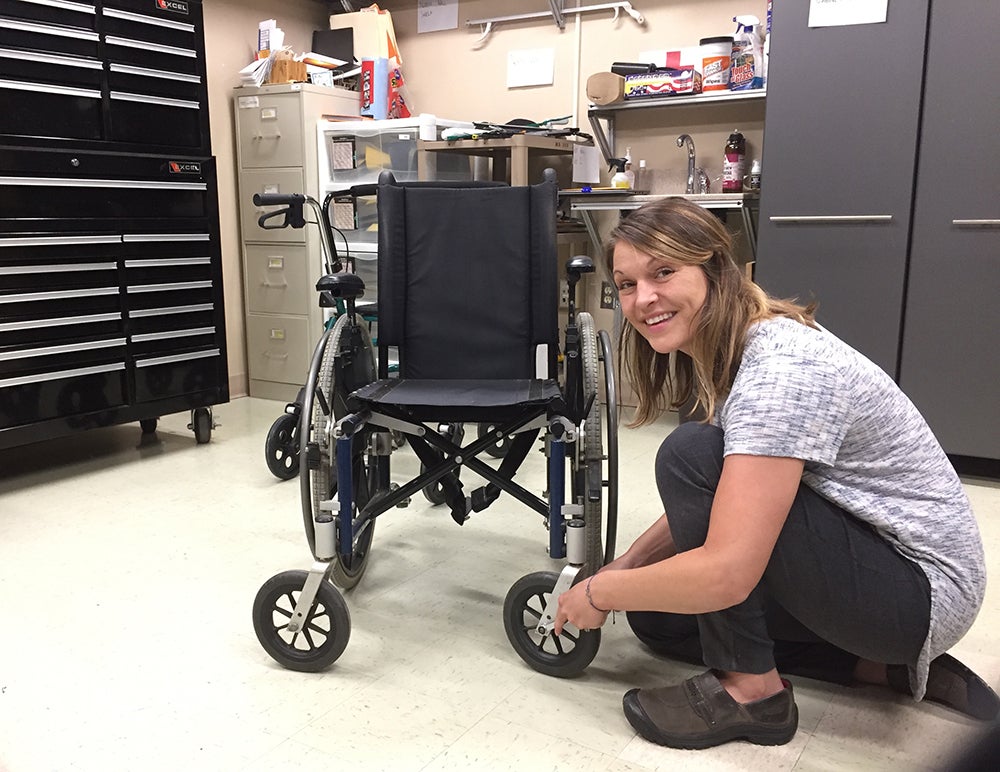 Hayley Bollinger, an assistive technologist with SVRI, looked at wheelchair seats to make sure the sling was secure and the back had proper support. She checked the brakes to make sure they locked properly. The front caster wheels were checked for cracks. The hand ram function on the larger back wheels was checked so it won't cut or scrape users' hands. She also insured the tipping-prevention devices were in good working order.
"After checking the components for safety, comfort and function, I  give it a good cleaning," Bollinger said, noting she used a natural spray cleaner on the chair and silicone spray on moving parts. On power chairs, Bollinger checked the electronics as well.
Many wheelchair users may not have access to a technician, Bollinger said. She will help those who need parts to find them. If they need help having the part installed, she will help with that as well.
"We have the equipment," she noted. "We have the means to do this. We are happy to provide the service."
The goal is to have regular free clinics. The next clinic is planned from noon to 4 p.m. on Monday, Aug. 12, and Tuesday, Aug. 13, in the Vocational Rehabilitation Building. Free parking is available in lot 28. Signs will be up to direct visitors to the clinic room.
Bollinger started at UW-Stout in April. Prior to that she worked with a mobility equipment company in Eau Claire. She also is an occupational therapy assistant.
"I have enjoyed working with people to fit them for wheelchairs and help them find the right equipment that suits their needs and solves a problem so they can get back up and moving," Bollinger said.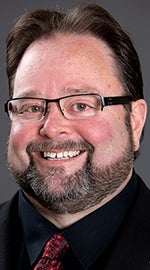 Kyle Walker, SVRI executive director, has seen someone stranded after a wire came loose on his wheelchair on a snowy road. "People don't realize how dependent they are on their technology until it doesn't work," Walker said. "We have the wheelchair clinics to help give them peace of mind to help prevent that it won't happen to them."
According to U.S. wheelchair users statistics published in 2016, 3.6 million people over the age of 15 use a wheelchair. Every year an estimated two million people in the U.S. start using a wheelchair, and that number is expected to swell with the aging baby boomer population.
SVRI is a nonprofit institute housed at UW-Stout, providing benefit information, assistive technology assessment, vocational rehabilitation and assistance in enrolling people in the state Department of Vocational Rehabilitation.
SVRI has offered wheelchair clinics in the past but not for about a year.
UW-Stout offers a Bachelor of Science degree in rehabilitation services and a master's degree in rehabilitation counseling. The bachelor's degree offers concentrations in independent living rehabilitation, psychiatric rehabilitation, rehabilitation service specialist, social work and substance abuse counseling.
UW-Stout is Wisconsin's Polytechnic University, with a focus on applied learning, collaboration with business and industry, and career outcomes.
###
Photos
As part of the free clinics, Bollinger will make sure wheelchairs are in good repair and clean them. The next clinic is planned Monday, Aug. 12, and Tuesday, Aug. 13.
Kyle Walker