In a new Graffiti and Street Art course at UW-Stout, a group of 17 students are preparing to paint a nearly 400-square-foot mural on the east loading dock of the Applied Arts Building. The mural, which will be 40 feet long and about 10 feet high, will represent the different majors in the School of Art and Design and depict art through the ages.
The community is invited to celebrate the completion of the mural at an unveiling ceremony from 1 to 2:30 p.m. on Thursday, June 2, outside of Applied Arts. A brief program will occur at 2 p.m. Light refreshments will be provided. In the event of inclement weather, the celebration will be held in Furlong Gallery in Micheels Hall.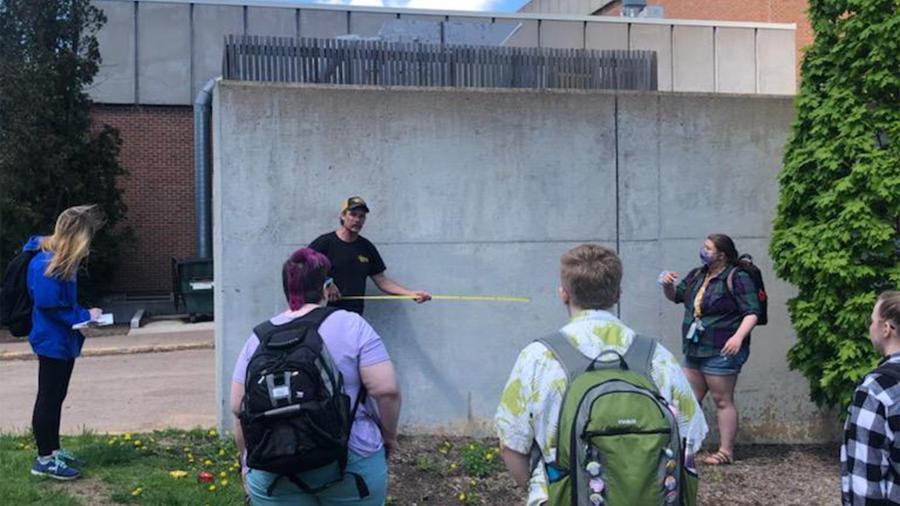 Led by Professor Cynthia Bland, art and art history department chair, and Lecturer Wade Lambrigtsen, owner and proprietor of Vintage Sign Shop in Menomonie, the three-week class began on May 16, with art history lectures and documentaries.
Students visited Lambrigtsen's shop for demonstrations, to prepare patterns, mix paint and learn the necessary steps to prepare a surface for a mural.
The loading dock wall was power-washed by the university's Facilities Management department in early May.
The class has begun to clean and prepare the wall, priming it and applying a basecoat. Painting is expected to begin on Wednesday, May 25, weather permitting, and will continue through to the unveiling.
Supporting students at the unveiling
In the general education course, students also are learning the history and differences between graffiti and street art; one being unsolicited and often considered as vandalism, the other being commissioned as public artwork or with the property owner's consent.
All students were welcome to register for the class because, as Lambrigtsen believes, "anybody can paint a mural if they have the steps."
The mural was designed during the spring semester by students Jack Gilbert, a senior in graphic design and interactive media, Minneapolis; Bree Marconnet, a senior in studio art, Waterloo; Amelia Moschkau, a sophomore in game design and development, New Auburn; and Tommy Slane, a senior in graphic design and interactive media, Minneapolis, in their Digital Illustration course led by Associate Professor Erik Evensen.
Street Art and Graffiti course students to paint mural on Applied Arts Building
Continue Reading
Marconnet is grateful that their team's design was selected for the mural and is excited to continue to be a part of the project by enrolling in the Graffiti and Street Art course.
"As soon as the call for designs was announced, I was just excited for Applied Arts' exterior to reflect its interior happenings," they said. "It is very exciting to know that my own creation will be made permanent and enjoyed at Stout and that I get to help put it up."
As an artist and future educator, Marconnet knows the value of teamwork and hopes the experience will lead to future mural projects. 
"I think this mural will be an incredibly fun addition to Stout's campus and will brighten up anyone's walk along that side of the building. Coming to the unveiling would be a wonderful support to my design team and everyone who is helping paint the mural," they said.
SOAD has six Bachelor of Fine Arts programs, two Bachelor of Science programs and a Master of Fine Arts in design.