Calling all game enthusiasts. The biannual Stout Game Expo, SGX, featuring the latest in student creations will be held from 6 to 9 p.m. Wednesday, Dec. 11, at University of Wisconsin-Stout.
The free event, in the Great Hall and ballrooms of the Memorial Student Center, will feature 39 new games that can be played by the public. They have been created by more than 200 students.
Students will be on hand to talk about and explain how to play the 18 board games, 13 games for desktop and laptop computers, and eight games for mobile devices.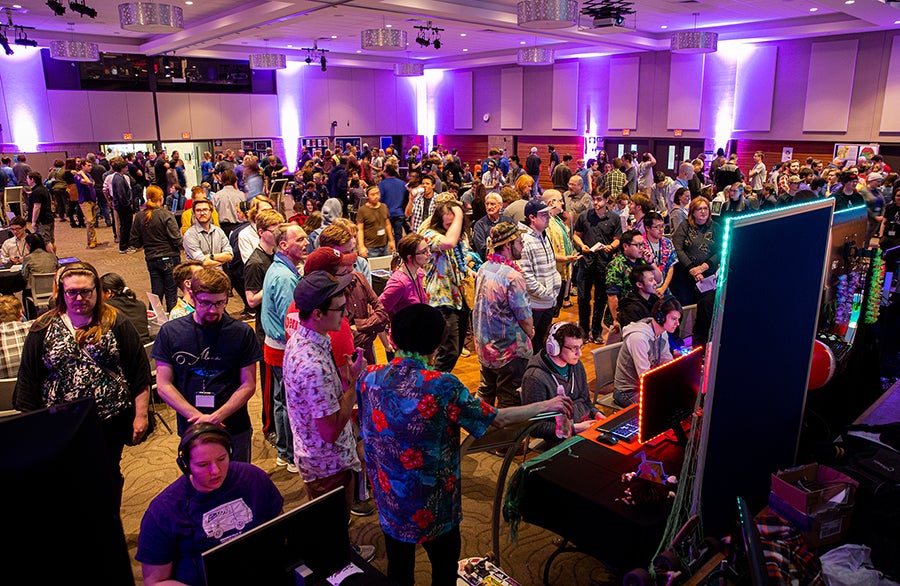 Two of them are:
Leon Nights, a fast-paced, arcade-style game in which a single player takes on waves of enemies to free the neon city from the control of a villain, D.J. Gravez, and his minions. Set in a cyberpunk, neo-Tokyo world, players have magical powers that sync with a soundtrack. Students have collaborated with the Berklee College of Music.

Shepherd's Sky, in which the player is a farmer who tries to get back a flock of sheep that mysteriously disappeared overnight. The farmer has only a balloon, leaf blower and fishing pole as tools and must navigate difficult terrain and occasional wind currents while floating in the sky, hoping to snag the sheep with the fishing pole.
UW-Stout offers two undergraduate game design programs, a Bachelor of Fine Arts and a Bachelor of Science, the latter in computer science with a concentration in game design. Students learn how to create video, mobile, board and other types of games.
UW-Stout recently renovated and upgraded its game design labs in Micheels Hall and opened a new Motion Capture Studio, an industry-standard part of the animation process.
Earlier this year, Princeton Review ranked UW-Stout No. 21 in the nation for its undergraduate program and No. 16 in the nation for its Master of Fine Arts in design program, which offers a game design focus.
For both programs, UW-Stout was no. 1 in Wisconsin and the only school to make the top 25 in Wisconsin, Minnesota and Iowa. Princeton Review, an educational services company, surveyed 150 schools that offer game design.
It's the seventh straight year UW-Stout has been in the top 25 in the nation.
###
Photo
The Stout Game Expo in May drew a large crowd.