University of Wisconsin-Stout's Master of Science in rehabilitation counseling has been ranked fourth best in the nation, according to the U.S. News & World Report.
The rehabilitation counseling program, ranked with 96 other institutions, was part of a five-way tie for fourth place in the U.S. News & World Report's 2020 edition of Best Graduate Schools. The previous ranking in 2015 placed the program at 10th in the nation.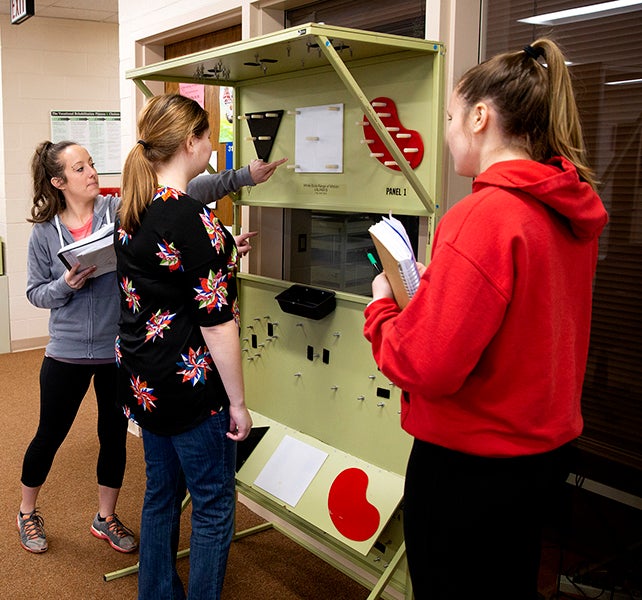 "This is just another validation of the high quality and dedicated faculty and staff that teach and serve in the M.S. rehabilitation counseling program and throughout the department of rehabilitation and counseling," said Daniel Kelsey, associate professor and program director.
"Additionally, this ranking underscores the high-quality graduates of our program and the work that they do across the nation. Our graduates are known because they know how to work in rehabilitation when they leave here. To be fourth in the nation reflects highly on the program," he said.
The five-way tie with UW-Stout included Penn State University in University Park, Pa., University of Arizona, Tucson, Ariz., San Diego State University, San Diego, Calif., and Virginia Commonwealth University, Richmond, Va.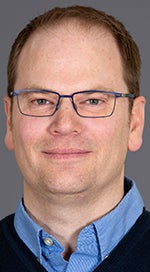 "Those are some well-known universities that share the same ranking with Stout's rehabilitation counseling program," Kelsey said. "That says a lot about the quality and prestige of our program and of UW-Stout."
Kelsey said he was very pleased to see UW-Stout had jumped up six places since 2015 in the peer-assessment survey. A total of 96 schools were ranked as part of the survey.
Rehabilitation counselors assist individuals with disabilities, including physical, mental, intellectual cognitive and/or sensory disabilities, to enhance their independence, integration and quality of life across personal, social and occupational settings. Each school's score reflects its average rating on a scale from 1, which is marginal, to 5, outstanding, based on a survey of academics at peer institutions.
Bob Salt, dean of the College of Education, Hospitality, Health and Human Sciences, was not surprised by the high ranking. "We have had world-class rehabilitation programs at Stout, both grad and undergrad, for decades," Salt said. "This is a great recognition of all the wonderful work done by our faculty and staff in rehabilitation counseling and the excellent students in the program."
Tanner Linsmeyer, who graduated from the program in 2017 and in 2014 with an undergraduate degree in vocational rehabilitation, wasn't surprised how well UW-Stout ranked.
"I would say it is a mixture of impressive but not surprising," Linsmeyer said, a vocational rehabilitation counselor for the state Division of Vocational Rehabilitation in Eau Claire. "UW-Stout is that diamond in the rough that flies under the radar and is a high-quality campus that doesn't always get the attention it probably deserves."
Linsmeyer said UW-Stout's advantage is its classes. "A lot of the classes I took had a real-world approach that made the classes applicable to what I am doing now. A lot of the classes were geared to help me prepare for what life was like outside of the classroom."
At the DVR, Linsmeyer covers Chippewa County. He helps Chippewa Falls Senior High School students with disabilities find jobs and consider career options.
Many of his instructors had worked in related fields and helped bring that experience back to students, Linsmeyer said. "I can't speak highly enough of the professors and the programs," he added. "It prepared me really well for what I am doing at DVR from both my undergraduate and graduate programs."
The Master of Science degree in rehabilitation counseling prepares students to work with people with all types of disabilities including physical, mental, intellectual, cognitive and/or sensory. The program is accredited by the Council for Accreditation of Counseling and Related Educational Programs. Students can take 0n-campus and online classes or a combination to meet their needs.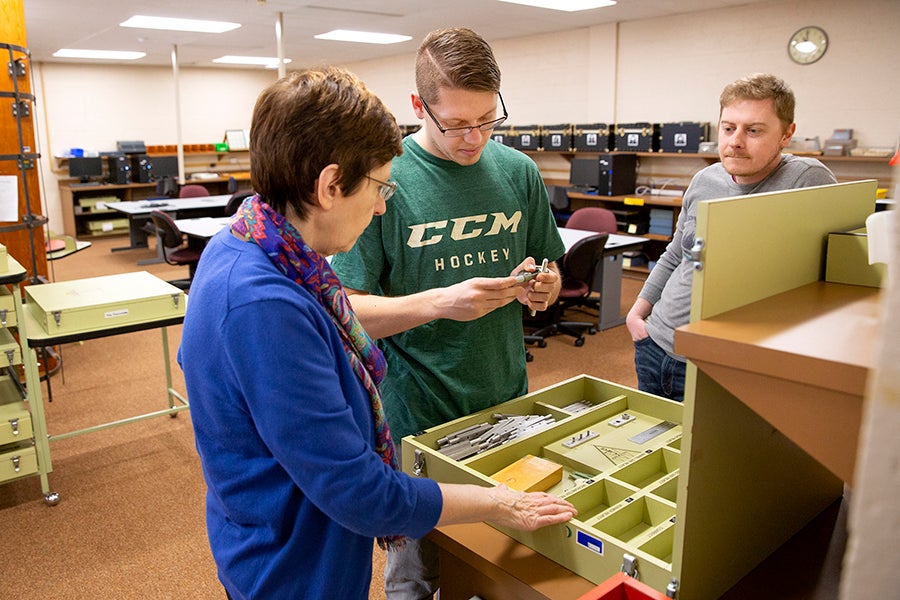 Michigan State University, of East Lansing, Mich., and UW-Madison tied for No. 1 in the rankings. George Washington University in Washington, D.C., was No. 3. To see the list go here.
In addition to the master's degree, UW-Stout offers a Bachelor of Science in criminal justice and rehabilitation, which allows students to become certified Wisconsin police officers while earning their degree, and a Bachelor of Science in rehabilitation services.
UW-Stout is also home to the Stout Vocational Rehabilitation Institute that advances programs and practices in disability and employment through partnerships in research, training, education and services. It is a resource for state-of-the-art knowledge, innovation and services to impact people's health, employment and economic stability.
UW-Stout is Wisconsin's Polytechnic University, with a focus on applied learning, collaboration with business and industry, and career outcomes.
###
Photos
UW-Stout graduate students Taylor Michels, at left, Nicole Rued and Samantha Albert in a rehabilitation and counseling assessment and planning class taught by Professor Debra Homa engage in simulations of work-related tasks.
Daniel Kelsey
Bob Salt
Professor Debra Homa, with graduate students Travis Mashuga and Josh Nielsen discuss a project as part of the rehabilitation and counseling assessment and planning class.