Zaid Abdullah traveled a long road, marked by numerous signs pointing to a far-off destination, to reach the campus of UW-Stout.
A native of Baghdad, Iraq, he has faint childhood memories of bombs falling during the Persian Gulf War of 1990-91. As a teenager and young adult, he lived through another U.S. incursion, Operation Iraqi Freedom from 2003 to 2011. He learned English early on, qualified to work as an interpreter at age 17 for the U.S. Army and then construction contractor rebuilding barracks at the U.S. Embassy.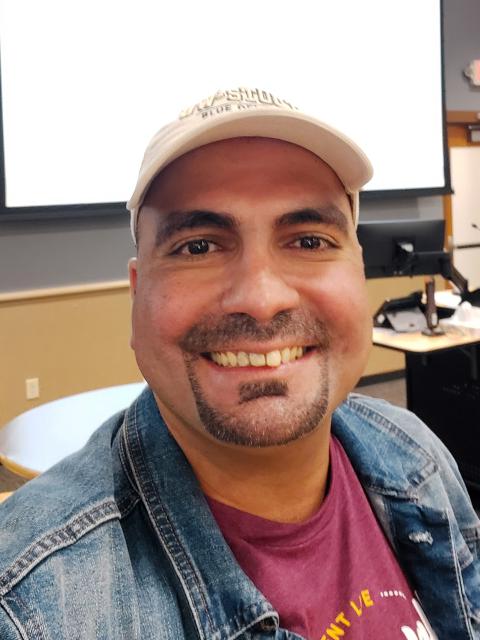 As Abdullah interacted with American soldiers, including a captain who suggested he consider emigrating, and took to heart his father's recommendation to explore Western cultures, he began to dream of a future in the U.S.
He waited four years for a visa, but today he is living that dream. He is pursuing a master's degree in operations and supply management, one of 24 Graduate Studies programs at UW-Stout.
"I like the environment. I see the smiles everywhere. I have found open arms at Stout — they have embraced me," he said.
After taking a summer course in Quality Management, Abdullah has two courses this fall, Project Management and Introduction to Financial Accounting. He is taking the courses virtually; the program is available online and on campus..
He also continues to work full time at the Fleet Farm Distribution center in Chippewa Falls, where he has worked since arriving in the U.S. in 2019. He chose that city initially to be near a friend from Iraq.
 
"I love Wisconsin. I'm so excited to be here," said Abdullah, 34, citing the friendliness, stability, diversity and safety in the region. "I feel stressed with no family around me and few friends, but at the same time I see the light at the end of the tunnel," he said.
He's adjusted to the cultural changes, moving from a city of nearly eight million to one of 15,000, and major climate differences. He's even taken a Lambeau Field tour and become a Green Bay Packers fan.
Excited for his future
Abdullah's goal is to graduate in 2½ years, find work at major companies or institutions then "lead, assist and train new staff to be a leaders in their companies and communities."
The M.S. operations and supply management program prepares graduates for advanced leadership roles in global business and technical environments.
"Zaid is a student I believe in. The first time we had a virtual meeting, I knew he was an intrinsically motivated person," said Assistant Professor Eli Aba, program director. "He comes to our meetings prepared and is able to let me know of any school issues and if I am able to advise. He is a model student, and he is doing very well in the program."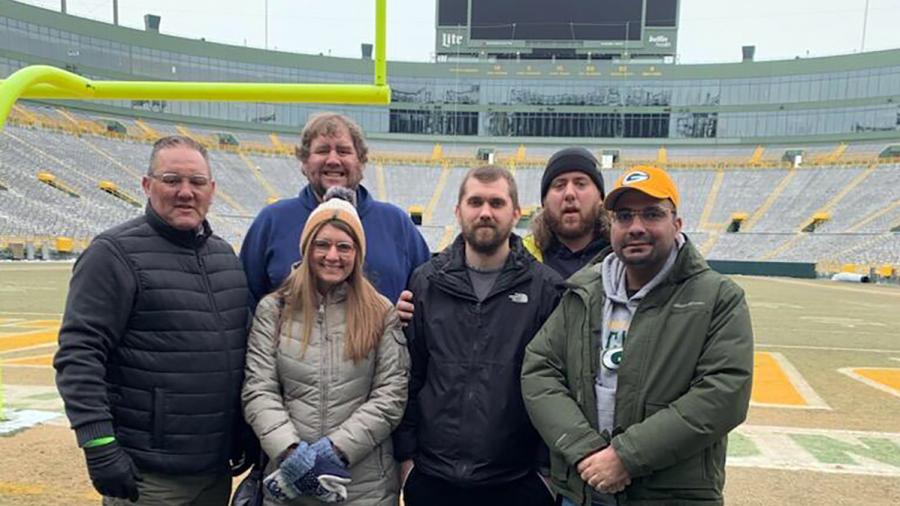 Abdullah, who speaks four languages, earned a bachelor's degree in mechanical engineering from the University of Technology in Baghdad. That led to his job with a contractor at the U.S. Army for two years.
"God has sent good people my way," he said. "I've learned how to think critically, communicate effectively and be a role model. Feed yourself with positivity."
Abdullah is one of five children. His dad is an electrical engineer who finished his B.S. degree in Iraq and received additional telecommunications training in the U.S. His mother is a teacher. His siblings' careers include computer science and math teacher, government health care associate, optometrist/owner of an optometry business and chemistry teacher.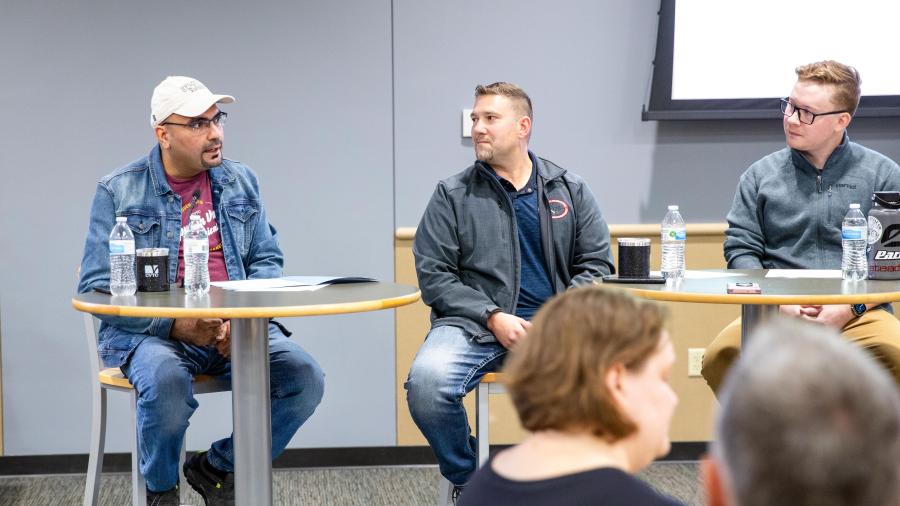 He has received financial support from UW-Stout with two scholarships totaling $3,000, one of them for transfer students. Prior to enrolling at UW-Stout, he added an associate degree in automation engineering technology from Chippewa Valley Technical College. A standout student, he served as the commencement speaker.
"Zaid is an extremely motivated student and consistently puts forth great effort," said Mark Husby, program director and instructor for CVTC's automation engineering technology program. "He shows great enthusiasm for learning and embraces challenges with a positive attitude. He displays commitment to both personal and academic growth."
At a recent event highlighting the transfer opportunities available between CVTC and UW-Stout and their collaborative relationship, Abdullah was one of three student participants invited to highlight his experiences on a featured panel.
"The transition to the master's program was really great after the graduate admissions office at UW-Stout reviewed and honored my home country diploma," he said.
Abdullah plans to travel to Iraq in January to marry then return to Chippewa Falls with his wife and continue his studies at UW-Stout.
He hopes to become a U.S. citizen and remain in the U.S. "I have loyalty to Iraq and here, but I feel like this is my home country."
###