In his first address to faculty and staff since taking over as chancellor at UW-Stout, Patrick Guilfoile talked about the year ahead on Monday, Aug. 26. His remarks, to a large turnout of the university's more than 1,300 employees in the Great Hall of the Memorial Student Center, covered his goals for the year, challenges and positive developments. 
His goals are threefold. One of them is to reach the $40 million aspirational goal for the Pathways Forward comprehensive campaign by Stout University Foundation. The campaign already has surpassed its initial goal of $35 million. He noted that $55,000 from the Chancellor's Fund for Teaching Excellence and Student Success will be used this year for professional development for faculty and staff. 
His other goals are to work toward financial stability and reinforce the positive culture at UW-Stout. "My goal is to make sure the next chancellor is set up to be successful," he said.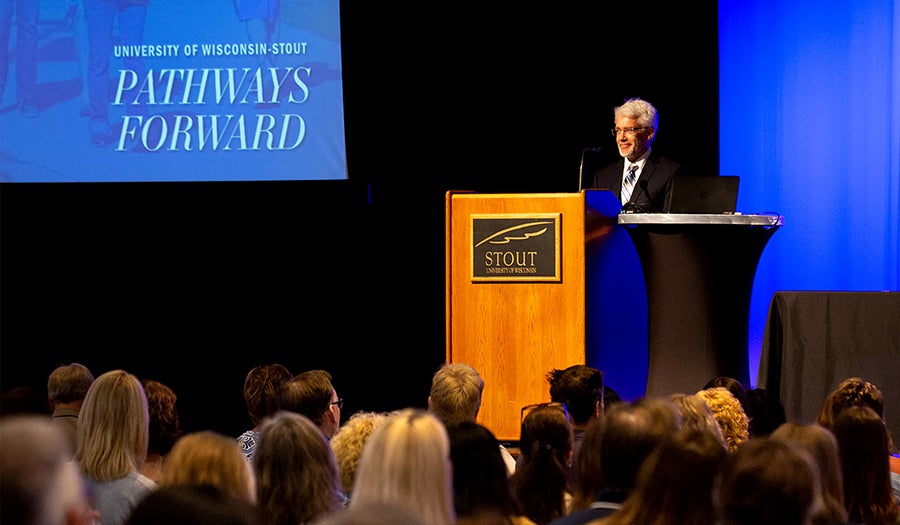 Guilfoile became interim chancellor when Chancellor Emeritus Bob Meyer retired Aug. 18. The UW System search is underway, with the university's eighth leader expected to be named in early December.  Guilfoile has indicated he will not be a candidate for the permanent position, and he plans to retire in the summer of 2020 after five years as provost and now interim chancellor. 
Guifoile spent a large part of his address discussing the unique, student-centered culture at UW-Stout and the way it uses its designation as Wisconsin Polytechnic University, including the career focused curriculum, its applied learning philosophy and its dedication to collaboration. UW-Stout graduates have a 98.7 percent employment rate within six months of leaving campus. 
"The focus we have on students is something really exceptional and something I want to help reinforce. I want to make sure we're a welcoming campus and that students are having a transformational experience that will make a difference in their lives," he said.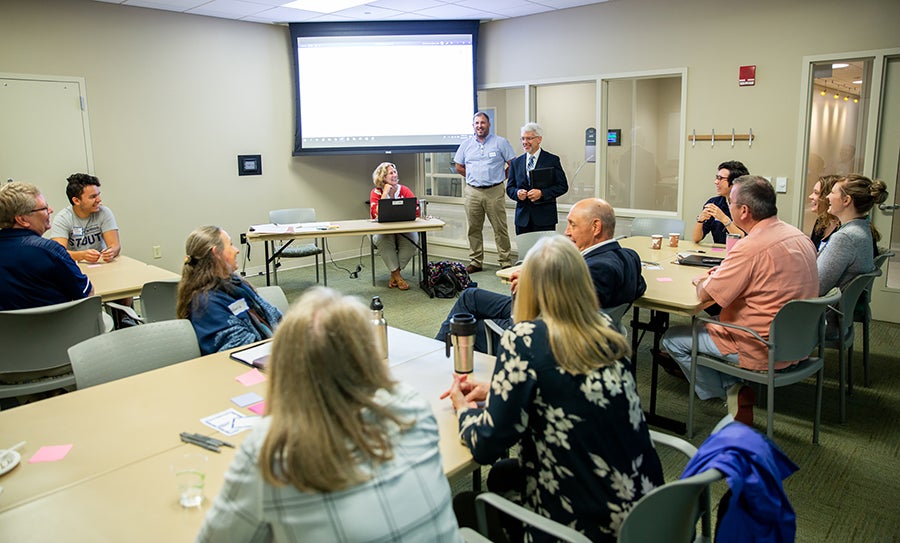 Guilfoile wore clown shoes on stage, drawing a laugh when he held them up. He said he has big shoes to fill in replacing Meyer, who was chancellor for five years and had more than 32 years of experience at UW-Stout. Guilfoile was named interim chancellor in March by UW System President Ray Cross. 
First-year student enrollment is up 13% and student retention appears to be up, Guilfoile said, citing the Blue Devil Guarantee scholarship as a contributing factor.  "We're seeing a big uptick in admissions. That's a very positive trend," he said. 
Overall enrollment appears to be a challenge, he added, in part because of large graduating classes and a smaller pool of students coming out of high school. "It will take a continuing effort by everyone to stabilize our enrollment," he said. 
Another positive development, Guilfoile said, is the Legislature approved two 2 percent pay increases for eligible employees that will take effect Jan. 1, 2020, and Jan. 1, 2021.
After Guilfoile's remarks, small group Engagement Sessions were held campuswide for faculty and staff. The annual sessions allow employees to provide input on key issues identified through the university's inclusive planning process.
###
Photos
UW-Stout Chancellor Patrick Guilfoile addresses faculty and staff Monday, Aug. 26, during Opening Day activities. Guilfoile took over as interim chancellor Aug. 19.
Guilfoile speaks at one of the campuswide Engagement Sessions after his address.