The 34th annual Hmong Educational Conference to be held Saturday, Feb. 29, at University of Wisconsin-Stout will focus on family dynamics.
The theme of the conference, from 10 a.m. to 3 p.m. in the Memorial Student Center Great Hall, is Family Dynamics – Strengthening Family Ties.
The student-run conference will focus on dissecting the estranged relationship between Hmong American parents and children and how to strengthen the bond to reform a nurturing family.
The event, hosted and organized by the Hmong Stout Student Organization, is free, although attendees were asked to register by Feb. 23. If interested in attending, contact event chair Chantanee Moua for more information.
The keynote speaker is Pa Der Vang, an associate professor of social work at St. Catherine University in St. Paul, who teaches courses in group work, social work with small systems, communication and interviewing, human behavior in the social environment and dismantling racism. She co-founded the Critical Hmong Studies Program at St. Catherine University, the Minnesota Hmong Social Worker's Coalition and Hnub Tshiab Hmong Women Achieving Together. She is the author of "Staring Down the Tiger: Stories of Hmong American Women."
Brian V. Xiong is a workshop presenter. Xiong's research covers a wide variety of multidisciplinary studies including multicultural, race and ethnic studies; gender and sexuality studies; critical Hmong studies; diversity and inclusion in higher education; counseling and student personnel; college student affairs and multicultural affairs. His research is especially focused on LGBTQ Hmong and Hmong American experiences. He is the author of "A Clan of Our Own: Coming Out Experiences of Gay Hmong Men."
"We encourage people of all kinds to join our conference every year to learn more and raise awareness about the Hmong community," said Moua, a sophomore from Eau Claire majoring in apparel design and development.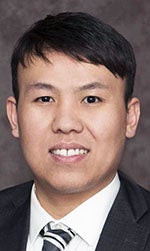 HSSO, which has about 70 student members, is expecting up to 100 people for the conference.
The Stout Student Association is co-sponsoring the event.
In addition to Moua, event coordinators include advisers Kalvin Yang and Jamie Vue, HSSO President Rylley Lee of St. Paul, Vice President Kalia Xiong of Milwaukee, Treasurer Eli Lee of Schofield, Social Coordinator Houa Yang of Schofield and HIstorian Keng Vang of La Crosse.
###
Photos
HSSO logo
Pa Der Vang
Brian Xiong