A team of University of Wisconsin-Stout graphic communications students recently took first place at an international printing competition, bringing home the overall championship award for excellence in flexography and graphic communications in education.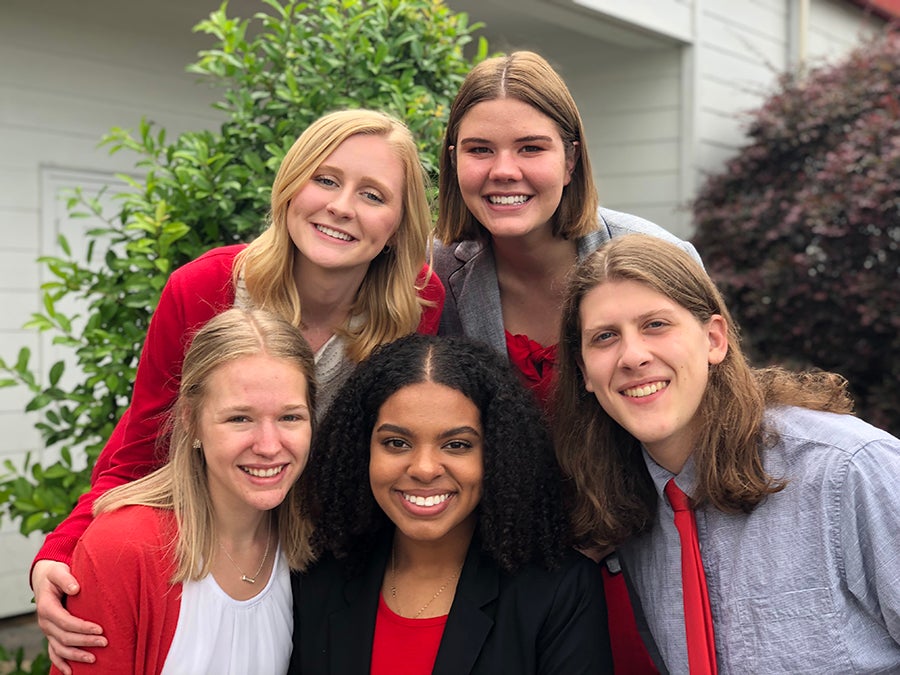 The Phoenix Challenge Competition concluded when seven schools traveled to Baton Rouge, La., where they presented their small business client projects, which required flexographic printed materials to support a set of objectives. The win was announced at the Flexographic Technical Association Forum in New Orleans.
Flexographic printing is a high-tech specialty printing process widely used by the label and food-packaging industries to print food-product labels, bags, pouches, boxes and wraps that consumers see on nearly every grocery store shelf.
The UW-Stout project helped brand and promote Elk Lake Bakery in rural Elk Mound.
"We tried to tell a story with our presentation of our process working with Elk Lake Bakery," said Mia Bartel, a senior from Sheboygan Falls, the team's lead designer. "We were able to partner with Taylor Communications in Mankato, Minn., so we were able to print three products."
The products included a label to fit on clear clamshell packaging Elk Lake Bakery owner Kim Friberg uses for her baked goods, a printed pastry bag and a custard cookie pouch.
Bartel said when UW-Stout was announced as the overall winner she was shocked but pleased. "It was exciting and gratifying they liked our products and project so much," she said. "We talked to one of the judges afterward, and he said it was a unanimous decision that we would win the overall award."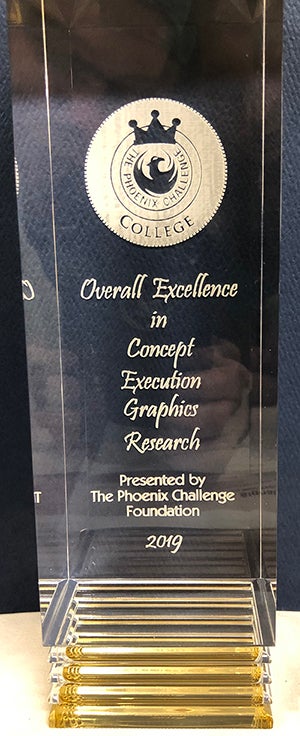 UW-Stout faced stiff competition. Other schools participating included Clemson University, Clemson, S.C.; California Polytechnic State University, San Luis Obispo, Calif.; Ryerson University, Toronto, Canada; Illinois State University, Normal, Ill.; Central Piedmont Community College, Charlotte, N.C.; and Appalachian State University, Boone, N.C.
Chad Nyseth, instructional specialist with the communication technologies department and an adviser to the team with Shaun Dudek, graphic communications program director, traveled to the competition with the students.
"Our team's students knew their topic inside and out," Nyseth said. "Their presentation to the judges reflected a year's worth of extensive and meticulous research, tremendous creativity and hands-on prototyping that surpassed the work done by competing veteran teams — teams hailing mostly from schools much larger than UW-Stout, whose team members prepare for the competition as part of a dedicated college course. UW-Stout's team operates entirely as an extracurricular entity; the team does everything outside of, and in addition to, their classes.
"UW-Stout's team knocked it out of the park with their presentation," he added. "They worked extremely hard for nearly a year, and every aspect of the project reflected the team's perseverance, knowledge, creativity and dedication."
After the team was named the 2019 champion, members were invited to present a keynote session at the Infoflex 2019 worldwide flexographic printing convention in New Orleans.
"Our students' presentation showcased firsthand the high quality of UW-Stout's GCOM program to more than 500 leaders in the flexographic printing industry from around the world," he added. "I'm not sure that many of those industry leaders had been aware of UW-Stout's GCOM program. That presentation really put UW-Stout on their radar, showed them what we're doing here and the capabilities of our high-caliber GCOM students."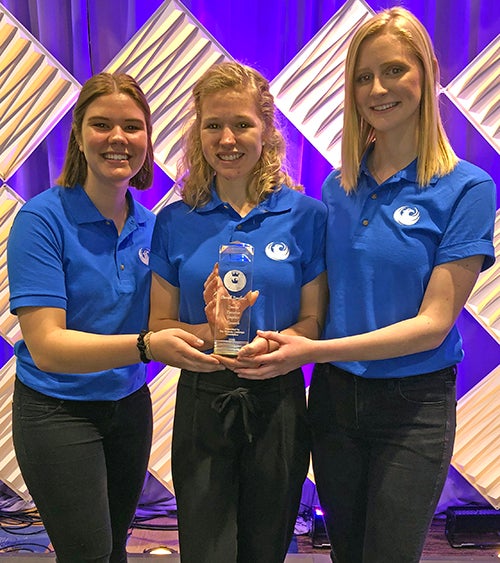 Bridget Johnson, of Mukwonago, the team's project manager and a senior graphic communications major, said winning the award was an amazing accomplishment for the team.
"The team worked really well together," Johnson said. "Kim Friberg was very enthusiastic about our project and allowed us to have creative control of the project."
Friberg, who sells baked goods at the Menomonie and Altoona farmers markets, was pleased the students won the challenge. "The students were wonderful to work with," she said. "They are so energetic and have such great ideas."
Members of the UW-Stout team also included junior Abbegail Lee, Eau Claire; and first-year students Janessa Gould, Altoona; and Matthew Smith, Bristol.
Last year UW-Stout brought home the research award at the competition held in St. Louis, Mo. Lee, Bartel and Johnson were part of that team.
The intent of the Phoenix Challenge Competition is to engage college-level students in creatively solving a current, industry-relevant flexographic problem that would allow them to practice and showcase their research, problem-solving, design, and print production skills. The goal is to inspire academic programs to grow and improve their level of instruction and research. 
Bartel enjoys graphic communications because it mixes her interest in technology and art. Johnson likes it because she enjoys both the science and art of the major.
"I would encourage anyone who is excited about hands-on learning and likes a blend of technology, creativity and business to check out the graphic communications program," Johnson said.
This summer Bartel and Johnson are taking part in an internship program at Specialty Print Communications in Niles, Ill., where they are learning about direct mailing and marketing.
UW-Stout is Wisconsin's Polytechnic University, with a focus on applied learning, collaboration with business and industry, and career outcomes.
###
Photos
Members of the winning team included in front, left to right, Abbegail Lee, Janessa Gould, Matthew Smith and in back, left to right, Bridget Johnson and Mia Bartel
Team members left to right, Mia Bartel, Abbegail Lee and Bridget Johnson after receiving the Phoenix Challenge Competition award in New Orleans.
The Phoenix Challenge Competition recognizes excellence in flexography and graphic communications in education.