As your first-year student starts their transition to our campus, we welcome you as well and encourage you to participate in the First-Year Registration and Orientation experience with them.
FYRO is a required full day program for incoming first-year students. Your student was sent an email in mid-March to select a date in June to attend FYRO. During FYRO, your student will work with their first-year adviser, select their fall 2022 classes, pick up their UW-Stout laptop and BlueCard, and begin their orientation to UW-Stout.
FYRO will be comprised of two parts: 
Advising and Registration
The morning of FYRO will be reserved for students to work with their adviser to learn more about how to be successful at UW-Stout and select their fall 2022 classes.
Orientation
The afternoon of FYRO will be reserved for students to learn more about UW-Stout and how to make campus their home away from home. Orientation is comprised of three parts: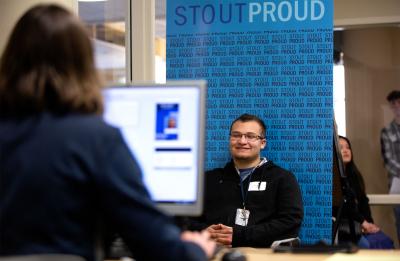 FYRO: First-year students begin their orientation as part of their FYRO day on campus.

Online: Students will be required to complete their Orientation Online Canvas course as well as three other required online programs prior to the start of the fall semester.

Week One: Students will be split into groups during their first few days on campus and will attend information sessions and activities to get to know campus.
Guests are invited to attend FYRO with their student. We will have separate programming and presentations for our guests which are meant to help guests in getting to know our campus. Presentations will be provided by the Dean of Students, Financial Aid, Student Business Services, Dining, Housing, Involvement Center, Health, Safety and more.
For more information, please visit our FYRO page.