As your student starts their transition to our campus, we wanted to welcome you as well! We encourage you and your student to participate in the First-Year Registration and Orientation experience together.
We'll be kicking off our FYRO experience for all incoming first-year students in May. Have your student check their UW-Stout email. They will receive a "Get Ready Email" in mid-May with more details.
Your student's experience will have three components:
Advising and Registration: They'll work virtually with their first-year advisor and register for fall classes. 

Orientation:

We'll help your student build connections and show them campus resources, and they'll pick up their UW-Stout laptop. 

Week One:

At the start of the fall semester, we'll welcome your student to campus in person with events and activities to help them connect to UW-Stout.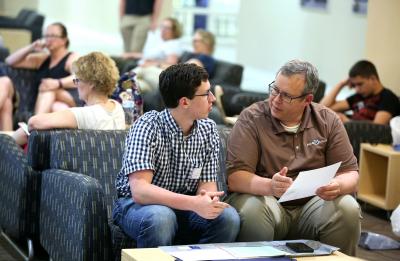 Advising and Registration
Your student's registration date is the date they signed up for. If your student has not yet signed up for registration, please encourage them to check their UW-Stout email account for the invitation. 
We offer a registration week, full of activities for you and your student to get more familiar with UW-Stout. 
Here's what you need to know:
Your student's registration week will run Monday to Friday, surrounding their registration date.

They will be added to a Canvas course as their registration week nears. This course will be their hub to understand First-Year Registration and complete class registration.

Your student will receive a message in their UW-Stout email from their first-year advisor with recommended classes.

If you have questions throughout the week, your student may schedule an appointment with their advisor.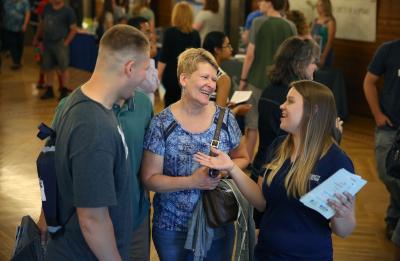 Join Our FYRO Activities 
During your student's registration week, we encourage you to participate in the activities together! Links to the meetings will be provided on the Canvas course and in the invitation from their advisor.
Monday, 5:30 to 6:15 p.m., Meet Your Advisor: 

This is a mandatory

kickoff to your student's registration week. They will meet their first-year advisor and learn more about the registration process.

Monday, 6:30 to 7 p.m., Family and Support Persons Meeting

:

This meeting will help family/support persons better understand the class registration process and various resources at UW-Stout. Students may choose to attend this session, but the focus audience is family and support persons.

Tuesday or Thursday, 5:30 to 7 p.m.: Registration Help Sessions

:

While most students complete class registration within the Canvas course, this live session can assist them as well and will give them time to ask questions.
The FYRO website is updated regularly with the most current information. Please refer back to it in the coming months.