As summer winds down, the energy on University of Wisconsin-Stout's campus grows. Students have returned to begin their 2021-22 academic year.
On Sept. 5, a sea of blue set the Don and Nona Williams Stadium aglow at Blue Rah – kicking off Week One Orientation with one of the most popular student events to welcome new first-year students.
Co-hosted by Orientation and New Student Programs and Blue Devil Productions, Blue Rah included minute-to-win-it games, music, dancing, trivia and prizes. Blue Devil Athletics held games and blasted off the T-shirt cannon.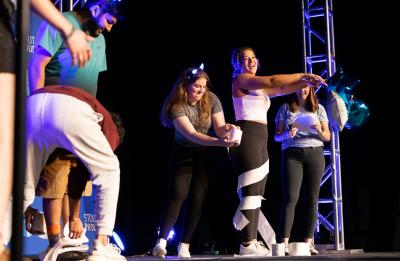 Guest speakers, including Chancellor Katherine Frank, revved up the students' Stout pride, and cameos included characters from "The Office" – Stanley, played by Leslie David Baker, and Meredith, played by Kate Flannery.
Magician Derek Hughes capped off the evening. Hughes, a finalist on season 10 of "America's Got Talent," has performed on MTV, VH1, Comedy Central, "Penn & Teller: Fool Us" and the "Ellen DeGeneres Show." The free performance at the stadium was part of BDP's comedy series.
"The goal of Blue Rah is first and foremost to welcome students," Britta Miller, New Student Orientation and commencement coordinator with the Dean of Students Office. "During WOO, we also share expectations and begin social norming some of our shared expectations across campus."
Miller coordinates WOO and Blue Rah along with a team of university leaders: Adam Ludwig, Emily Ascher, Heidi Germain, Trevor Ludwig and Carter Rush. The Memorial Student Center's Event Technology Crew sponsored the event, helping with set up, technology and lighting at the stadium.
Rush serves as the liaison between the Blue Rah planning committee and Blue Devil Productions. This is the second year he's served on the committee. "We're a pretty close-knit group. Even though we are members of different departments, it feels like we work together every day," he said. "We get to show students what makes UW-Stout special and get them excited for the new year."
Students leading students
Four Blue Devils served as WOO Leaders, helping to coordinate the event: Mallory Brask, M.S. food and nutritional sciences, Mount Prospect, Ill.; Meg Erickson, special education, Lonsdale, Minn.; Montana Fane, business administration, Omro; and Isabel Roberts, graph design and interactive media, Shakopee, Minn.
Erickson, the orientation and registration assistant, served as a WOO leader for four years. "I wanted to get involved as a WOO leader because I love Stout," they said. "I wanted to show incoming first-year students why I love Stout so much."
As a graduate student who also attended UW-Stout as an undergraduate, Brask enjoys supporting first-year students, educating them about university resources and helping them feel confident for the first day of classes. 
"Blue Rah is an important event because it shows first-year students the welcoming atmosphere of Stout, how excited we are to have them and it is the first event to make them Stout Proud," Brask said.
"I like that it's an opportunity for them to get thrown into all the craziness and fun that comes along with being a Blue Devil," Erickson added.
Getting back to an in-person experience
Blue Rah is one of UW-Stout's longest-running orientation events – it was first held in 2007 on south campus as a way to introduce Blue Devils to the university's sports teams. "Athletics is still involved with Blue Rah, but it has become a much larger event than just showcasing our athletics," Miller said.
The event was held outdoors until 2014, when it was moved inside because of rain. "We found it was a lot less labor intensive and a better option to hold Blue Rah inside," Miller added. "But the event has a different type of atmosphere in the stadium than it does indoors. And this year, with COVID, we decided our safest option is outside."
Last year, Blue Rah was held virtually because of COVID-19. The WOO and BDP teams were excited to hold the event in person again.
"Although everyone did a great job executing the event virtually last year, Blue Rah is definitely an event that is intended to be in person," Brask said. "I can't explain the energy rush that students get at the event. The excitement and energy from everyone are truly electrifying."
"You can only get so loud and excited by watching it all through a computer screen, so in person is way more enjoyable," Erickson said. "I'm so glad that our stellar staff found a way for us to do it while remaining safe."