First-Year Registration and Orientation is the last big step for incoming students and families before joining the University of Wisconsin-Stout Blue Devil community.
With classes starting on Wednesday, Sept. 8, 1,110 students from the incoming class participated in FYRO events.
In previous years, FYRO consisted of a one-day visit during a three-week period in June. Students enrolled in courses and met their first-year advisers, followed by Week One Orientation in early September.
This year, FYRO has three parts: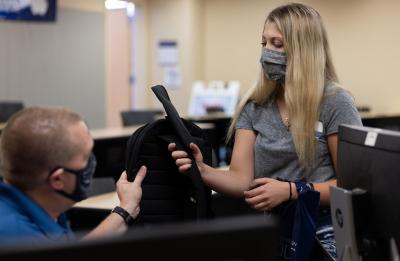 Advising and registration, held virtually in May and June. Students worked with their first-year advisers to register for fall classes.

Orientation, offered in person and virtually, July 26 to Aug. 13. Students learned about campus life and available resources, toured their program areas and labs, and received their UW-Stout student ID and laptop.

Week One Orientation begins Sunday, Sept. 5. Students will be welcomed to campus with events and activities to connect with their peers and to campus.
"The advantage of breaking it up like this is we are able to spend more time with the students at their orientation day – getting them engaged with one another, making friends and giving them more presentations about campus life than we have in the past," said Orientation Coordinator Britta Miller, with the Dean of Students office.
Miller, who's worked at UW-Stout for 13 years, encourages students and families to get to know Menomonie, explore the community and ask questions. Her advice to new students is to "tell people you are new. Folks love to talk about this great small town, so you will hear about all it has to offer if you are open to it."
First-year first impressions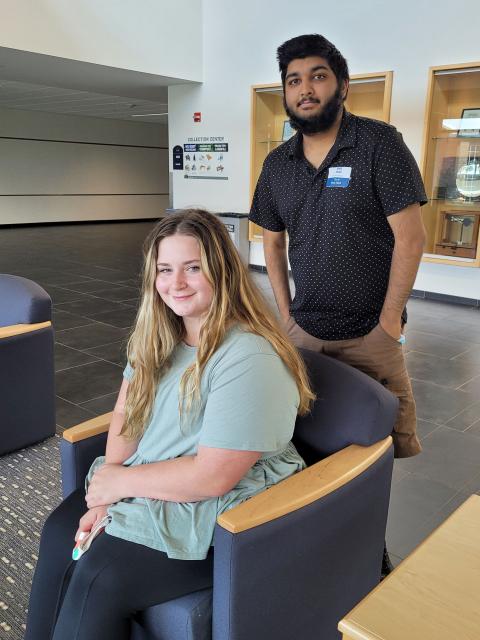 First-year students Gracelyn Powell and Siddharth Tiwari wanted to attend a Wisconsin university, but it needed to be somewhere not too close to their hometowns. UW-Stout was their number one choice.
Tiwari, of New Berlin, is double majoring in business administration and computer science. He has friends enrolled in his majors too. "I chose to double major because I would like to start my own business. I want to be an entrepreneur," he said. "And I had a lot of supplementary computer science classes in high school."
Powell toured campus last spring. She liked the layout of campus, the amenities in the residence halls and having her own UW-Stout laptop. Powell, of South Haven, Minn., is majoring in psychology. "I want to help people, but I'm not interested in entering medicine," she said. "I want to affect people in a positive way."
Powell and Tiwari found the variety of connection and mentor opportunities to be the most helpful elements of FYRO.
"We can set up a meeting with our advisers anytime, and there's the Mentorlink to connect with juniors and seniors," Powell said.
"The online resources, like the Facebook group UW-Stout Class of 2025, are really helpful," Tiwari said. "We can find and message roommates and friends. It's all about incoming students helping each other out, so we all know what to expect."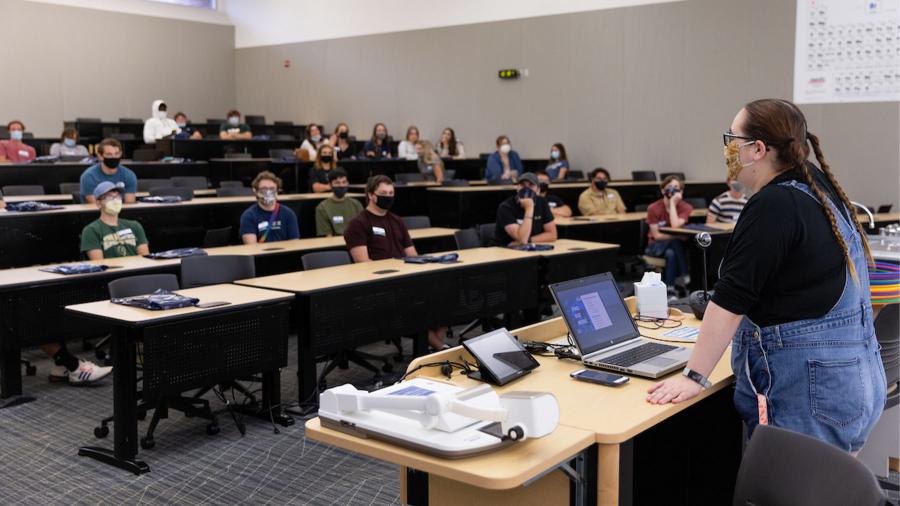 As they adapt to college life, their goals are similar: make a schedule, create a budget and make connections. They hope to keep up their grades, take time to get to know the campus and take care of themselves.
"I really like the mascot," Tiwari added. "The Blue Devil is much more interesting than my high school's mascot, the Vikings."
Powell agreed. Her high school mascot was the Cubs. She and Tiwari are looking forward to starting their college careers as Blue Devils.
UW-Stout's three colleges, the College of Arts, Communication, Humanities and Social Sciences; the College of Education, Hospitality, Health and Human Sciences; and the College of Science, Technology, Engineering, Mathematics and Management, as well as the Graduate School, offer a diverse range of on-campus and online programs with hands-on experiences so students are prepared to enter their careers upon graduation.