The enrollment of University of Wisconsin-Stout first-year students has rebounded this fall to 1,479, an increase of 6.7 percent over last year's class, which was 1,386. 
"I want to thank everyone who has worked so hard on our enrollment goals," said interim Chancellor Patrick Guilfoile. "This obviously includes our Enrollment and Retention Services office, our marketing department and student services but extends to our excellent faculty and staff all across campus. Each employee has an important role to play in recruiting and retaining students." 
This was the first class of first-year students to receive guaranteed scholarships under the Blue Devil Guarantee program. Under that program, first-year students who meet certain eligibility requirements receive guaranteed annual scholarships of $1,000, $2,000 or $3,000, which are renewable for their sophomore year. The program is being offered again for fall 2020 and beyond.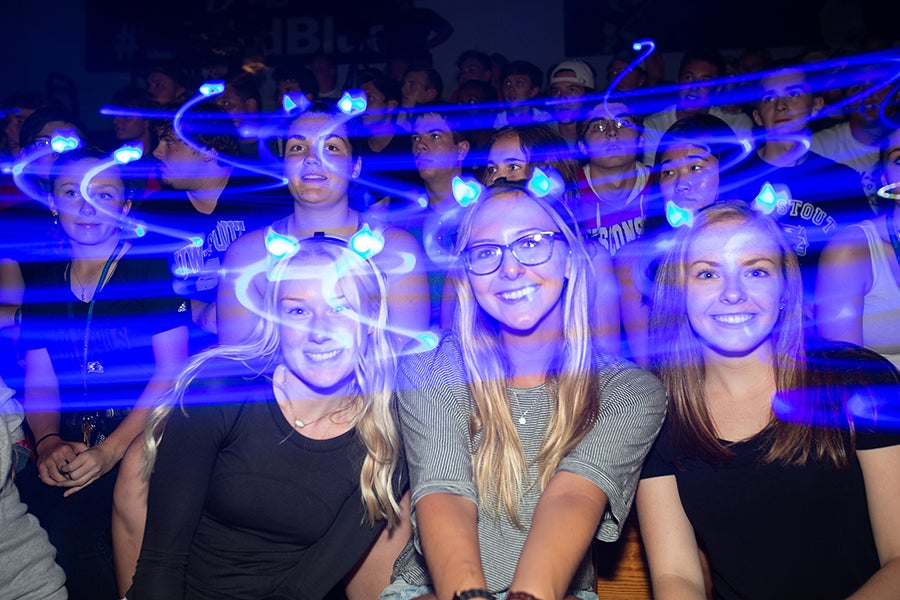 New this year is a week when all application fees for new students will be waived. From Oct. 20-26, the university's regular college application fee of $50 for new first-year, transfer and international students will not be assessed. 
Finally, this is the second year of an innovative program in the UW System that links upper level student peer mentors with first-year students. MentorLink started at UW-Stout as a pilot program last year and has been expanded to all first-year students. 
Guilfoile said he believes that these and other efforts, all part of a continued emphasis on recruitment and retention, will stabilize UW-Stout's total enrollment over the long term. 
"We are committed to doing everything possible to ensure that our employers have the educated employees they need to continue to grow the economy of western Wisconsin," Guilfoile said. "Our students have a 98.7% employment rate, which is an indication of how valued they are in the workplace." 
Overall enrollment was down from 2018, 8,346 compared to 8,709 at this time last year, which ended up officially at 8,748. 
Officials said a number of factors have contributed to the downturn, including previous smaller first-year classes, recent large graduating classes, fewer transfer students and more competition in the distance education field. For example, UW-Stout had 1,593 graduates in 2016-17 and 1,559 in 2017-18. 
The numbers reported Wednesday, Sept. 18, are preliminary until they are made official by UW System later this year; typically, the numbers increase slightly for various reasons. They include head-count enrollments for undergraduate and graduate students, including those enrolled in distance education programs.
###
Photo
Blue Devil horns of light swirl around students Sept. 1 during the Blue Rah celebration at UW-Stout to welcome first-year students to campus. Enrollment for first-year students is up 6.7% this fall.