At this point, your first-year student has likely enrolled in courses. They are on to Step 2 in our new student experience, Orientation.
New modules opened in the FYRO online canvas course last week. Please make sure your student is checking the course for these new modules as they are related to Financial Aid and Paying for School, Housing, Dining and Campus Card.
We are holding in-person Orientation later this month and in early August: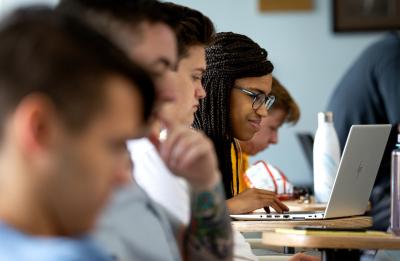 July 26 (full), 27, 28. 29 and 30

August 2, 3, 4, 5 and 6

August 9, 10, 11, 12 and 13
Your student received or will receive an invitation to sign up for an in-person Orientation date once they enroll in courses. Students should check their UW-Stout email account every day as important information is coming from campus. Dates are filling quickly, so reserve your date right away.
Orientation is a full-day event running from 8:00 a.m. to 3:00 p.m., with optional tours immediately following. Students are welcome to bring one guest. Only one guest is allowed due to social distancing and capacity.
Students and guests will be split for the entire day, and there will be separate programming for both audiences. This includes sessions from Housing, Dining, Involvement, Financial Aid, Student Business Services and much more! Students will also receive their Stout BlueCard and UW-Stout laptop on this day.
Not able to attend in person? That's OK. We will be recording all the sessions the first few days of Orientation and will post them online once they are available. An email will be sent to students who do not select a date with access to these recordings. Students who do not attend in-person will receive their ID and laptop as part of Week One Orientation at the start of the fall semester.
The FYRO website is updated regularly with the most current information.