This fall, Career Services is implementing two improvements to help carry out our mission to connect students with employers.
Handshake
Handshake is an online college-to-career platform that gives your student access to more than 500,000 employers, thousands of positions and hundreds of networking and educational events. It is used by more than 1,200 universities across the country.
Handshake also provides a blog with topics from remote hiring to life after graduation, interviewing and offer negotiations, best places to start work and top companies to follow.
Fall 2021 Career Conference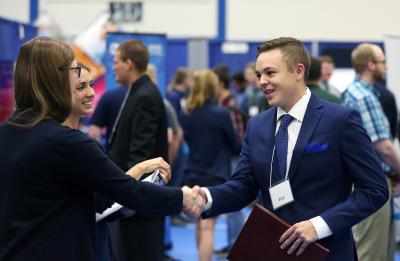 Handshake will also be the place to learn about our Fall 2021 Career Conference, which will take place Monday, Sept. 27 to Friday, Oct. 1.
The Career Conference will have seven industry-specific, in-person events, as well as a virtual career fair. Providing in-person and virtual opportunities allows students and employers the most flexibility for fall recruiting.
We are excited for the Career Conference and to introduce your student to Handshake. It allows us to educate, inform and provide a central place for students and employers to connect.