Name: Andrew Klavekoske
Hometown: Manitowoc
Major: Applied science, physics concentration
Involvement: Track, cross country, Campuswide Energy Committee, Stout Student Association Sustainability Council, Memorial Student Center building manager.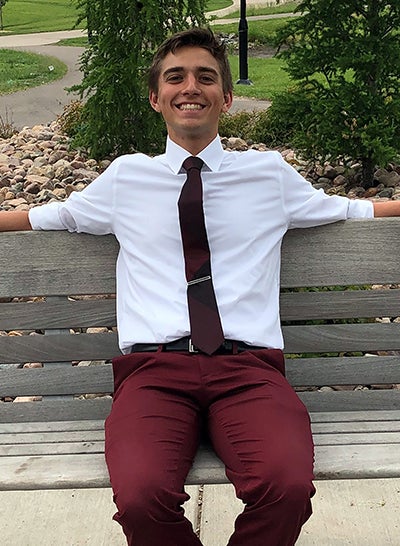 What is the biggest challenge you've faced in earning your degree? It was navigating the new concentration of applied physics. Being the first one to go through it meant that some of the classes had never been taught before, making any advice from upperclassmen nonexistent. When in classes that had been offered before, I was always the lone physics guy in a sea of engineers. However challenging, I'm glad I had the opportunity to pave the way for future applied physics graduates.
What will you appreciate most about your UW-Stout experience? One of the most pivotal moments I had at Stout was a simple email response from our sustainability manager, Sarah Rykal. After emailing about potential solar projects and asking about general information, she graciously allowed me to sit in on what was an all faculty/staff committee (Campuswide Energy) at the time. Being on that committee and making connections with everyone on it led to my eventual internship and a plethora of relevant information about running a sustainable campus. Many of the experiences I had on that committee led me to pursue further education in the building systems space. I am forever grateful for the opportunities and experiences that committee brought me. 
What's next in your life? I will be attending the University of Colorado-Boulder to study building systems engineering in the fall.
###