A University of Wisconsin-Stout alumnus is brewing up English-style beer at the historic Menomonie Omaha railroad depot.
Ryan Verdon, owner and brew master of Brewery Nonic, 621 4th St. W., is a UW-Stout food systems and technology 2013 graduate with a concentration in food science. He credits his education with helping him to brew better beer.
"How to start with raw ingredients and knowing what you want to wind up with, knowing how to problem-solve, using what you learned and your experience to get what you want out of it — that is pretty much what beer is about," said Verdon, who has worked in the beer industry since 2009.
"It is food science and food processing. What I already knew about beer and home-brewing and being in the industry and going to school for food science helped me understand why a step matters and why another step matters and what is going on at a microbiological and chemical scale," he said.
Verdon started home-brewing beer about 14 years ago at age 21. In 2009 he started working at Rush River Brewing Co. in River Falls and then started brewing beer at the Raw Deal in downtown Menomonie in 2014 until August.
Brewery Nonic, named for a type of English pint glass, specializes in English beer, which tends to have lower alcohol content. "I love English beer," Ryan Verdon said. "I feel like it is underrepresented in American craft brewing. English beer goes hand-in-hand with British understatement. There are a lot of subtle flavors that just aren't like anything else … but it's not overwhelming."
The brewery has eight taps and two cask engines that serve beer that is carbonated lower than normal and served at a higher temperature of 50  to 55 degrees. The temperature allows all of the flavor nuances to emerge. "It gives the beer a much creamier feel," Ryan Verdon said, noting the beer is not flat because of the cask engines.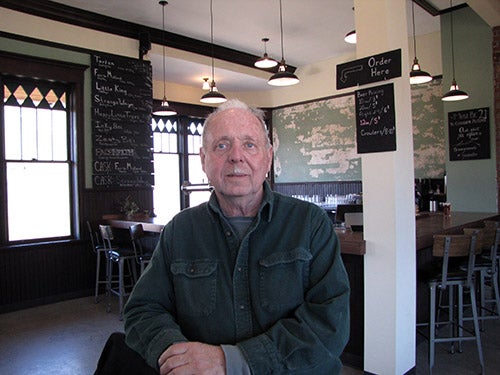 Verdon, his father, Ron Verdon, a retired UW-Stout professor and department chair of art and design, and Levi Gilbert, assistant brewer, spent 14 months restoring the depot for Brewery Nonic, which opened Saturday, Jan. 5.
The depot was built in 1906 and named the Chicago, St. Paul, Minneapolis and Omaha Railway station. It was designed by nationally-recognized architect Horace P. Padley and served passengers, including many UW-Stout faculty and students, until 1961, according to the Wisconsin Historical Society. The building is listed on the both the Wisconsin and National Register of Historic Places.
The depot, several blocks west of downtown, was perfect for the brewery, Ryan Verdon said. "I love that we are brewing in a building that is part of Menomonie's past," he said. "It's great because when you're here you have the feeling you're away from the city and in your own space."
Ron Verdon enjoyed working on the restoration and remodel. "This has been a great project and journey," he said. "There has been a lot of back and forth because when you are doing a project like this you never know what you are going to run into."
They used restorer to clean the wainscoting on the walls and reused some of the wainscoting removed from the brewing area to decorate the bar area, Ron Verdon said. They also re-created lathe plaster to replicate other plaster in the building.
The wrought iron railing outside the depot had to be cut to fit into the space but is from the same time period as the depot. "We spent a lot of time searching around for period-appropriate doors and railings," he said.
Door handles to the main entrance came from Illinois. Using tools they created from oak, they stripped paint off the handles to restore them.
Ron Verdon said his years working at UW-Stout and the creative process there helped them find appropriate solutions to problems they encountered during the restorations.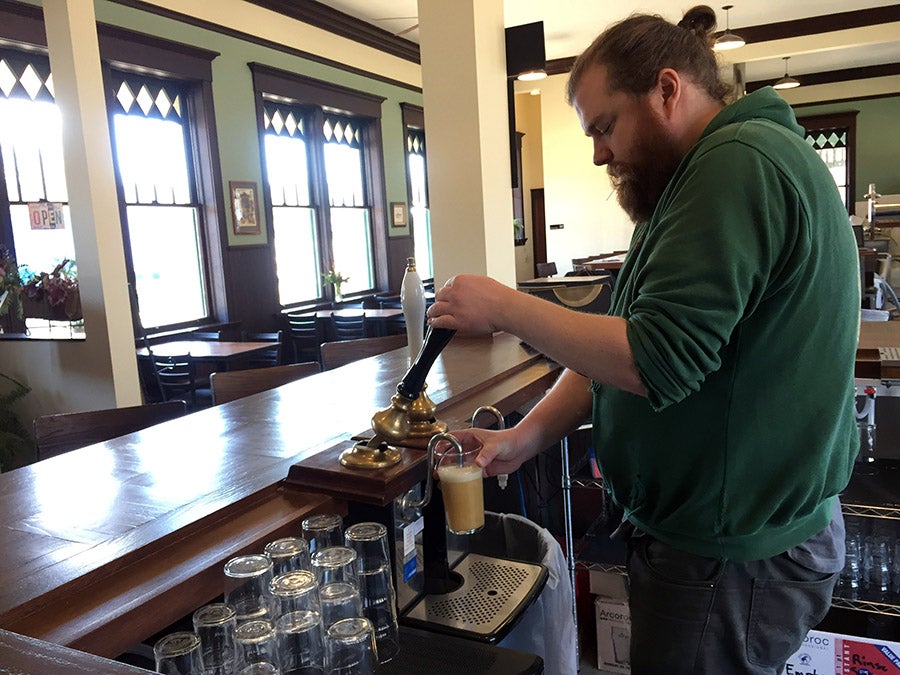 Maureen Mitton, UW-Stout professor of interior design and a Certified Interior Designer, said she first saw the depot building years ago and was struck by how many of the original design elements remained and were in generally good condition, including the windows, woodwork and wainscoting.
She helped with the interior design. "The building is an absolute gem," Mitton said. "It is beautiful and has an interesting history, and it's fantastic that the building has been brought back to life for use and we can all enjoy it. So many of these wonderful, historic buildings have been demolished, and when that happens it takes a little bit of life out of a town —so this project was about doing the opposite, bringing a great building back to life."
The new design takes advantage of the windows on three sides, Mitton said. "The number, size and location of windows make it so that there is a great deal of light throughout the day," Mitton said.
"The actual details of the woodwork of the windows, doors and frames are beautiful and unusual to find in this day and age. Also, Ron and Ryan found some wonderful architectural salvage elements such as the entry doors, interior doors and wood for the bar, bar top and tables, and these are in keeping with the period of the building and very beautifully finished. Even the entry door handles are antique pieces the Verdons found and installed, and all those details add up to a beautiful building renovation. I also think the brewing equipment looks great in the space."

Ron Verdon said the community brewery and taproom provide a variety of beers. "I think one of Ryan's tremendous talents is taking ingredients and balancing them with hops and malt and yeast to generate some fine beers. The UW-Stout food systems and technology degree whole experience gave him a tremendous understanding of food science chemistry, which is so appropriate for brewing.
"It's just really gratifying to see this great piece of architecture available to people again," Ron Verdon added. "We're so delighted to have people back in the Omaha depot passenger train station. This is a place where lives changed."
Brewery Nonic is open Wednesdays and Thursdays from 4 to 10 p.m. and Fridays through Sundays from 11 a.m. to 10 p.m.
Two other breweries in Menomonie have UW-Stout ties. Tim Schletty owns Lucette Brewing and Lucette Woodfire Eatery, 910 Hudson Road. He is a St. Paul native who graduated from UW-Stout in 2003 with a packaging degree. Chelsea Rickert, a UW-Stout alumna, is a partner with Zymurgy Brewing Co., 624 Main St. E., which opened Dec. 1.
Having three brew pubs in Menomonie will draw more people to the area, Ryan Verdon said.
UW-Stout is Wisconsin's Polytechnic University, with a focus on applied learning, collaboration with business and industry, and career outcomes.
###
Photos
Ron Verdon, a retired UW-Stout professor and department chair of art and design, helped his son, Ryan, renovate the historic railroad depot into the brewery.
Brewery Nonic serves English-style brews, which tend to have lower alcohol contents. Ryan Verdon said he enjoys the flavors of the beers.
The Verdons took 14 months renovating the old railroad depot near downtown Menomonie and are pleased to reopen it to the community.