April is a month of special events at UW-Stout. Tickets are on sale for three of them, with sales for another popular event beginning soon.
The Qubies Gayla, to recognize those who have helped advance the LGBTQIA+ community at UW-Stout, will be held at 6:30 p.m. Thursday,  April 4, at the Mabel Tainter Center for the Arts.

Hip-hop artist Mike Stud will perform at 8 p.m. Tuesday, April 16, in the Great Hall of the Memorial Student Center. The concert is sponsored by Blue Devil Productions, a student-run activities and entertainment organization.

The University Theatre play "Picasso at the Lapin Agile," written by comedian Steve Martin, will be performed Friday-Saturday, April 5-6, and Thursday through Saturday, April 11-13, at Harvey Hall Theatre.

Tickets go on sale Monday, April 1, for Fashion Without Fabric, which will be held at 8 p.m. Saturday, April 13, in the Great Hall. The show features designs by School of Art and Design students that can be made of anything but fabric. The show historically has sold out.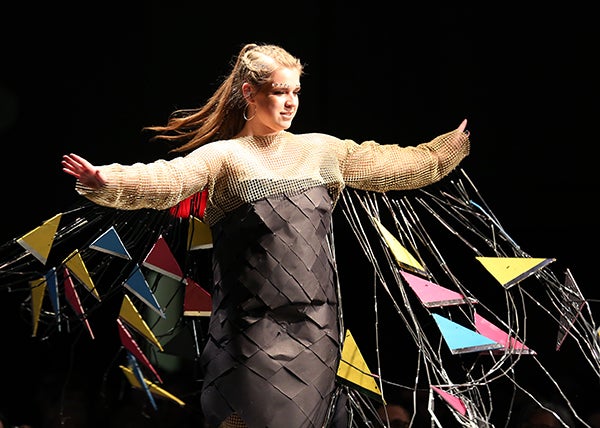 Tickets can be purchased through University Ticketing, or contact the Service Desk at the student center, 715-232-1122.
Fashion Without Fabric and the final three performances of the play are part of Family Weekend at UW-Stout.
Other special events in April include the:
Symphonic Singers and Choir concert, Sing Out and Dance, at 4 p.m. Saturday, April 27, at Our Savior's Lutheran Church, 910 9th St. E.
Blue Devil Jazz Orchestra concert, Jazz from Harvey, at 7 p.m. Saturday, April 27, in Harvey Hall Theatre
Symphonic Band spring concert at 2 p.m. Sunday, April 28, in the Great Hall.
Tickets are $5 for each music event and can be purchased at the door or at the student center.
In early May, the WEAR Fashion Show featuring designs by apparel design and development students is from 7 to 9 p.m. Friday, May 3, along with noon and 4 p.m. shows Sunday, May 5.
Commencement is Saturday, May 4.
###
Photo
Jackie Miller models "Goddess From the Future" at the 2018 Fashion Without Fabric show at UW-Stout. Miller designed the entry with fellow art student Tianna Rassmussen.