A University of Wisconsin-Stout apparel design and development class project may help women in Haiti find employment.
Program director Sheri Marnell's Garment Engineering and Production class designed a wrap skirt pattern and made 50 skirts as demo models for Hope Sewn, a Minnesota-based mission that helps Haitian women sew items to support themselves and their families.
The adjustable skirts can be made from pieces of fabric and sold to tourists.
"It fits a wide range of people," said junior apparel design and development major Cambria Sinclair, who served as plant manager for the class project. "It adjusts at the waist, hip and lower hip with D rings. The skirts can be used for a wide range of things, including an apron. It could be a memento from a trip or a gift to bring back to others."
The skirt was designed and developed in three sizes, small, medium and large, and would fit sizes from 2 to 16. Each skirt size is adjustable by three more sizes.
Hope Sewn was started in 2018 by Ron and Chris Lyrek of Loretto, Minn., who provided nine sewing machines, supplies and a generator and shipped them to Haiti to start Hope Sewn. Their daughter, Rachel, graduated May 4 from UW-Stout with a packaging degree.
Hope Sewn connected with Marnell's class when Ron Lyrek toured campus with his daughter and learned about the apparel design and development program. "We are trying to do everything we can to help these women out in Haiti," he said. "We are really excited for this opportunity and project."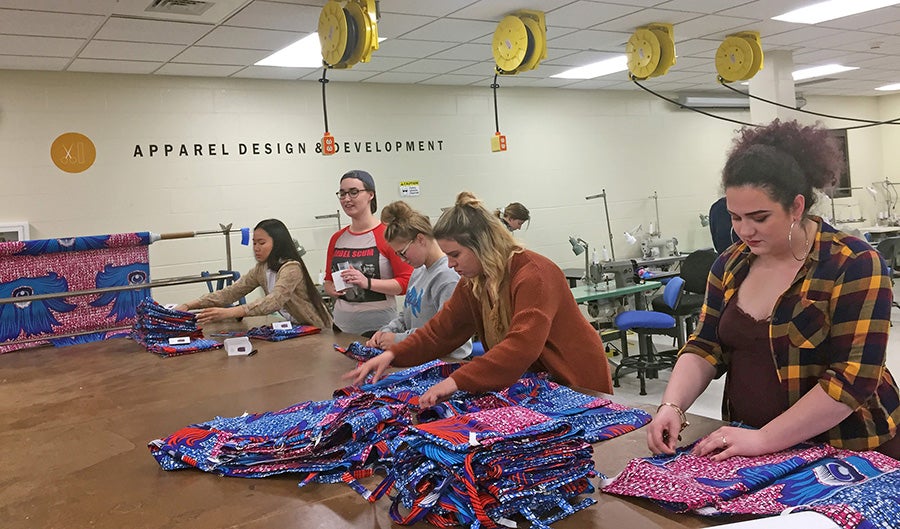 Ten women are sewing for Hope Sewn in Minoterie, Haiti, where there is 80 percent unemployment. "They are excited to know there are students in America who want to help them out," Ron Lyrek said.
The skirts would cost about $7 to make and retail for about $30. "If they can sell one skirt, that would give them two or three days of salary," he said.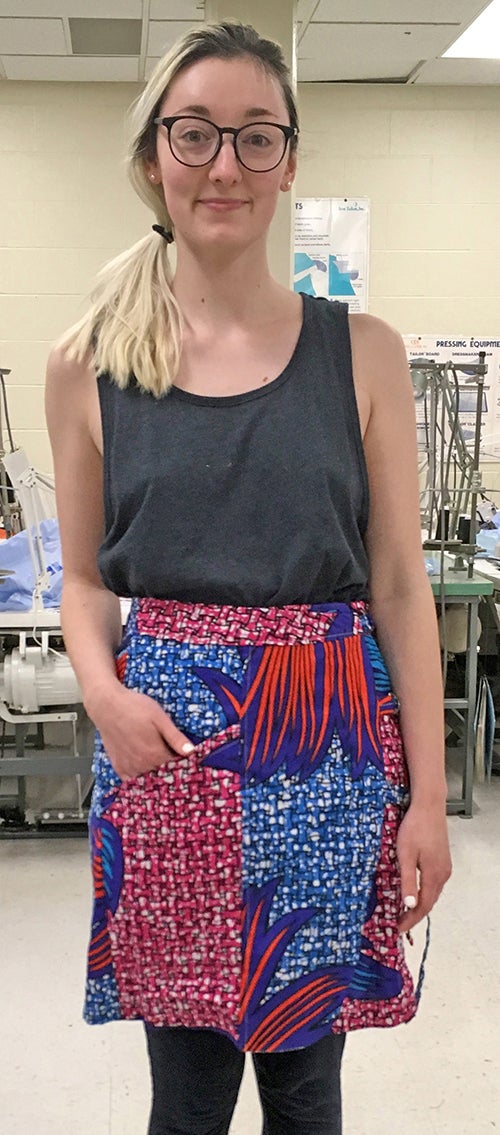 Other products made by the women include dog leashes, feather pillows and cosmetic bags. They make about $4 per day on items they sew, but Ron Lyrek hopes to get that up to $6 per day.
Students voted to do the project. "We wanted to give back," Sinclair said. "We wanted our project to help people in need."
Marnell encourages students to pick a project they want to work on. "I personally believe in giving back and collaborations," Marnell said. "This shows our students know the importance of helping others."  
The class collaborated with the Stout Typographical Society, which did the screen printing of the graphic design.
Students created an assembly line. Each skirt has 20 pieces of fabric. Their final exam was to create a production manual.
Sinclair, of De Pere, said she "really liked finding out how manufacturing worked. It really taught me how to problem-solve."
Some students may travel to Haiti this summer to show their project to the Hope Sewn participants and possibly visit a large garment manufacturer, Ron Lyrek said.
Kennedy Gorres, a junior apparel design and development student from Maple Lake, Minn., enjoyed the project because it allowed her to work with a company. She served as the floor manager overseeing production. "It's good we are able to give back," Gorres said. "I think the company is awesome for what they are doing for Haitian women."
UW-Stout is Wisconsin's Polytechnic University, with a focus on applied learning, collaboration with business and industry, and career outcomes.
###
Photos
UW-Stout students Amanda Nelson, at left, and Tyler Wagner use an electrical band saw to cut pieces for the skirts.
Nkao Hle Hang, at left, Sofia Van Tassel, Kennedy Gorres, Courtney Schmitt and Brynnda Foster fold skirts made by apparel design and development students as demo models for Hope Sewn.
Cambria Sinclair models a finished adjustable skirt.