The Construction Safety & Risk Control minor complements the B.S. Construction Management program by providing the applicable students with insight on the means to anticipate, identify, analyze and control risks that are common to the construction industry. 
Assess internal and external risk control / safety performance measurements for effectiveness and continuous process improvement efforts.   
Integrate risk analysis and hazard identification strategies into an organization's routine management practices.
Apply appropriate administrative and engineering techniques toward the development of construction site risk control / safety plan.    
Integrate financial justifications into the development of policies, procedures and systems which align with an organization's risk reduction-oriented strategic plans.
Utilize credible research or evidence-based information and technology to communicate, manage knowledge, support decision-making activities and mitigate risk.
Apply legal, ethical and sustainability principles in order to prompt the protection of an organization's assets.
You will choose a minimum of six selective credits (i.e., two courses) from the program plan sheet which is supplied by your adviser. The minor is specifically limited to B.S. Construction majors.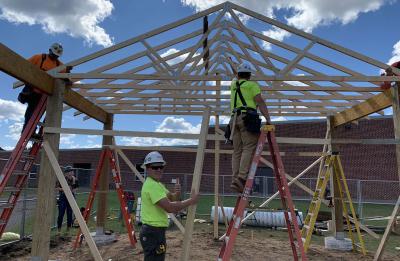 Student Testimonial
"After my interview process at Michels I got a chance to sit in on an interview for an operator they were thinking about hiring. One of the questions they asked was 'how important is safety to you.' That individual responded with the usual 'oh yeah it's very important.' At the end of the process, they decided not to hire him."
"This reminded me of my interview process but instead of asking me how important safety is to me, they just said 'safety must be pretty important to you because you picked up that Safety minor.' You could say that because I had that minor, even though I wasn't interviewing for a Safety Manager role, it could have been a leg up I had on others that were interviewing."
- Tyler Hanke
B.S. Construction 
To declare a minor, complete the "Applying for a Minor" survey online, and you will be given further instructions. Once this has been processed you will receive an e-mail confirmation from the Advisement Center.