University of Wisconsin-Stout will have a Veterans Day flag display, a student veteran panel discussion and host a care package drive as part of Veterans Week.
The flag display will begin on Veterans Day, Monday, Nov. 11, and include a reading of names of veterans beginning at 1 p.m., both at the Memorial Student Center. A care package drive for students who are serving in the military will be held Wednesday, Nov. 6, through Friday, Nov. 8, at the student center. A student veteran panel discussion will be held from 4 to 5 p.m. on Nov. 6.
For details on the flag display and care package drive, see below. For details on the panel discussion, go here.
The Memorial Student Center is named in honor of those from the university community who have died as a result of combat, disease or accident while serving in the U.S. military during times of war or crisis. The center has a wall with plaques on the first floor honoring those veterans. Learn more here.
Flag display, reading of names
The Veterans Day flag display Monday, Nov. 11, will honor fallen, past and present members of the U.S. military. Faculty, staff and students can sign up to sponsor a flag from 10 a.m. to 5 p.m. Wednesday, Nov. 6, to Friday, Nov. 8, at the lower level of the student center. There is no cost to sponsor a flag, which will include the name of the veteran.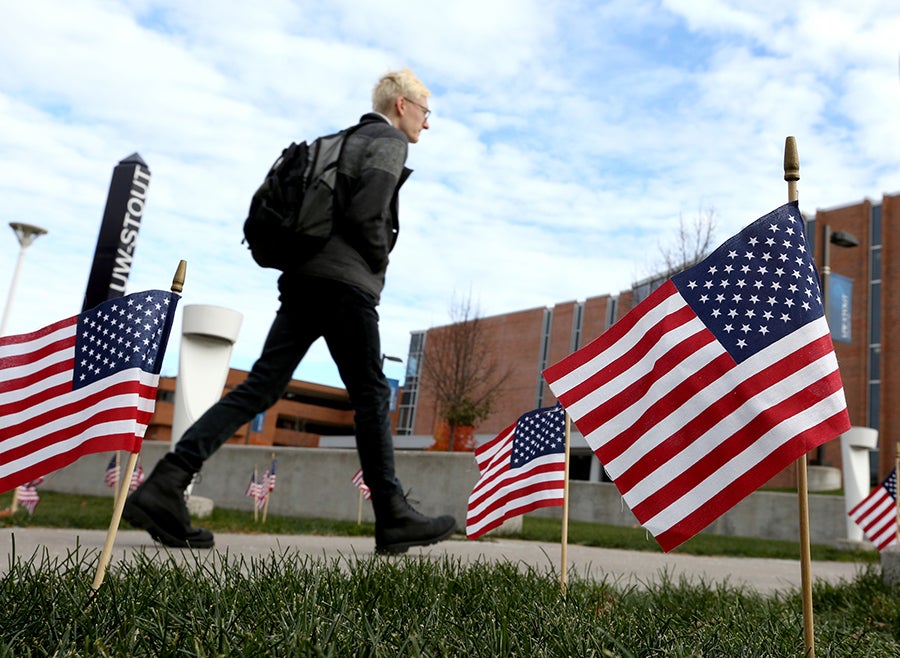 The flags will be displayed near the student center amphitheater beginning at 8 a.m. on Nov. 11 through Wednesday, Nov. 13. The names of the veterans will be read at 1 p.m. on Nov. 11 in front of the student center by the Veterans Club.
"It is a way to raise awareness and to honor our veterans and military members," said Veterans Club President David Connors, a Navy veteran and senior from Seneca majoring in computer networking and information technology. "One thing I always remember is we all go home for Thanksgiving and Christmas time. They gave up quite a few Thanksgivings and Christmases with their families. We want to recognize them."
Care package drive
The care package drive will run from 10 a.m. to 5 p.m. Wednesday, Nov. 6, to Friday, Nov. 8, in the student center. Items needed include hygiene products such as baby wipes, deodorant, tampons, nail clippers; writing materials including paper, envelopes, stamps and pencils; snacks such as jerky,  candy, trail mix, granola bars and powdered drinks; entertainment including movies, books, board games and playing cards; comfort items including socks, gloves, hand warmers, beanies, earplugs and eye masks; and over-the-counter medicines such as Advil, Tylenol, Tums, Icy Hot, cough drops and Pepto-Bismol.
Veterans Club and ROTC members will collect the items and send them to units that include more than a dozen UW-Stout students.
Sarah Godsave, UW-Stout's military education benefits coordinator in the Veterans Service Office,  said warm wool socks and hand warmers are always needed. "I think a lot of people assume our deployed students are all in the desert," she said. "Afghanistan is really cold, as is the Ukraine."
Godsave encouraged campus groups or offices to collect items and drop them off.
Train with the ROTC
As part of Veterans Week, Army ROTC — Reserve Officer Training Corps — at 6:30 a.m. on Tuesday, Nov. 12, will open its physical training at Johnson Fieldhouse to anyone who wishes to join.
Veterans Services on campus
UW-Stout has a Veteran Services Office. UW-Stout is a Military Times  2019 and 2020 Best for Vets College. Veterans support in addition to the Veteran Services Office and Veterans Club also includes a Council on Veteran Services and a designated veterans relations senator in the Stout Student Association.
The Army ROTC program is part of the Northwoods Battalion, which includes programs at UW-Stevens Point, UW-Eau Claire and UW-River Falls. ROTC stands for Reserve Officers' Training Corps.
Army ROTC combines electives in military science with practical leadership training to prepare men and women to become Army officers. Upon successful completion of the Army ROTC program and graduation from college, cadets receive a commission as a second lieutenant in the U.S. Army, the Army Reserve or the Army National Guard.
###
Photos
Flags to honor veterans will be placed in the amphitheater of the Memorial Student Center on Monday, Nov. 11, which is Veterans Day. A reading of the names will begin at 1 p.m.