A breakfast fundraiser organized by UW-Stout veterans will benefit needy veterans in Dunn County.
The second annual Veterans Club pancake breakfast will be held from 7 to 11 a.m. on Saturday, April 27, in the Fanetti Community Center at the Dunn County Rec Park. The cost is $5 a person, all you can eat. Children four and younger are free.
The event also will include 50/50 raffles every hour and basket raffle prizes every half-hour. Raffle items, including a couch from Slumberland, have bene donated by area businesses and organizations.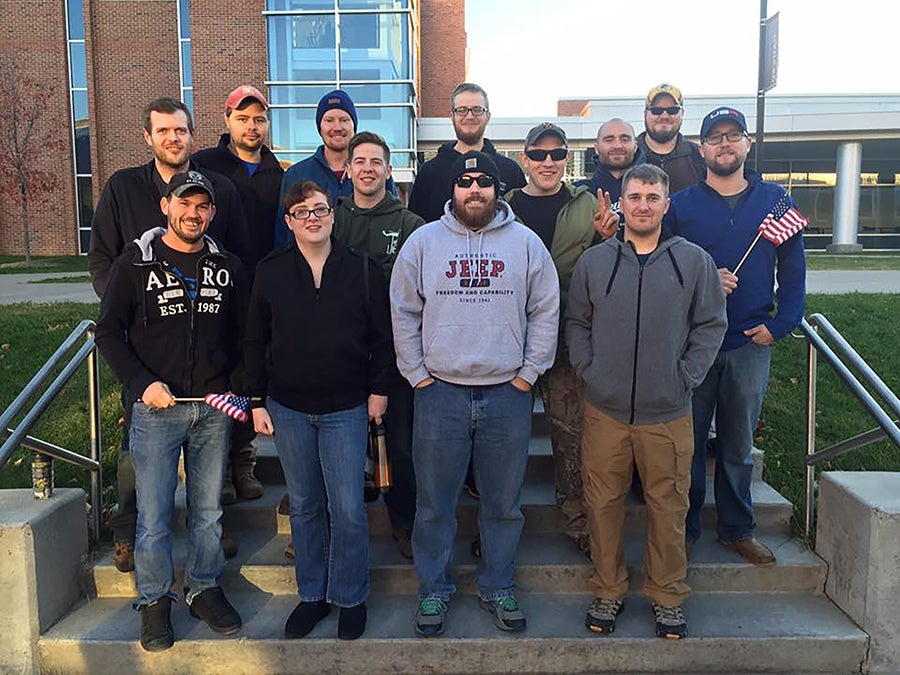 Proceeds from this year's event will go to the emergency fund at the Dunn County Veterans Service Office.
"This fund helps veterans who find themselves dealing with a sudden expense they were not prepared for, losing your heat in the winter, for example," said Corey Dettmann, Veterans Club member. "It will help people right here in Dunn County, and we can be confident it will go to the right people."
Dettmann, of Fond du Lac, is a junior in the computer networking and information technology program. He served in the Marine Corps from 2012 to 2016, including a tour in Afghanistan.
The UW-Stout Veterans Club is an official chapter of the Student Veterans of America. Members include veterans, service members and their family and friends.
UW-Stout has about 400 students who are active military or veterans, and the university recently was named a national Best for Vets school by the publication Military Times. About 5,000 veterans are enrolled at UW System schools.
###
Photo
Members of the UW-Stout Veterans Club will hold a pancake breakfast April 27 to raise money for the Dunn County Veterans Service Office emergency fund.