Two UW-Stout staff members have been named special award recipients by the Universities of Wisconsin and were honored at a ceremony on Nov. 9, in Madison.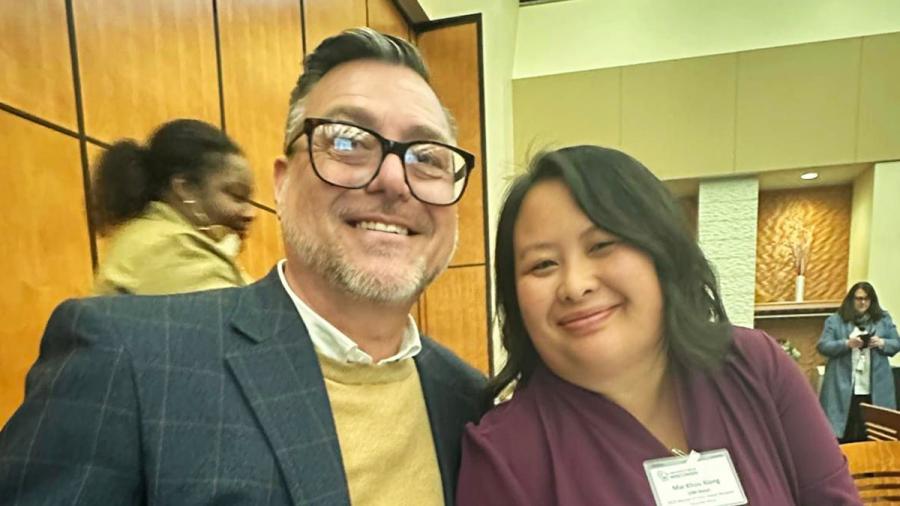 Academic Advisor Jamie Arenz is one of 13 honorees of the Dr. P.B. Poorman Award for Outstanding Achievement on Behalf of LGBTQ+ People.
Executive Director for Student Inclusion and Belonging Mai Khou Xiong, interim director of Multicultural Student Services, is one of 13 honorees of the Outstanding Women of Color in Education Award.
"Mai Khou's and Jamie's commitment to the students they serve has been so powerful to our inclusive excellence efforts," said Assistant Chancellor of Equity, Diversity and Inclusion Quin Brooks. 
"They work diligently every day to create and maintain spaces where an optimum sense of belonging can be crystallized. This has a direct impact on the retention of our students. The work they do and the support they provide our students is beyond vital to UW-Stout's mission."
Each UW campus was invited to submit nominations for the annual awards.
Dr. P.B. Poorman Award
The Dr. P.B. Poorman Award, now in its 15th year, is given to people in the LGBTQIA+ community who have helped to create a safer and more inclusive climate. It celebrates the memory and legacy of Paula B. Poorman, a faculty member at UW-Whitewater who dedicated her life to improving the lives of LGBTQIA+ people.
"Working with all students is my passion and meeting students where they are," Arenz said. "I strive to show everyone respect and kindness. I am a believer in holistic advising as well. I believe being my authentic self allows me to be approachable and easier to make connections with everyone."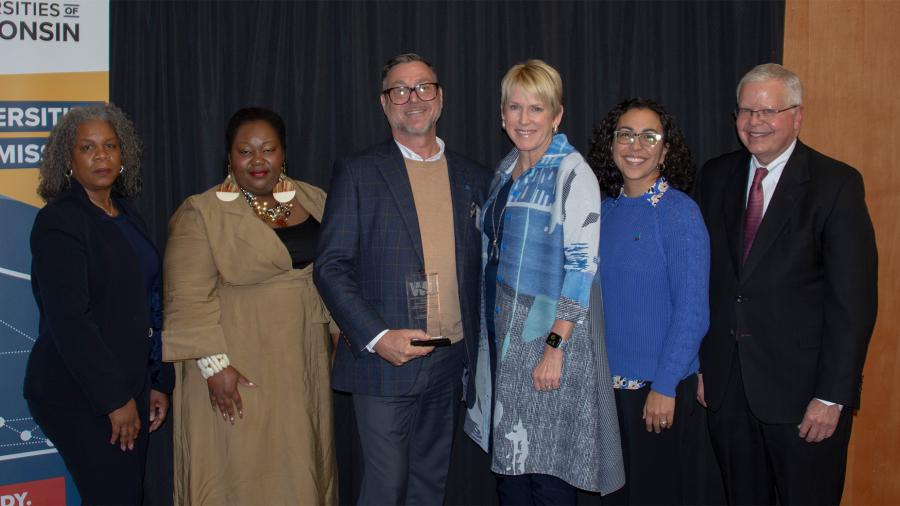 Arenz's nomination letter stated that he is "truly the epitome of a student-centered professional who is always looking to create an inclusive environment for all students but especially those within the LGBTQ+ community. Jamie works tirelessly to ensure that students feel supported and engaged at all times. He quickly builds rapport with students and helps them navigate the college experience both inside and outside the classroom. He approaches each student as an individual while listening and empathizing with their situation. Jamie creates a safe working environment both with his co-workers but most impactfully with the student workers within the Advisement Center at UW-Stout."
Arenz has served as the Gender and Sexuality Alliance adviser and ensures that students can find their voice on campus. He supports advocacy-related events such as Rainbow Graduation, the annual Qubie Gayla and Diversity Week. He is engaged in community service at Stepping Stones of Dunn County and Habitat for Humanity in Menomonie.
"He does all of this without seeking official acclaim or accolades and, although he does not seek attention for his efforts, he promotes equitable opportunities for everyone in the campus community during his energetic conversations with faculty, staff and students. He never hesitates to speak up, to show support and to show up for all members of the Stout community," his nomination continued.
Arenz is a two-time alum, earning both his bachelor's and master's degrees from UW-Stout. He has served at the university since fall 2015.
"Honorees are helping build a better experience for our students, faculty, and staff," said Universities of Wisconsin President Jay Rothman. "This award recognizes their achievements in creating a safer and inclusive climate at our universities."
Outstanding Women of Color Award
The Outstanding Women of Color in Education Award honors women of color for their leadership in making significant and lasting contributions to their campuses and communities. It is given to faculty, staff, students or community members for their achievements in advancing equity and inclusion for people of color within the Universities of Wisconsin as well as communities across the state.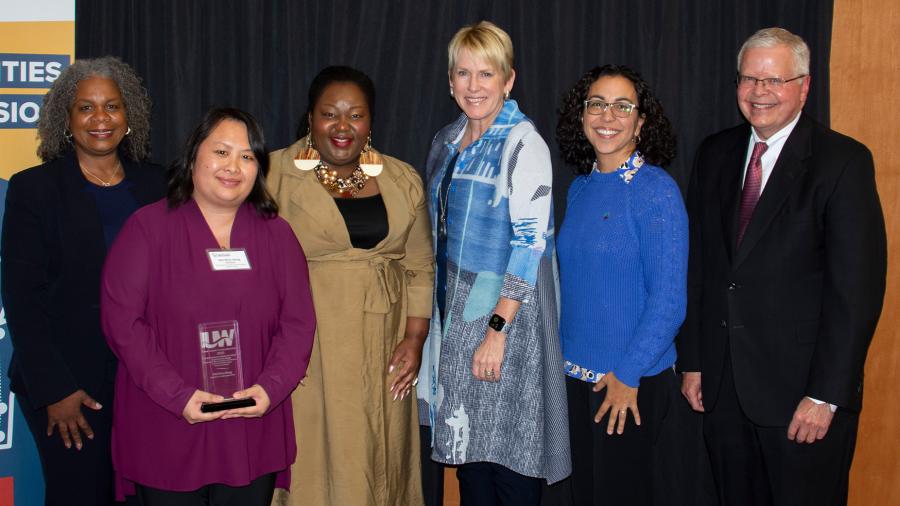 Xiong's nomination letter stated, "Mai Khou has an invaluable skillset of bringing harmony to the ways in which people differ, which is the purest definition of diversity." 
She was awarded for going above and beyond in her dual roles of supporting students as both the executive director of Student Inclusion and Belonging and interim director of Multicultural Student Services.
She also exhibits "superior leadership and guidance" to TRIO Support Services, McNair Scholars Program, The Qube and Multicultural Students Services. Through her leadership, MSS Stoutward Bound college bridge program received the 2022 Ann Lydecker Educational Diversity Award from the State Council on Affirmative Action. 
"Mai Khou is intentional about campus partnerships that promote inclusion, and she fosters belonging and collaborations with several offices across campus," her nomination continued.
Her collaborations include partnering with the Office of International Education for a heritage-based study abroad program to Thailand; and with the Educational Pathways and Continuing Education and Conferences offices for a Stout STEM Experience youth camp for high school students, with a 3M grant for underrepresented students in STEM in summer 2023.
"The Universities of Wisconsin have a longstanding commitment to inclusion at our universities," Rothman said. "We are proud to honor these women of color whose achievements in advocacy and scholarship are transforming our campuses and communities to be more equitable and inclusive."
The award has recognized more than 400 women of color for their transformational work since it was founded in 1995.
UW-Stout's Focus2030 strategic plan includes five goals, including inclusive excellence by investing in, and ensuring access to, equitable, diverse and inclusive learning, student living and work environments that reflect the university's regional and global connections; and fostering employee success through an equitable environment that invests in, supports, encourages and values diverse faculty and staff development opportunities.