Even though University of Wisconsin-Stout's campus garden had to take a hiatus this year because of the COVID-19 pandemic, nearly 200 plants have found new homes at two area gardens and will help feed the Chippewa Valley's hungry.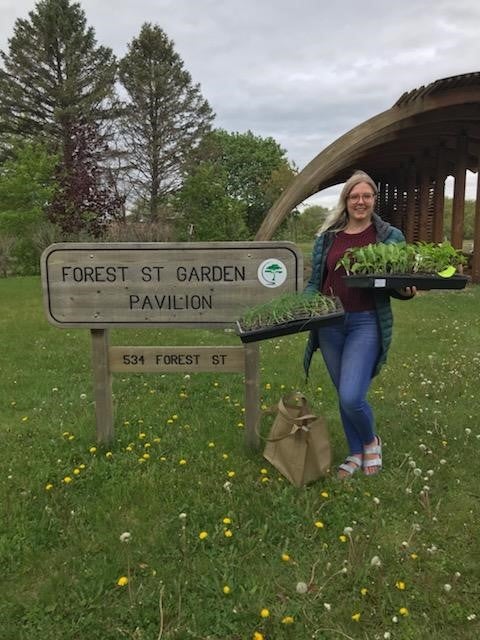 Alyssa Weber, last year's UW-Sprout Campus Garden manager who graduated May 9 with a  degree in environmental science, started growing the plants in February. When classes moved to alternative learning methods in March, Weber took the plants to her Eau Claire home to continue to care for them.
After a decision was reached not to have a garden this year because of concerns about social distancing and safety of the student workers, Weber and Sarah Rykal, UW-Stout sustainability manager, decided to donate the plants to the Dunn County Jail Garden in Menomonie and the Forest Street Community Garden in Eau Claire.
"We chose both gardens precisely because they make food donations," Rykal said. "The Dunn County Jail Garden donates their garden produce to the Stepping Stones of Dunn County food pantry. The Forest Street Community Garden donates food to the Community Table in Eau Claire. If we can't grow these vegetables ourselves, we felt it was really important to get these plants in the hands of organizations that are growing food for those in need, especially right now as COVID-19 is causing food insecurity for more people."
Weber, of Eau Claire, agreed. "I wanted to find community gardens that donate produce to local food pantries," she said. "Produce prices will probably rise, and I think it is important to have produce for the most vulnerable."
Plants donated included a variety of peppers, eggplants, leeks and green onions.
Not having the Sprout Garden this year was a difficult decision because student managers love working there and providing food to faculty, staff and students who are part of the community supported agriculture operation, Rykal said. The garden also traditionally donated vegetables weekly to Stepping Stones of Dunn County during the summer. As a CSA, shares are sold to students and employees.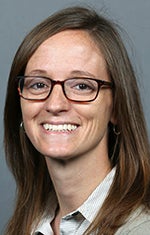 "I'm delighted that our plants can be used to help people in need, and I'm very thankful to the people at the Dunn County Jail Garden and the Forest Street Community Garden for tending to these plants and making these important food donations," Rykal said.
Weber, assistant manager for two years before becoming the garden manager, said she has always enjoyed gardening and helped with her family garden. "I have always had an interest in eating healthy and growing food from seeds," she said. "I love being outside and being in nature. I enjoy being able to make meals from produce that I grow. It is very rewarding and helps with food security and sustainability."
The one-fifth acre market garden started in 2014. It is on north campus at 214 4th St. W.
###
Photos
UW-Stout recent graduate Alyssa Weber with plants donated from the UW-Sprout Campus Garden to the Forest Street Community Garden in Eau Claire.
Sarah Rykal