For the second year in a row, University of Wisconsin-Stout, which has  more than 400 students who are active military members or veterans, has been named a Best for Vets school by Military Times.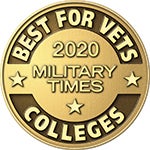 A total of 134 schools made the four-year university listing for 2020, including three from the UW System.
Military Times, an independent news publication and website based in Virginia, invited institutions of higher education across the U.S. to fill out a detailed survey with about 150 questions about their operations involving current and former service members and their families.
To create the rankings, the survey responses were evaluated based on what veterans reported was important to them. Institutions were evaluated in five categories: university culture, student support, academic policies, academic outcomes/quality and cost and financial aid.
In 2017, UW-Stout received a UW VETS — Veterans Education and Transition to Success — certification by the UW System for its commitment to helping student veterans succeed.
For Veterans Day on Monday, Nov. 11, UW-Stout will have a Veterans Day flag display honoring fallen, past and present members of the U.S. military. Flags will be on display from Nov. 11 to Wednesday, Nov. 13, near the amphitheater outside the Memorial Student Center. Names will read outside the student center at 1 p.m. Monday. Read more here.
UW-Stout has a Military and Veteran Resource Center in room 304A, Bowman Hall. Veterans support includes a Veteran Services Office, Council on Veteran Services, UW-Stout Veterans Club, SVA, and a designated veterans relations senator in the Stout Student Association.
In addition, UW-Stout has a full-time military benefits education coordinator, Sarah Godsave, an Army veteran who works directly with active military and veterans on campus.
"At UW-Stout, we consider service to military-connected students and veterans a top priority," Godsave said. "Pursuing the Best for Vets designation helps us communicate and demonstrate our commitment to this population."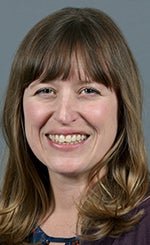 Along with serving veterans and active military members, UW-Stout has an Army ROTC program, part of the Northwoods Battalion, which includes programs at UW-Stevens Point, UW-Eau Claire and UW-River Falls. ROTC stands for Reserve Officers' Training Corps.
Army ROTC combines electives in military science with practical leadership training to prepare men and women to become Army officers. Upon successful completion of the Army ROTC program and graduation from college, cadets receive a commission as a second lieutenant in the U.S. Army, the Army Reserve or the Army National Guard.
###
Photos
Best for Vets 2020 logo
Sarah Godsave