With its commitment to sustainability and the environment, UW-Stout again has been named one of the top "green" colleges in the U.S. in 2018.
The Princeton Review, an education services company, has included UW-Stout in its ninth annual guide to the most environmentally responsible "green" colleges. Universities chosen for the list are not ranked further within the top 399, although a top 50 list was announced.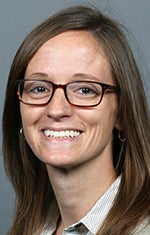 "We are so excited to be on the Green Colleges list," said Sarah Rykal, UW-Stout sustainability director. "Our campus works really hard to be more sustainable in many ways, from conserving energy to offering sustainable transportation options to reducing our waste. Being honored in this way is a wonderful affirmation of all the work we've done and continue to do. And it helps others to know that UW-Stout strives to be a more sustainable campus every day."
The Guide to 399 Green Colleges profiles colleges that the Princeton Review names as having the most exceptional commitment to sustainability. The schools were selected based on their academic offerings, campus policies, initiatives, activities and career preparation for students. The guide was released in October.
Areas of environmental stewardship and sustainability that helped UW-Stout make the list include: a Sustainability Steering Committee; sustainability-focused undergraduate and graduate degree programs; part of the university food budget allocated to local and organic food; and transportation options, including Bikeshare, car-sharing and car/van pooling programs, free or reduced price transit passes, a free shuttle program and free or reduced parking passes for car/van pooling vehicles.
Other ways in which UW-Stout incorporates sustainability into its academic programs and operations are:
Campuswide compost and recycling collection system, resulting in a 48 percent decrease in landfill waste

A new 10-kilowatt solar array at Merle M. Price Commons, funded by the Stout Student Association's Green Fee

LED light retrofits in 13 campus buildings, exterior walkways and parking lots

Opportunities for student sustainability projects

Community partnerships with the Joint Sustainability Working Group, Sustainable Dunn, Tainter Menomin Lake Improvement Association and more  

Bachelor's and master's degrees in sustainable management, as well as a sustainability minor program

Sustainability training at student orientation

Outreach campaigns, including Recyclemania, Biggest Reducer Energy Competition, We Turn Lights Off Here and I Love Tap Water

Outreach materials through the Sustainable Stout Facebook and Instagram pages, sustainability website, various guides, posters and brochures

A student-run garden, UW-Sprout Campus Garden.
Learn more at the Sustainable Stout website.
###