The Fall 2019 semester is coming to an end for students! As Win-Term break approaches, encourage your student to talk to you about how the semester went, how they coped with a new or busy schedule, and what goals they have for next semester.
Encouraging your student to talk about how the semester went is a healthy way to also discuss their mental health. Maybe your student struggled with worries around meeting new friends, test anxiety, or potentially seasonal depression. Talking with your student about any of these topics can be beneficial, yet tough.
A Safe and Comfortable Place
Mental health is many times a difficult topic to bring up over holiday family dinner, so if you decide to ask your student questions about how the semester went, it's always helpful to talk in a safe and comfortable environment. That may include a common space like the living room, your student's room, the car on the way home from college. Whatever feels comfortable for your student.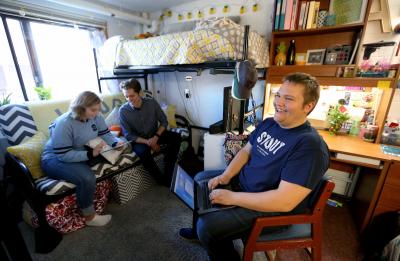 Asking them where they want to talk is the first step. From there, its best to ask open-ended questions so your student is encouraged to expand on their thoughts. Talk about the good and the bad. Encourage your student to talk about their social life, classes, relationships, or living in the dorms. But also ask the tougher questions about their emotions and what they may be struggling with.
You may not have all the answers for your student at that moment. But actively listening to them and supporting them is usually what they need after completing a long and stressful semester.
The Counseling Center
The UW-Stout Counseling Center provides many different resources for students including individual, group, and couples counseling, same-day crisis appointment, Zen Zone for relaxation, self-help tips, WellTrack app, and more.
There are no additional costs for your student to come to the Counseling Center to talk to a counselor for professional help.
We are located on the 4th floor of Bowman Hall.
Your student can contact the Counseling Center at 715-232-2468.
As always, if your student is in imminent danger to themselves or someone else, call 911 or 24-hour mental health crisis line at 1-888-552-6642.