Kaylee Harris is a deeply driven individual. She is innately positive, active in her faith and service values, and enjoys creating lasting relationships.
Her desire to build relationships led her to the Event Planning concentration in UW-Stout's Hotel, Restaurant and Tourism Management (HRTM) program.
Harris's interest in event planning began in high school. She was the wedding ceremony coordinator at her church. And she reenergized her school's youth ministry retreats, transforming day-long lectures into activities to engage her peers.
Harris brings her energy into her studies and hospitality practices in HRTM. To strengthen her Event Planning concentration and widen her global perspective, Harris studied abroad during the spring semester of her sophomore year.
"Travel is a core component of the hospitality industry," Harris said. "So, it only makes sense for me to travel. I want to know how the world works."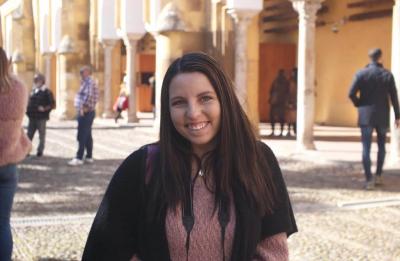 Studying in Seville, Spain in the spring
Harris chose a specific study abroad program to enhance her experiences in the hospitality field. The CEA Communications, Media and Tourism Studies program at EUSA University Campus in Seville, Spain, had everything she needed.
Harris's courses were Tourism Marketing, Advertising and Commercial Promotion in Tourism, Culture of Food and Wine, and Communication and Culture Competence. She adjusted easily to her classes, finding the style similar to Stout's polytechnic model.
"We collaborated in small groups," Harris explained. "There were students from all over the United States. And there were students from Italy, Germany, and Hungary, too."
Stout strives to accommodate study abroad credits to double-count towards a student's degree. So, Harris was pleased to complete her Spanish minor in Seville as her study abroad courses were taught in both Spanish and English.
Life in Seville
In Seville, Harris lived with her host mother and her son in the city center. She found life very laid back.
"Nothing is rushed in Seville," Harris said. "There is a pause in life. They have a saying, 'No Pasa Nada.' It means, 'No worries.'"
Harris struggled a little with the language barrier at first. She found there was a difference in the Latin-American based Spanish she knew and speaking Spanish in Spain. But Harris found the general attitude of Seville to be open and welcoming to travelers.
"There is a 'You can' attitude, and it was okay to make mistakes when speaking Spanish," she said.
Harris shared her host family with her college roommate, Kate. She acted as a translator between Kate and their host family. This was an added opportunity for Harris to perfect her Spanish and build a relationship with her host mother, especially.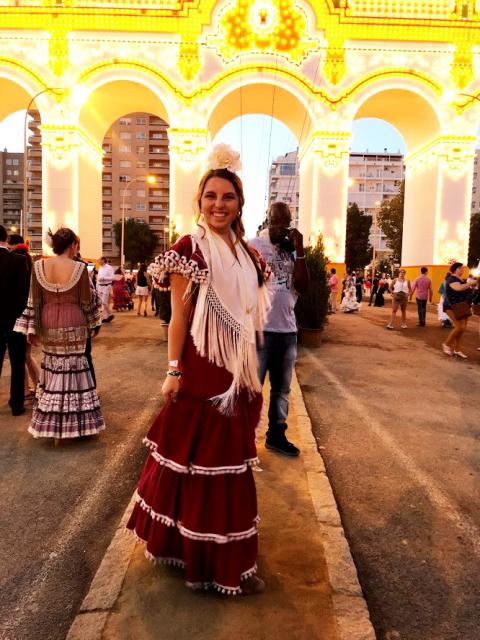 Harris enjoyed every aspect of Seville's daily life. She became a weekly reader at mass at one of the churches. She tried many new foods. Her favorite meal was her host mother's seafood paella, Spanish rice with saffron, shrimp and clams.
And she participated in Seville's spring festivals Feria and Semana Santa.
"Seville is the heart of flamenco. I got to wear flamenco dresses, try delicious tapas, and devoutly immerse myself in the religious ceremonies," Harris said.
Viajando: Traveling
Harris was able to be a tourist while taking her tourism courses. Her classroom activities enhanced her daily experiences and travels. And did she travel!
Harris visited thirteen countries and twenty-eight cities during her study abroad. She created a travel blog of her experiences. "Viajondo," or "Traveling," documents her daily encounters.
"Traveling was a beautiful way to apply what I was learning while exploring the rest of Europe," she said.
Harris used her passion for event planning and acted as a group-trip planner for her friends. Harris took charge of it all, learning to travel on a budget. From getting from point A to point B, what to pack, what to see, where to eat, and where to stay.
While in Spain, Harris toured Barcelona, Cadiz, Cordoba, Granada, Jerez, Madrid, Malaga, Puerto de Santa Maria, Segovia, and Toledo. In neighboring Portugal, she went to Evora and visited Lisbon when her mom and siblings were able to fly over and join her for a bit. And she was able to travel with her boyfriend Nate and best friend Brie, who were studying in Madrid.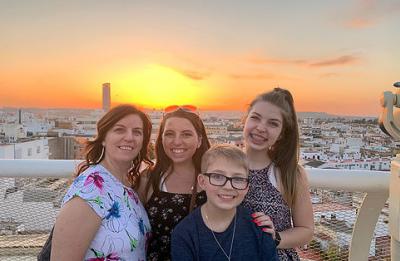 "I have ancestral roots in Ireland, Germany, and Poland. Within these countries, I toured Dublin and County Clare, Berlin, and Krakow," she said.
Harris visited London, England, and Edinburgh and Glasgow, Scotland, Amsterdam in the Netherlands, Vienna in Austria, Brussels in Belgium and Paris, France. In Italy, she toured Florence, Milan, Rome, and Venice.
"My favorite travel moment was attending Easter Sunday mass celebrated by Pope Francis in the Vatican," she said.
Re-centering herself
In "Viajando," Harris wrote, "I am eager to learn a different side of myself, to grow more independently and be present for myself and the world around me."
Harris's travels were eye-opening and humbling. She is now able to look at a community and find its cultural personality. She discovered how big the world is and yet how similar people are.
"My study abroad experience has heightened my senses to others and allowed me to seek ways to connect," Harris said. "I can appreciate my way and new ways, be open to change, and be more understanding."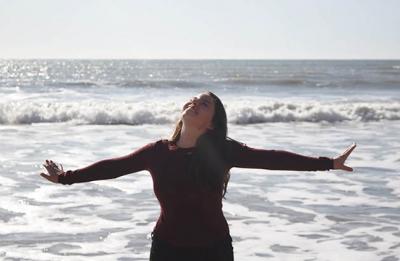 By immersing herself in Seville's culture, Harris returned from her study abroad with a sense of peace. Being away from her usual busy schedule, and adapting her need for structure and organization, she was able to be a friend to herself again.
In this way, Seville was the perfect city for Harris.
"I was able to re-center myself and think of what really matters to me," she said. "Travel allowed me to think about what drives me and to change upon return."
Applying travel to her career
Studying abroad allowed Harris to apply what she learned in the classroom to real-life. From acting as a translator to planning group outings to foreign cities.
"I was able to see the various ways cities do or do not provide services to tourists," Harris explained. "Travel was a way for me to know markets, undertake bigger problems, and try to better understand processes."
"I can find connections between people, including my future clientele and employers. These are all crucial parts of being ready for a career in event planning," she added.
Now in her junior year, Harris will be UW-Stout's Involvement Center Event Lead. As the Event Lead, Harris will be in charge of the center's events details. She will market events, work with building managers, and be head of logistics like staffing, supplies, and timelines.
As for lasting relationships, Harris writes to her host mother once a week. Her host mother plans to visit the U.S. someday. Harris will help plan her trip, no doubt.