While University of Wisconsin-Stout's campus bookstore, Stoutfitters, may be closed to foot traffic due to the COVID-19 pandemic, Store Manager Julie Xenos is busy fulfilling orders for graduation regalia, gifts and apparel items.
Xenos received a shipment of merchandise in early March in preparation for Family Weekend in early April and commencement on Saturday, May 9. With the cancellation of Family Weekend, and commencement moving to a virtual ceremony, the store is well-stocked.
Xenos is in the store, which is on the lower level of the Memorial Student Center, Monday through Friday, 9 a.m. to 1 p.m. Students and families can call her at 715-233-0237 to place an order.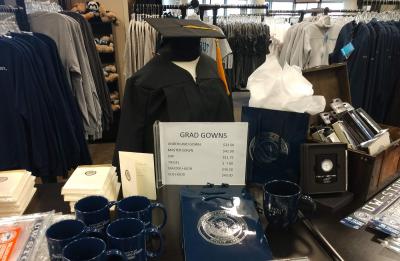 Students have appreciated the fact they can still purchase a tassel even though they won't be crossing the stage in person. Students will have a chance to walk in a special August ceremony that is being planned.
Xenos is coping running Stoutfitters by herself, but she misses her student workers. "They are so hard-working and a lot of fun. I can't wait until students are back on campus," she said.
Regalia items like tassels, caps and gowns can also be purchased through Herff Jones.
Popular graduation gift items listed on the Stoutfitters website are alumni and Blue Devils T-shirts, sweatshirts and drinkware.
A Stout Proud family
Kris Luepke is a proud Stout parent. Her son, Darrin, graduated in December 2018. Her daughter, Lorrie, of Marshfield, will graduate May 9 with a degree in business administration.
"To be a part of Darrin's graduation ceremony was wonderful. So, when the announcement came that the ceremony for May 9 was postponed, it was crushing," Luepke said. "But when Lorrie forwarded me the email invitation from the chancellor for a virtual ceremony, well, let's just say that I may have cried a few happy tears. The ability to do something as small as providing a tassel goes a long way in still making the day special."
Though the Luepke family is scattered about a bit, they will gather May 9 in Menomonie to celebrate in the virtual commencement.
"We're still going to make a day out of graduation," Luepke said.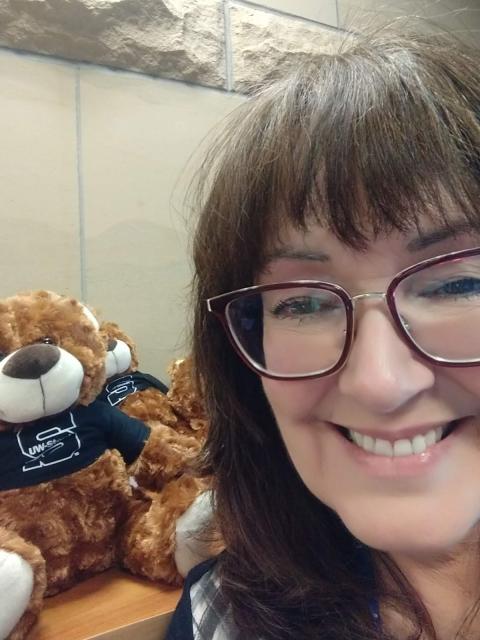 From Stoutfitters to you
Xenos thanks UW-Stout families and students for their continued support of Stoutfitters. "I've gotten to know many of you over the years, and I'm so proud to work here," she said. "I know everyone is disappointed that commencement will be unconventional, but I know UW-Stout students know how to adapt to changing circumstances."