Like everyone, Nathan Thompson had to cancel his plans for last spring and summer because of COVID-19. The Stout Scholar returned home to his family's farm in Woodville in March 2020 when UW-Stout moved to an alternative learning method.
Instead of having a summer job or volunteering for local organizations, he took virtual summer courses in Chemistry of Materials, and Casting and Joining Processes.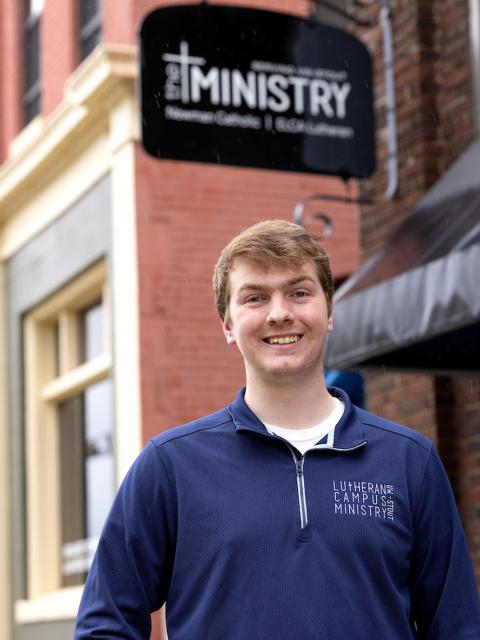 "It was disheartening that so many of my typical summer activities were canceled due to the pandemic, but being able to spend extra free time earning credits was a relief," Thompson said.
Thompson's Stout Scholars Scholarship is $5,000, renewable for up to four years, or a maximum of $20,000. The scholarship is a source of financial relief for Thompson and his family, helping to cover his dining and housing, as well as his differential tuition.
"As a mechanical engineering student, my differential tuition funds the variety of equipment that I use in the labs. The scholarship is a huge advantage toward paying for my degree," he said. "Combined with loans, on-campus jobs and internships, my scholarship helps me achieve my goal of graduating from Stout debt-free."
Thompson, who just completed his sophomore year, wants to apply his learning to projects that change lives. He originally declared applied science as his major with a physics concentration.
"My favorite part about physics is learning about all the different aspects of the subject and the role physics plays in our everyday lives. Even the most eluding aspects of life, from a butterfly's wings to the motion of the heavenly bodies, are the result of physics," he said.
But Thompson wanted to spend more time in the labs working with metals and 3D printing without using all of his elective credits. So, he talked with his first-year adviser and found he could double major in applied science and mechanical engineering.
"I want to explore all the opportunities available at UW-Stout. I want to work in the labs, make things and learn how the world works," he said. "In my double major, I get to do quantum mechanics, metal casting and 3D printing. I get to do some nanoscience, research and design. I am overjoyed to be a part of the program."
The double major is a five-year program. However, with high school college credit, summer and Winterm classes, Thompson hopes to graduate early in four years.
Returning to more hands-on experiences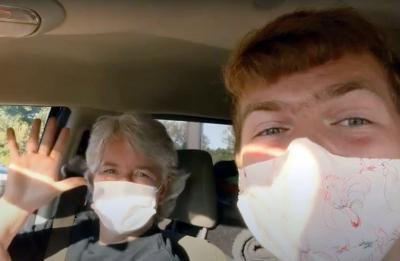 When Thompson returned to UW-Stout on his scheduled move-in day last fall, he knew the look and feel of campus would be different, he said. He waited for his turn to move into his room, sitting with his mom in their car, watching people social distance as they took photos outside the residence halls.
"I was very excited to be back on campus," he said. "Though it was very different from my first-year experience, I was grateful to be able to enjoy the highlights of campus life this year."
Thompson noted that life in the residence halls was quiet. With on-campus students regularly testing for COVID-19, cleaning shared living spaces, and self-isolation when needed, there were many regulations to follow. Thompson thought his resident assistant was always supportive.
The majority of Thompson's classes in the fall were virtual, and he felt his instructors integrated virtual learning into the curriculum well. But he knows he works better in live lectures and struggled with the new learning environment. He was very glad to have more in-person classes in the spring.
"As much as I enjoyed the flexibility of taking classes virtually, I deeply missed being in person and talking with other students," he said. "To be honest, virtual meetings and online labs didn't have the same level of interaction as their live counterparts."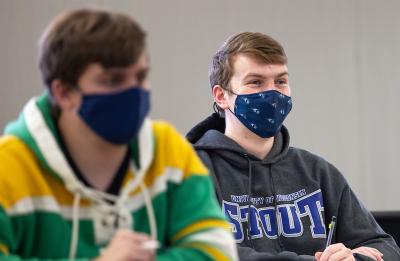 Thompson got his chance to participate in hands-on learning this spring in his Fluid Mechanics and Circuits and Devices courses.
"The courses spend lots of time applying our lectures to the lab setting, which has helped me understand how the concepts are applied to real life. Attending labs in person is a gratifying experience of attending UW-Stout," he said.
Involvement and internship opportunities
Thompson remained active in the Academic Honors Society, Stout Ministry, Engineers Without Borders and the American Foundry Society, for which he serves as the chapter secretary.
Organizing their usual events posed challenges for student-led organizations this past year. Because of the pandemic, they were required to adhere to university health and safety policies, including social distancing and sanitizing meeting spaces. Some organizations held virtual meetings, while others were able to hold in-person meetings with reduced attendance and online viewing.
Unfortunately, many of Thompson's favorite volunteering programs were canceled. But he did find new opportunities to volunteer virtually, like coordinating events for St. Croix County 4-H.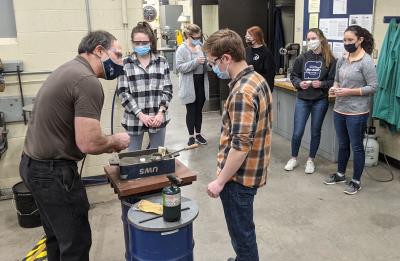 "I would highly recommend that students contact the Academic Honor Society at UW-Stout if they want to find out more about volunteering opportunities. We work with nearby organizations, like Big Brothers Big Sisters, Dunn County 4-H, and Stepping Stones of Menomonie. Whether you are looking for a chance to network with the community or build your resume, there are plenty of opportunities available," Thompson said.
In the spring, Thompson started as a lab technician at the 3D Printing Lab in the Jarvis Hall Technology Wing. The lab hosts a number of commercial printers and is used by mechanical engineering students for printing materials and completing capstone projects, he explained.
"There is always something new being worked on, so the other lab techs and I stay busy," he said. "We worked on a life-size 3D-printed R2D2 model. The model had been an icon of the lab before COVID and needed repairs. We wanted to have the cheeky robot rolling around again."
One of Thomson's courses in spring 2020 was the Advanced Physics Lab, where juniors and seniors led teams of students in research projects. Thompson's team researched quantum entanglement using optical and electrical equipment at the Laser Lab. But the team couldn't finish their research because of the pandemic.
"I look forward to taking the course as a project leader next spring as a junior," he said. "Leading this endeavor helps develop skills required to lead a team of researchers. Leadership opportunities through extracurricular activities like being a lab tech help prepare students for these projects."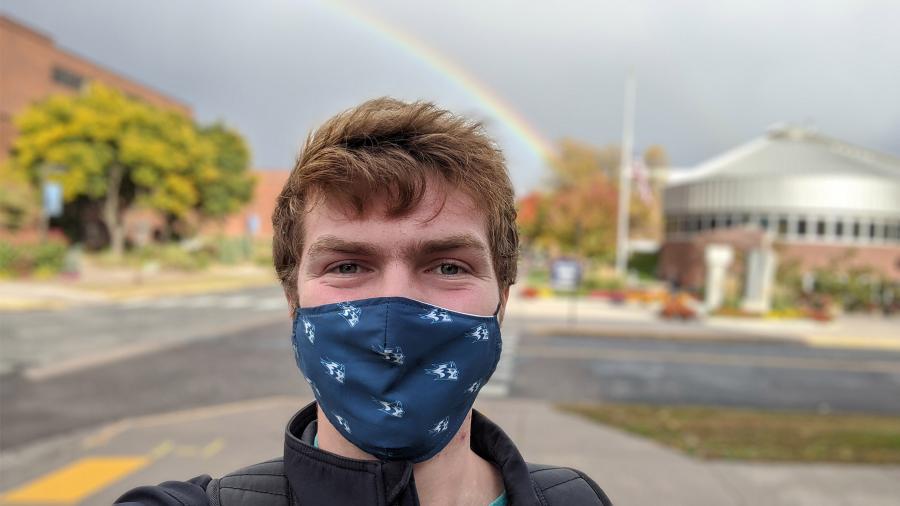 "Nathan has always been great at searching for opportunities. During the switch from face-to-face to online, he really stepped up to the plate and amazed me with his dedication," said Todd Zimmerman, associate professor of chemistry and physics.
Last fall, Thompson began searching for general engineering internships that offered a hands-on approach and where he can use his skills in math and science. He started his search through Career Services and attended the virtual Spring Career Conference.
The activities prior to the conference helped Thompson prepare for interviews, build his resume and network with other students who gave advice on which companies he might like to apply to.
"When Career Conference Day for engineers came around, I was prepared," he said. "There are many resume-building career development activities here at Stout. Now that I have a considerable number of credits under my belt, I hope to catch the eye of potential employers in the area."