As an all-conference player who hit .500 in 2018, Mary Iliopoulos has established herself as a tough out leading off for the University of Wisconsin-Stout softball team.
Beyond her skill with a bat and centerfielder speed, however, something else makes Iliopoulos tough. Part of her strength has been forged off the diamond.
The junior from Morton Grove, Ill., in the Chicago metro area, is majoring in one of the tougher academic programs at UW-Stout, mechanical engineering.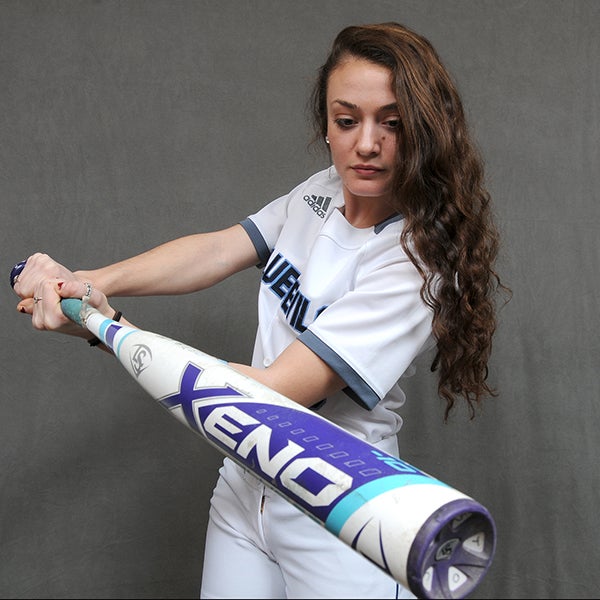 If a 5 a.m. practice, weightlifting session or top-notch opponent seem challenging, consider some of her classes this semester: numerical methods, circuits and devices, engineering economy, joining and casting.
"I'm very competitive, and it transfers from softball over to the classroom," Iliopoulos said. "I like to be that person who steps up and takes ownership."
In the classroom, she goes to bat with her skills in math. It's one reason, along with being recruited by Coach Becky Iaccino, she ended up transferring to UW-Stout after one season at Aquinas College in Michigan.
"When I learned that engineering used math, that interested me. Math was the driving factor in choosing mechanical engineering. I wanted to do something in math," Iliopoulos said.
Iliopoulos enjoys the challenges she faces daily in her classes, including working with machinery in labs that she wasn't familiar with growing up.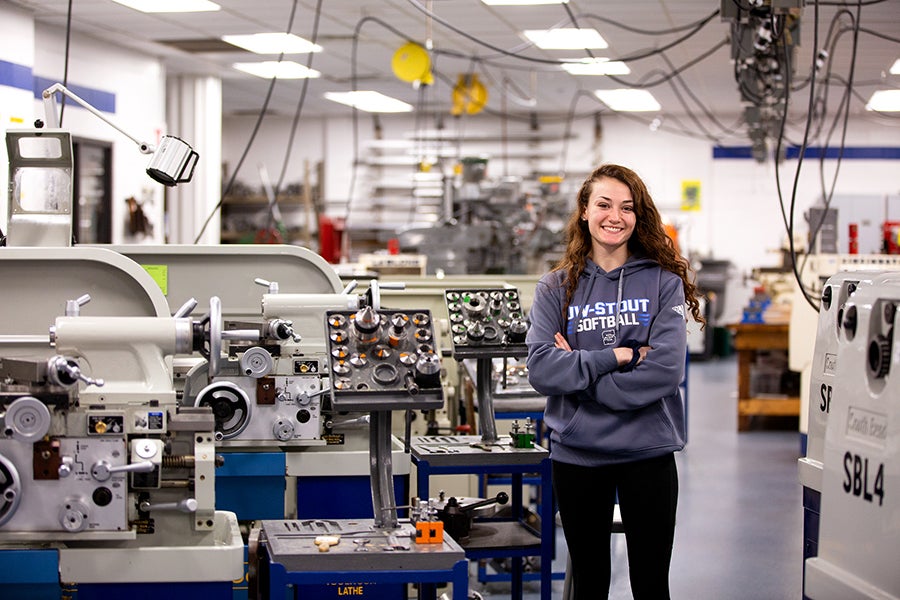 She isn't intimidated, either, by the fact that she's one of the few females in most of her engineering classes. About 10 percent of the 321 mechanical engineering majors at UW-Stout are females.
Being an athlete is an extreme lesson in time management for most students. The softball season, for example, began in January with practice and will run the entire semester. The Blue Devils will play about 40 games in a little more than two months.
"Softball forces me to manage my time better," she said. "When I have open time, I take advantage of the opportunities to study. It shows you can do one of the more difficult majors here and do a sport."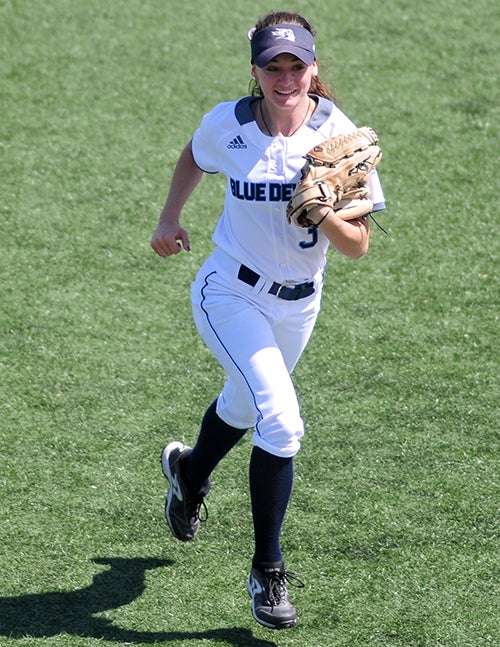 During spring break in March, the Blue Devils traveled to Florida and played 14 games in eight days. The coaching staff set aside two hours each day of the trip for studying, Iliopoulos said.
Iliopoulos also is involved in the Student-Athlete Advisory Council, which does volunteer work on campus and in the community.
Focused on learning
The director of the mechanical engineering program, Associate Professor Devin Berg, believes Iliopoulos is a great example of the UW-Stout student athlete.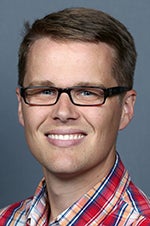 "Mary exemplifies the type of work ethic and professionalism that we regularly see in our student athletes. Balancing the workload of being a good student and a good athlete is challenging, but Mary rises to that challenge daily," he said.
Iliopoulos returned the compliment. "The professors at Stout are very helpful and understanding. They want you to succeed."
Iliopoulos is so dedicated academically that she bypassed an opportunity most athletes would jump at — to play in the Olympics. The last two years, she played for the Greek national softball team. She has dual citizenship in Greece, with her father being Greek and her paternal grandparents from Greece.
She chose not to play for the Greek team this summer, which could have led to a spot on the 2020 Olympic team. Instead, she will be interning as a project engineer at ITW Automotive. "First and foremost, my goal is to get a good education," she said.
Iliopoulos was named a Division III preseason, second-team All-American by Fastpitch News. She also was one of 50 layers named to a watch list for national player of the year. In 2018, along with being named all-conference, she was All-Great Lakes Region first team and tied the conference and school records with her .500 batting average.
Iliopoulos, whose cousin Chris Iliopoulos is a second-year assistant coach with the Blue Devils, is on the softball team leadership panel and will be a team captain in 2020, her senior year.
###
Photos
Mary Iliopoulos, a junior, is a mechanical engineering major at UW-Stout and standout player on the Blue Devils softball team.
Devin Berg