Sisters Farah and Fatimah Alfayruz from Al-Qatif, Saudi Arabia, decided they wanted a career in fashion design. Both opted to come to the U.S. and ultimately ended up at University of Wisconsin-Stout.
They graduated together Saturday, May 4, in apparel design and development.
In mid-May the sisters will head back home to Al-Qatif and start fashion design internships with Sara Collection, until September, a company owned by Sara Alqassab known for designing wedding dresses and haute couture. "It is a really good opportunity for us," Fatimah said. "She is a famous designer in our hometown. We're going to start our new work and our future."
"I'm very excited," Farah said of the internships. "There is a lot of future for fashion designers there."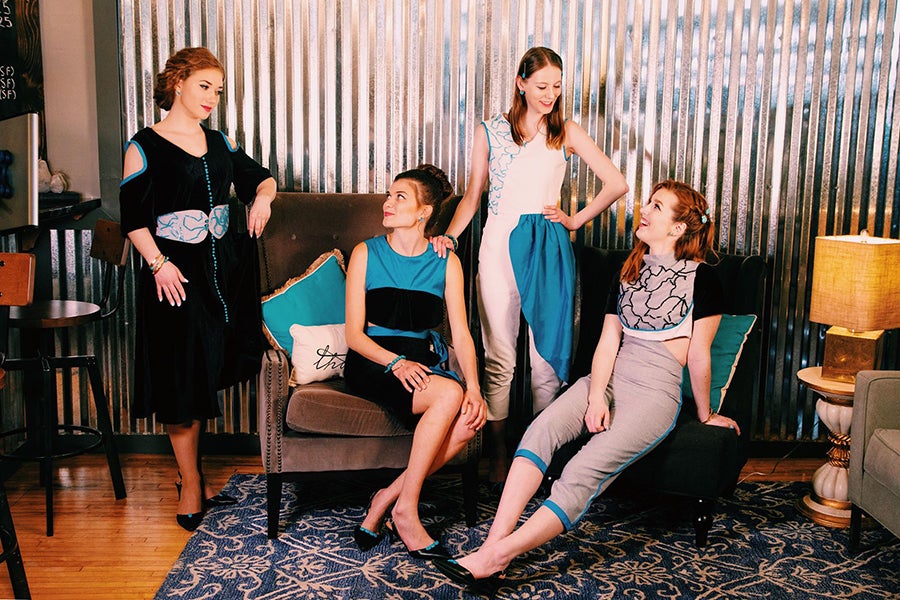 Both sisters have always had an interest in working in the apparel industry. "We do have a talent, and we want to develop it more," Farah said. "I've always been passionate about fashion and design. I have a lot of fashion illustration skills."
Fatimah has fashion design skills but also enjoys sewing the designs, Farah said. "We come together to create a design, and it becomes something unique," Fatimah said.
The two work well together and even finish each other's sentences. "I feel we complete each other in designs," Farah said.
"In everything," Fatimah added.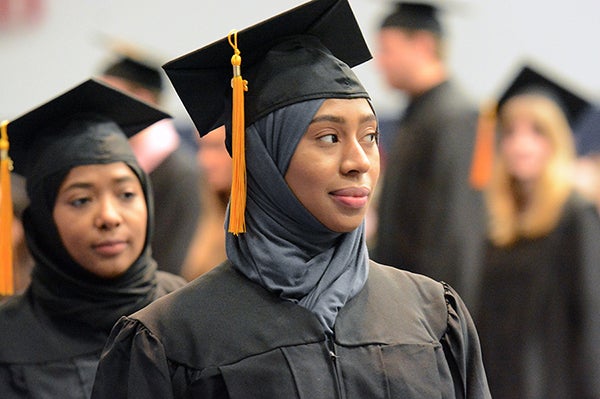 The sisters first came to the United States to study English at WESLI Institute in Madison, in 2012. They learned of UW-Stout, and when they found out the campus had an apparel design and development program applied to attend in 2014.  They took most of their classes together at UW-Stout, Farah said.
One of their goals is to start their own fashion design company, FA, and they have laid the groundwork. In Arabic Fa is the letter F. The company is based on their first and last names.
"We both have always had the same goal — we want to create our own business," Farah said. "We want to work together."
The two are also very excited to return home not only for the internships but to see their family and their home. They will be returning to Saudi Arabia on May 15, which is during Ramadan, the ninth month of the Islamic calendar and a month of fasting to commemorate the first revelation of the Quran to Muhammad, according to Islamic belief. This is a time when many families get together, they noted.
On Sunday, May 5, their senior designs will be part of the WEAR Fashion Show, which features collections created by apparel design and development majors. The shows are at noon and 4 p.m. in the Great Hall of the Memorial Student Center. Admission is $5 at the door or bring a nonperishable food item.
Farah's collection is entitled "Fayruz," which is the Arabic word for the turquoise gemstone and is also what her family name means. The collection will feature curved lines and beadings to represent the black lines in the gemstone as well as turquoise-colored fabric.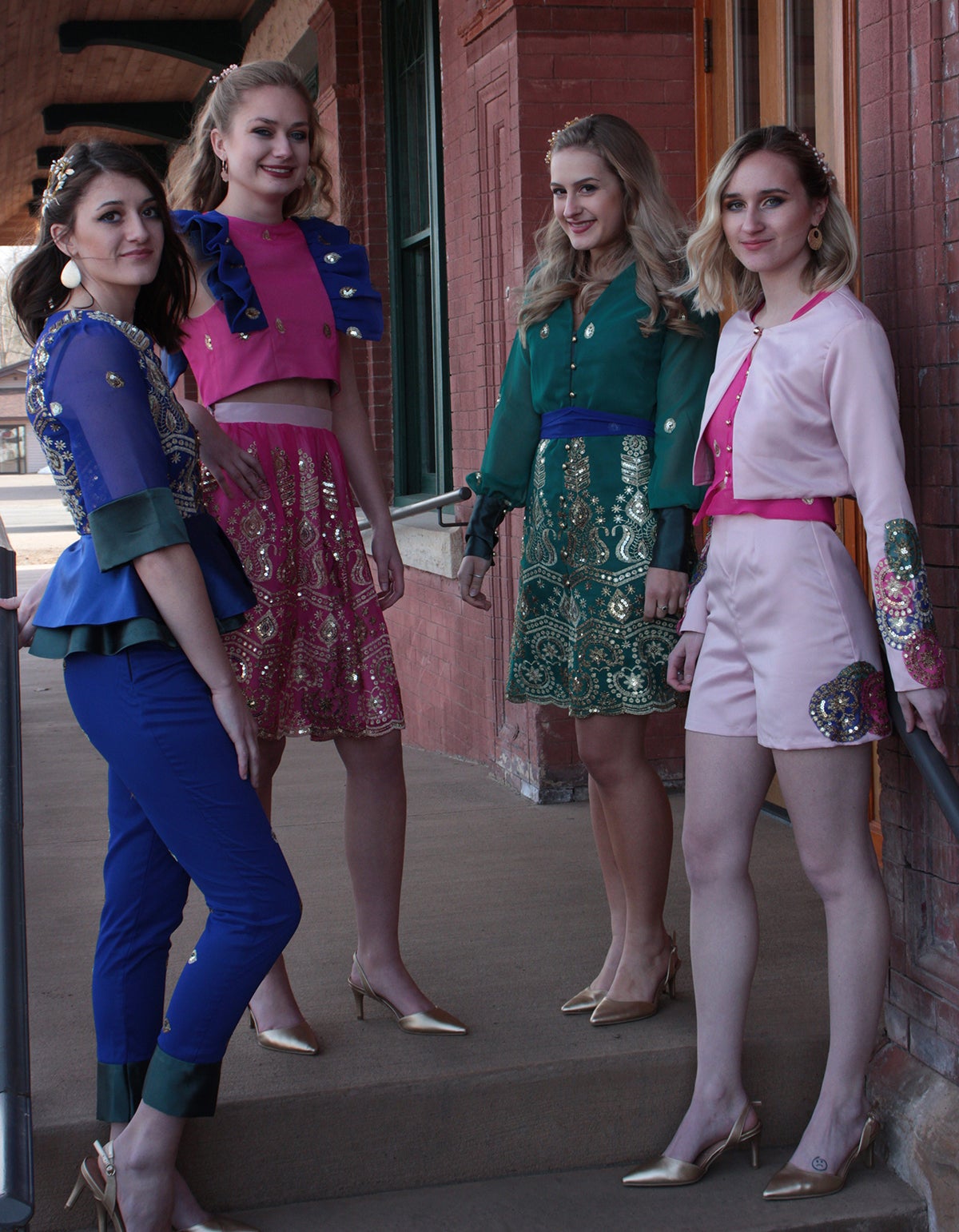 Fatimah's collection is entitled "Zahi," which means glowing and shining. The fabrics in the collection are from their hometown Al-Qatif, a city of about 120,000 people on the Persian Gulf coast, 270 miles east of the capital Riyadh.
Jongeun Rhee, a professor in the apparel design and development program, has seen the sisters make great progress while at UW-Stout. "Both Farah's and Fatimah's design works demonstrate clear stories, creative ideas and solid construction," Rhee said. "Their construction and pattern-making skills significantly improved, and now they are close to being perfect. Overall, their senior collections for the fashion show are incredibly strong."
Rhee said she believes both will do well in the future. "Their designs are aesthetically pleasing and completely marketable/saleable," she said.
The two have enjoyed studying at UW-Stout. "The faculty has been so helpful," Fatimah said. Farah noted the Office of International Education helped them if they had any needs or problems while studying in a different country.
Their major required many presentations, which seemed difficult but helped prepare them for their careers and to be future business owners, the sisters agreed.
They also loved learning about American culture while attending UW-Stout. One main difference is that in their home country men and women don't attend the same schools. "I love it because being here has taught me so much," Farah said.
Having students with different backgrounds is important for the program, Rhee said. "It is always extremely important to have diverse perspectives and different aesthetic tastes and creativities in classrooms," she said.
The sisters have a brother who also is attending UW-Stout. Fawaz is a senior studying mechanical engineering and is expected to graduate in the fall. The sisters have five brothers, including Fawaz, and one other sister. All the siblings' names start with Fa.
###
Photos
Farah Alfayruz' collection entitled "Fayruz" includes models Abrina Leonhard, at left, Natalie Bruns,  Kelsey Yana and Ravyn Swanson.
Fatimah, left, and Farah Alfayruz take part in their STEMM College commencement ceremony May 4.
Fatimah Alfayruz's collection entitled "Zahi" is made from fabrics from her hometown Al-Qatif. The models are Mikayla Larsen, at left, Anna Schmidtke, Grace Pecha and Violet Nelson.