University of Wisconsin-Stout again has been named a Bike Friendly University.
The bronze level designation, one of six in Wisconsin, came from the League of American Bicyclists,. UW-Stout first received the designation in 2016. Nine signs around campus recognize the achievement.
The league recognizes universities, businesses and communities with platinum, gold, silver, or bronze designations. The city of Menomonie was designated a bronze level in 2014 and again in 2018.
Applicants are graded on infrastructure, programs, education and support for bicyclists. Thirty-eight schools earned or renewed the award in 2020, according to a recent  announcement from the League of American Bicyclists. The designation is renewable every four years.
"Being recognized as a Bike Friendly University signals to our students, employees and community that we prioritize biking as a mode of transportation and recreation," said Sarah Rykal, sustainability manager for the UW-Stout Sustainability Office. "It also gives our campus and our Sustainable Transportation Committee, in particular, a vision to aim for in improving biking on our campus."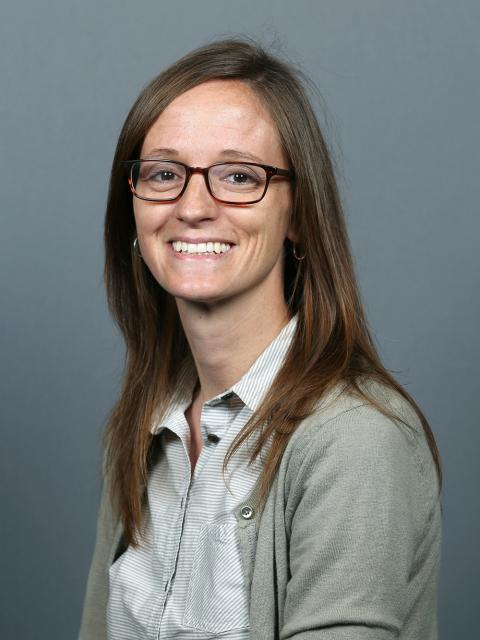 The university's bicycle infrastructure includes bike racks, lanes, repair stations, bike lockers at Heritage Hall and CKTO, covered bike parking at the University Library and Jarvis Hall, the StoutBikes rental program through Stout Adventures and the bike registration program. For more information on locker and bike rentals, go to the Stout Sustainability bike page.
Five-Year transportation plan
"Our Sustainable Transportation Committee is working on a five-year transportation plan for the campus, a charge from the chancellor and the Strategic Planning Group this year," Rykal said. "This plan will look to incorporate the recommendations from the League of American Bicyclists.
"We have increasingly improved our biking infrastructure over the past decade, and being recognized as a Bike Friendly University is a nice validation of the work we've done," Rykal added. "At the same time, we're continuing to forge on and make successive improvements for bicyclists into the future."
Bill Nesper, executive director of the league, noted in a release it was inspiring to see communities, businesses and universities applying for recognition in 2020. "The past year has challenged all of us, and few have felt that more than students and educators at all levels. Amidst the pandemic, we are grateful that these 38 institutions see the benefits of being a Bicycle Friendly University to the well-being and health of their students, staff and faculty,"
Nesper stated. "These colleges and universities are leading by example, building healthy environments where people can safely and easily get around by bike, thereby improving the well-being of their community by enabling access to sustainable transportation options." 
Healthy, zero-carbon transportation
Stout Adventures Coordinator Sam Carney, who oversees the StoutBikes program that started in 2010 and provides rental bikes for students, said biking is important for students and community residents.
"It is a zero-carbon form of transportation," Carney said. "It's good for one's health and it's less costly than vehicles. Our Sustainable Transportation Committee is working to make biking no longer an 'alternative' form of transportation but a form of transportation alongside other forms."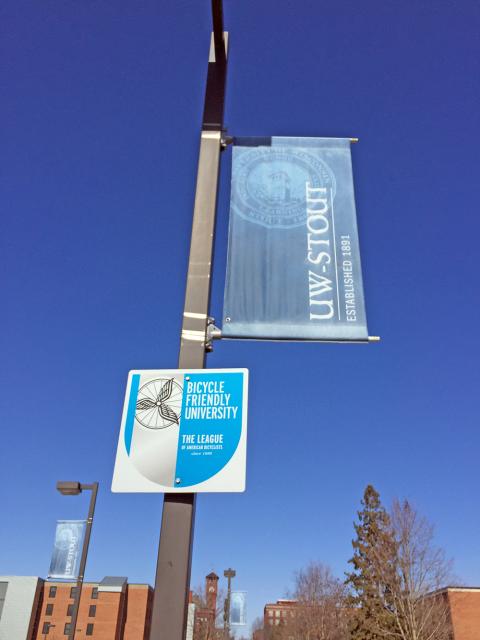 Lilli Musto, a junior majoring in industrial design with sustainability and studio art minors, bikes to classes most days. "I enjoy the dopamine and adrenaline rush from biking," said Musto, of Milwaukee. "I also do some of my best thinking while biking, so if I have to brainstorm ideas for a project I go on a ride."
Musto hopes biking grows on campus and that the designation again will help UW-Stout become even more bicycle friendly.
The League of American Bicyclists was founded in the 1880s by Americans who saw bicycling as critical to the nation's future. Early advocates organized and petitioned Congress to pave the first roads to increase the accessibility and safety of bicycling.
Today, the League promotes a more bicycle friendly America through advocacy, education and raising awareness of bicycling and its benefits.
"The applications from colleges and universities in 2020 demonstrate the myriad challenges educational institutions have and are overcoming to serve the needs of their students and employees," stated Bicycle Friendly America Director Amelia Neptune. "What's clear is that bicycling is part of the solution many colleges and universities are using to better the campus life of their communities. The League is so proud of institutions like UW-Stout for continuing this important work of building a Bicycle Friendly America for everyone at such a critical time for the health of our population and our planet."
Musto, who is the bike mechanic for Stout Adventures, encourage bikers to use a u-lock and to lock the frames and front wheels to help prevent thefts. "I wish more people rode in the street here," Musto said. "The phrase 'safety in numbers' rings true here, as more people ride in the street, it increases visibility and the validity of bicyclists, which can show the need for the city to install bike lanes and cycling infrastructure in those areas. I also wish there were bike lanes on Broadway and Main streets, especially between north and main campus."