College commencement, the day students work toward for years as they dream of their future, will be slightly anticlimactic for Emma Harris.
Before she graduates Saturday, Dec. 15, the senior at University of Wisconsin-Stout knows how she'll put her four-year degree to use. In fact, she knew back in August, before her final semester began.
Harris will begin work Feb. 4 at Kohl's corporate headquarters in Menomonee Falls as a product development trainee. With a degree in retail merchandising and management, she can't want to dive into her career — partly because she's already had a sample of it.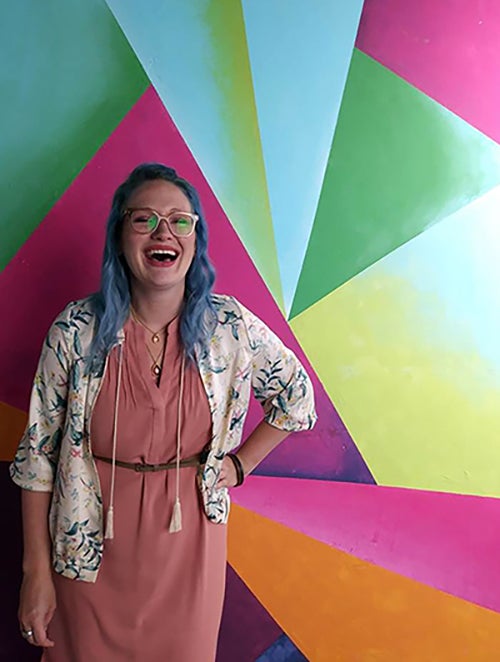 Harris is quite familiar with Kohl's. Last summer, she worked in product management with Kohl's fashion bedding design and merchandising teams. Her team worked with vendors to make sure products arrived on time, did comparison shopping, assortment planning and forecasting. She also analyzed web traffic to improve the company's online experience for customers, she said.
"What I learned in 10 weeks was really incredible," said Harris, of Kaukauna.
A week after the internship ended, she was offered the full-time position upon graduation.
Company culture weighed in Harris' decision to accept the job. She called the work environment "incredibly supportive and encouraging." Kohl's treated the interns like full-time employees with numerous perks, including paid housing in the Milwaukee area, she said.
The offer was a culmination of events. In summer 2017, Harris had a Cooperative Education Program experience through UW-Stout at a Kohl's store in Appleton. She learned of the position at a UW-Stout career fair. "I feel it gave me the opportunity to truly understand how the stores operate and the insight to develop products that will make life a little easier at every level," she said.
She called that "an awesome experience" but ultimately decided that she'd prefer to work at the corporate level and applied for the corporate internship. "I feel really lucky to be able to explore what my passion is," she said.
Taking on new challenges
Harris hasn't taken the traditional route to a bachelor's degree. After high school, she worked as a hairdresser for four years. She returned to school to earn an associate degree in marketing at Fox Valley Technical College in Appleton.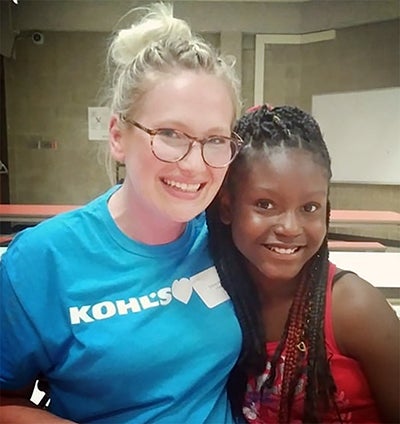 Wanting a four-year degree related to merchandising, she heard about the retail program at UW-Stout, the only such program in the UW System. All of her credits transferred. "It was so seamless and easy," she said.
Along with the Bachelor of Science degree from UW-Stout, Harris has added a minor in business; a concentration in fashion marketing; and a concentration in buying and product management.
She will be graduating with honors.
"It's important to open your mind to the way a retailer and business person thinks," she said, citing Excel, math and management classes that have resulted in new skills and perspectives.
Meriem Chida, an assistant professor of business, has been impressed with Harris as a student and sees a bright future for her.
"I am not surprised that Emma was offered a full-time job. She brings exceptional value to any team, delivers projects on time, is exceptionally creative and always welcomes feedback and input from all stakeholders. Emma took advantage of every opportunity to grow and flourish as a young professional while at UW-Stout," Chida said.
After a Trend Forecasting course, Harris started a forecasting blog. She hopes to start a nonprofit group to empower young female students to stay in school. "Emma's professionalism and dedication to excellence propelled her to always seek new challenges. I wish Emma continued success," Chida said.
Harris' experiences at UW-Stout include going to the National Retail Federation conference in New York with other students. They heard Kohl's CEO Michelle Gass and other CEOs speak. "There are so many aspects to the retail industry, you can't fathom them all," Harris said.
The hiring outlook for graduates in the industry is strong, according to Kathleen Cochran, director of UW-Stout's retail program. An alumna of UW-Stout's retail program, Jill Soltau, recently was named CEO of J.C. Penney.
With her education and work experiences, Harris is ready for the new challenge. "I really believe in continuing to push yourself. I don't want to ever feel like I'm just comfortable," she said.
###
Photos
Emma Harris stops at a colorful backdrop in a photo studio at Kohl's corporate, where she interned last summer and where she'll work full time starting in February.
Emma Harris visits with a student while volunteering with other Kohl's employees last summer at a Milwaukee school.