An iconic U.S. retailer will be led by a University of Wisconsin-Stout graduate.
Jill Soltau is scheduled to take over Monday, Oct. 15, as CEO of J.C. Penney, the national retailer announced Tuesday, Oct. 2, causing the company's stock price to rise 10 percent.
Soltau, a 1989 graduate of UW-Stout's retail merchandising and management undergraduate program, takes over for Marvin Ellison, who resigned last summer after four years to become CEO of the Lowe's home improvement chain.
"J.C. Penney is a quintessential American brand with a strong and loyal customer base, and I couldn't be prouder to lead such an iconic retailer," Soltau said in a company news release. "I am highly passionate about the customer, and I spent my entire career focused on the needs of a value-based consumer by researching, understanding and meeting her expectations for style, quality and inspiration."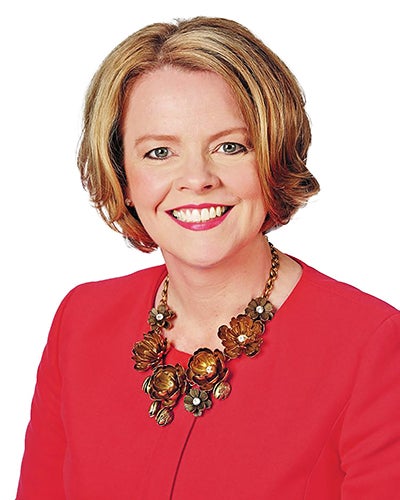 Paul J. Brown, chair of the search committee and director of the company's board, of which Soltau will join, said Soltau "stood out from the start among an incredibly strong slate of candidates. As we looked for the right person to lead this iconic company, we wanted someone with rich apparel and merchandising experience and found Jill to be an ideal fit. Not only is she an established CEO and former chief merchant, her depth of experience in product development, marketing, e-commerce and store operations have been an important basis for the turnaround work she spearheaded at prior companies."
Upon taking the J.C. Penney position, Soltau resigned as CEO of JOANN Stores, a title she held since February of 2015. JOANN has more than 850 fabric and craft stores in 49 states.
She previously was president of Shopko Stores and also has worked for Sears, Carson Pirie Scott, Kohl's and Macy's in her 30-year career in retail. She held executive positions in merchandising, planning and private brand management.
At J.C. Penney, Soltau will face challenges, like other big box department stores. The Plano, Texas, company is nearly $4 billion in debt, and sales have declined for three straight years, according to reports. In 2017, the company closed 140 of its 1,000 stores, with another eight scheduled to close this year.
Walter Loeb, a retail analyst with Forbes magazine, called Soltau "a solid merchant, and I think she can energize the company and bring new ideas to the enterprise."
Before Tuesday's rise to $1.70 a share, the company's stock price had dropped 57 percent this year, according to Yahoo! Finance.
In 2011, Soltau returned to UW-Stout to meet with university officials and address the Stout Retail Association. Along with her retail merchandising and management degree, she earned a minor in business.
Soltau is a Wisconsin native, from Viroqua.
Alumna, CEO of Sleep Number, receives award
Shelly Ibach, a 1991 graduate of UW-Stout, has been named 2019 Executive of the Year by the Minneapolis/St. Paul Business Journal.
Ibach is CEO of Sleep Number, which makes high-tech mattresses and other products. The Minneapolis-based company has 550 stores in all 50 states and had $1.44 billion in sales in 2017.
In the past year, Sleep Number introduced new smart beds and developed a sponsorship with the NFL.
Ibach, who previously worked with Target and Macy's, has been CEO of Sleep Number since 2012.
Like Soltau, Ibach has a retail merchandising and management degree from UW-Stout. The program prepares graduates for careers in buying, marketing and managing retail goods and services for traditional and e-commerce businesses.
###
Photo
Jill Soltau