UW-Stout's Leadership Awards is held annually each spring and celebrates the contributions of more than 100 student leaders and student groups from across all of campus. We're looking forward to celebrating our students' accomplishments in person at 7 p.m. on Wednesday, May 4, in the Memorial Student Center Great Hall and ballrooms.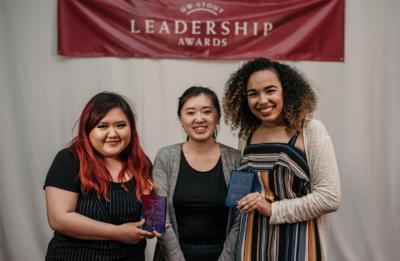 A variety of awards are recognized, including six Leadership Awards; the Cooperative Education and Internship Program Students of the Year; Global Ambassadors; and the Samuel E. Wood Medallion Award.
For many students, this is a night they have been working toward throughout their entire time at UW-Stout.
The Samuel E. Wood Medallion Award, the highest nonacademic award a Blue Devil can receive, is given annually to graduating seniors who have shown a great deal of commitment to leadership within their student activities. It's given to less than one percent of enrolled students, and this year is being awarded to 12 deserving students.
To see the full list of nominees and award recipients being recognized, visit our CONNECT website.
For families interested in tuning in virtually, there will be a livestream of the event, beginning at 7:35 p.m. that evening.