About 40 undergraduate and graduate students and visiting scholars/scientists of the food engineering research group led by Dr. Pranabendu Mitra, Assistant Professor of Food Science and Technology program in the Department of Kinesiology, Health, Food and Nutritional Sciences at the University of Wisconsin-Stout, presented 19 research posters, gave 5 oral presentations and delivered 6 WiSys Quick Pitches at the UW-Stout Research Day held on May 2, 2023.
Dr. Mitra received the 2023 Emerging Outstanding Researcher Award for his contributions (i.e., publications, presentations, grant-funding activities, curriculum and program improvement and research facility and laboratory improvement) to several domains of food engineering, which have focused on integrated applications of engineering principles and practices to develop novel processes for the delivery of better-quality foods.
The award recognizes a highly noteworthy individual for leadership and significant contributions to research and scholarly activities.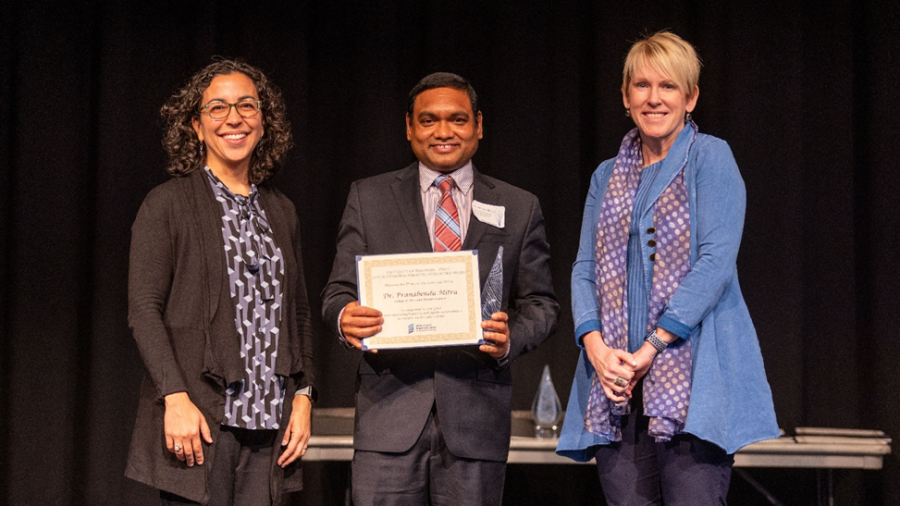 Presently at Dr. Mitra's food engineering laboratory, students are researching extrusion food processing; drying of agricultural crops; extraction and isolation of bioactive functional ingredients; 3D food printing for plant-based meat development; use of food processing novel technologies for the quantifying and controlling of physicochemical properties, rheology and texture of foods for extending shelf-life of the products; and green food packaging solutions.
"The primary goal of research is to advance the knowledge, and the primary goal of teaching is to develop and enhance abilities of students. As a faculty, I think research and teaching should be performed simultaneously for enhancing teaching by utilizing the updated knowledge," said Dr. Mitra.
"I am really thankful for the research grant supports of UW-Stout Faculty Research Initiative (FRI) grant, Evelyn Van Donk Steenbock Endowed Chair grant, Wisys Spark grant, Maybelle Ranney Price Professorship grant, UW-Stout Discovery Center Research Fellow grant, Classroom and Lab Modernization grant and some Wisconsin's food industry supports such as brewer's spent grains donated by the Jacob Leinenkugel Brewing Company and cranberry pomaces donated by the Cranberry Partners /Cranberry Network LLC," said Dr. Mitra.
Sadhana Thokachichu, who graduated on May 6 with a master's in food science and technology, received the 2023 Outstanding Graduate Researcher Award for her research and scholarly/artistic activities. She gave an oral presentation and presented a poster on her master's thesis research at Research Day. She won the WiSys People's Choice Quick Pitch at UW-Stout on May 2. She also received a 2023 Cooperative Education and Internship Program Student of the Year Award.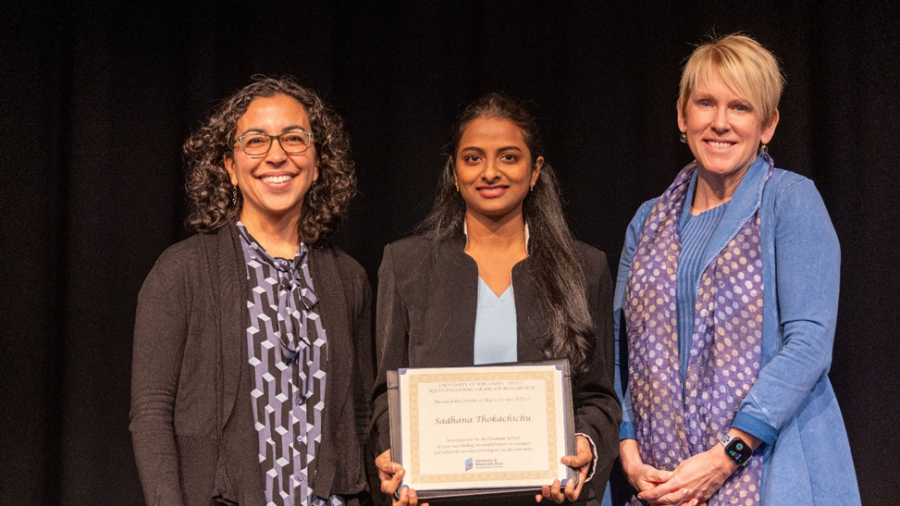 "I am thrilled to win the 2023 Outstanding Graduate Researcher Award. It is a tremendous honor to be recognized for my hard work and dedication to research. I am happy to be a part of Dr. Mitra's food engineering research group to conduct my thesis on Optimization of Brewers' Spent Grain Fortification to Develop Value-added Breakfast Cereals Using a Single Screw Extrusion Process. I worked to solve the drawbacks of health and nutritional aspects with current high carbohydrate-based cereals and the underutilization of the brewery industry wastes in the food sector for my thesis study. I developed research skills, machine handling, time management, and critical thinking by working on this project. My research is beneficial for the sustainability of the brewery industry because barley spent grain has the potential to use as a value-added product in breakfast cereal development as it is rich in protein and fiber," said Thokachichu.
Areeba Ali, a graduate student in food science and technology, won the WiSys Quick Pitch competition. She had three minutes to impress the judges with Development of Eco-friendly Milk Whey Protein Isolate Biodegradable Packaging. Her pitch conveyed the relevance and economic impact of her research. She will participate in state final Quick Pitch competition in August.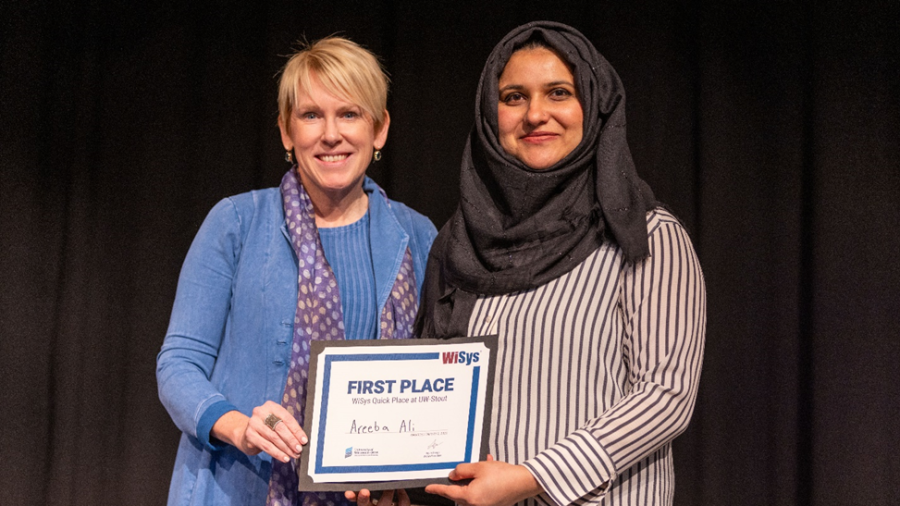 "I am thrilled to have emerged as the winner of the Quick Pitch Competition 2023. This competition held a special significance for me as it not only allowed me to showcase my public speaking skills but also reignited my passion I had left behind seven years ago. It fills me with immense pride and happiness to have secured this victory amidst a pool of highly competitive students from UW-Stout.
"I owe a great deal of gratitude to my supervisor, Dr. Mitra, whose unwavering support and guidance played a crucial role in transforming my initial research idea into a practical and impactful project. Our aim is to develop a sustainable alternative to plastic packaging for food items. By utilizing milk proteins and plasticizers, we are creating a biodegradable film that can be used for packaging purposes. This innovation in developing milk protein biodegradable packaging films has the potential to significantly reduce our reliance on plastic packaging, which poses a significant threat to environmental safety. In this era of increasing environmental concerns, it is imperative for all of us to work together in pursuit of a greater good for our planet. By championing sustainable solutions like our biodegradable packaging, we can contribute to a healthier and more eco-friendly future," said Ali.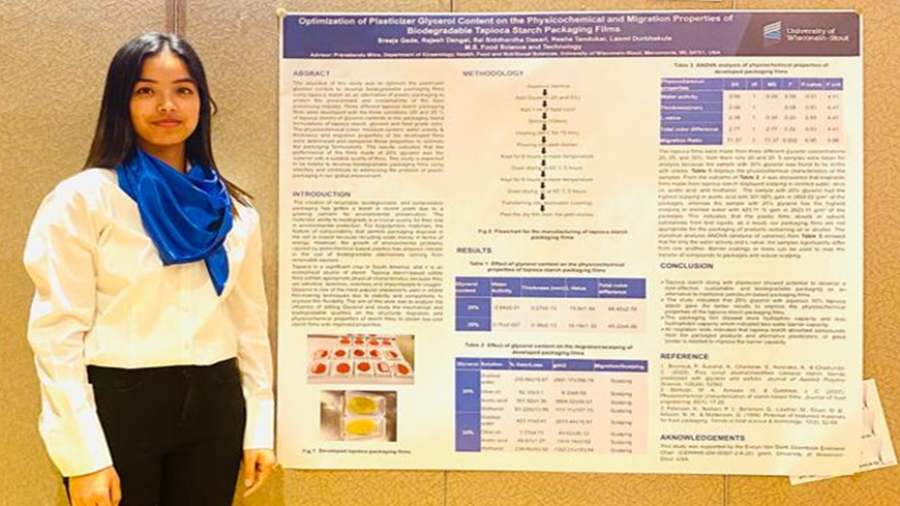 Resha Tandukar, a graduate student in food science and technology, gave an oral presentation on her master's thesis, presented three posters and competed in the Quick Pitch. She received a Travel Grant from theOffice of Research and Sponsored Program to disseminate her thesis work by presenting a poster at the Institute of Food Technologists (IFT) annual meeting conference in July, 2023.
"I am deeply grateful to the Office of Research and Sponsored Program for providing me the Travel Grant award to disseminate my research in the prestigious IFT annual meeting conference. I believe that this opportunity will help me to explore new horizons and gain invaluable experiences that shape my professional journey. I am happy to be part of my research project on Developing Vegan Yogurt by Utilizing Plant-based Non-dairy Milks from Soybean, Almond, Coconut, Quinoa and Pinto Beans under the guidance of my supervisor Dr. Pranabendu Mitra. Considering the number of lactose intolerance people in the United States and the popularity of veganism worldwide, my research has focused to develop a vegan yogurt that has a comparable taste and nutrition to dairy yogurt. This study will help to expand the vegan yogurt market by contributing to the promotion of rising veganism worldwide, which also meets environmental and ethical obligations associated with dairy milk," said Tandukar.
Elizabeth Her, undergraduate student of Food Science and Technology, received the 2023 undergraduate scholarship from the Wisconsin Section Institute of Food Technologists for the term of 2023-2024. She along with another undergraduate student Hongdi Li presented a poster on cranberry pomace fortified gluten free cupcake development at UW-Stout Research Day on May 2 and presented another poster on value-added gluten free cupcakes at National Conference on Undergraduate Research (NCUR) 2023 on April 14. She also contested for Wisys Quick Pitch competition 2023 at UW-Stout Research Day as well as Quick Pitch NCUR 2023 competition.
"I am excited to have been awarded the undergraduate 2023 scholarship from the Wisconsin Section Institute of Food Technologists. Being a first-generation, non-traditional student, I realize how many possibilities I can get with a higher education. I hope to show future generations of first-generation and non-traditional students that they too can achieve anything they set their mind to. As an undergraduate student, I am happy to be a part of the research project on "Optimization of By-product Cranberry Pomace Fortification in Gluten Free Cupcake Formulations based on Physicochemical, Textural and Sensory Properties" funded by Dr. Mitra's Evelyn Van Donk Steenbock Endowed Chair grant. Collaborating on this project has improved my teamwork, time management, and interpersonal skills," said Her.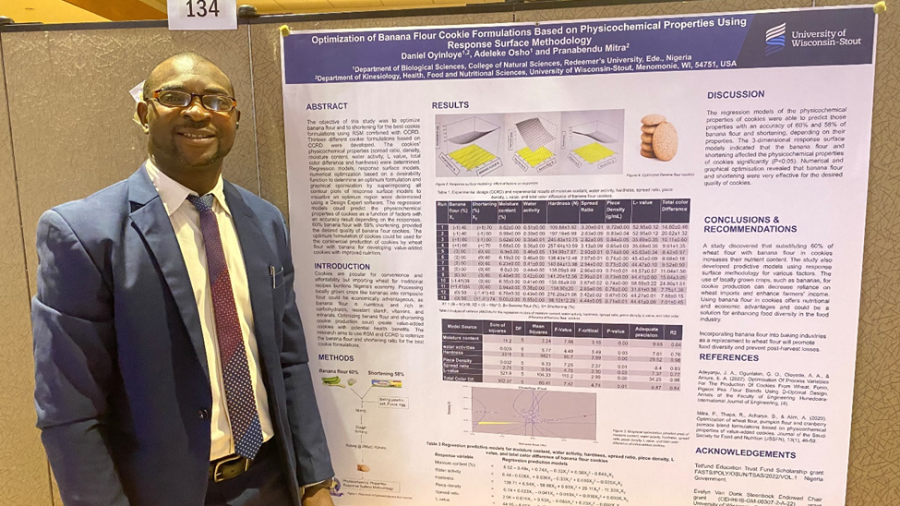 Daniel Olaitan Oyinloye, who is a visiting scholar at UW-Stout and is pursuing doctoral study with a collaboration between UW-Stout and Redeemer's University, Ede., Nigeria under Dr. Adeleke Osho (Nigeria) and Dr. Pranabendu Mitra, received a Nigeria Government TETfund (Tertiary Education Trust Fund) scholarship and a research support from Evelyn Van Donk Steenbock Endowed Chair grant. He gave an oral presentation and presented a poster on his PhD thesis research and contested for Wisys Quick Pitch Competition 2023 at UW-Stout Research Day on May 2.
"I am proud to share that I have recently been honored with the Nigeria Government TETfund scholarship. Receiving this accolade was an immensely gratifying experience, as it served as validation of my hard work and effort.
I am happy to complete a part of my PhD thesis that is "Developing medicinal plant extracts fortified diabetes remedial and anti-bacterial cookies" with a support of Evelyn Van Donk Steenbock Endowed Chair grant at Dr. Mitra's food engineering lab. The findings of my research have a potential to guide policy decisions, drive positive changes in the food industry, and enhance the overall health and well-being of individuals," said Oyinloye.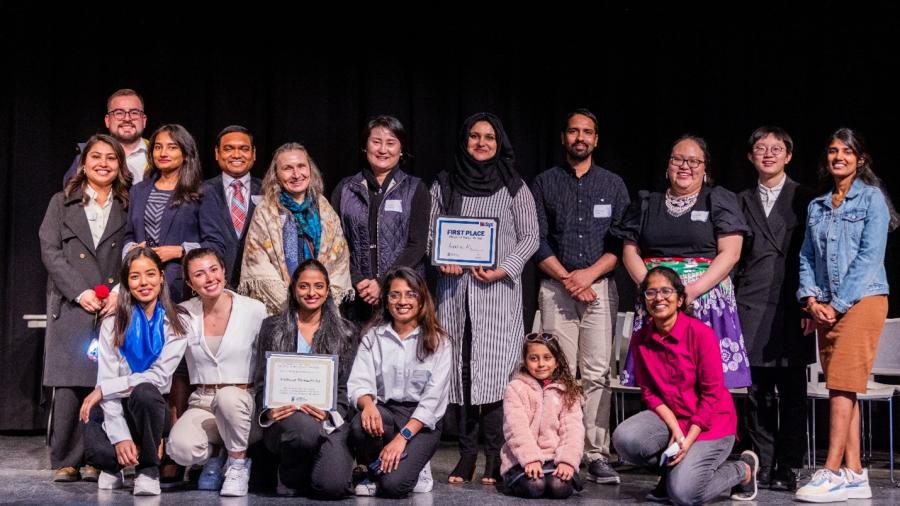 Research Day 2023 | Food Engineering Recap
Quick Pitch Presentations
Areeba Ali, Development of Eco-friendly Milk Whey Protein Isolate Biodegradable Packaging

Daniel Olaitan Oyinloye, Developing Diabetes Remedial Cookies

Elizabeth Her, Food Industry By-product Cranberry Pomace Fortified Gluten Free Value-added Nutritionally Rich Cupcakes

Rajesh Dangal, Food Industry By-products Brewer's Spent grain and Cranberry Pomace fortified Soy Protein Rich Extruded Snacks/Cereals

Resha Tandukar, Value-added Plant-based Vegan Yogurts as an Alternative of Dairy Yogurts

Sadhana Thokachichu, Conversion of brewer's by-products into value added extruded foods
Oral Presentations
Daniel Oyinloye , Adeleke Osho and Pranabendu Mitra, Antimicrobial and Anti-diabetic Properties of Plant Extracts of

Picralima nitida

and

Momordica charantia

in Diabetes-induced Rats

Rajesh Dangal and Pranabendu Mitra, Optimization of single screw extrusion processing variables on the physicochemical properties of brewer's spent grain fortified soy flour and rice flour blend extruded cereal/snacks

Resha Tandukar and Pranabendu Mitra, Developing vegan yogurt utilizing plant-based milks from soybean, almond, coconut, quinoa and pintobeans

Sadhana Thokachichu and Pranabendu Mitra, Development of value-added breakfast cereal-like product utilizing brewery industry by-products using a single screw extrusion process

Sahdeo     Prasad, Pranabendu Mitra and Christopher Pennell, Food and Nutrition in Inflammatory Chronic Diseases
Posters Presentations
Areeba Ali, Pratima Jampani, Prativa Gaire, Amrutha Kilaru, Hema Chandu Immadisetty and Pranabendu Mitra, Effect of Plasticizer Glycerol on the Physicochemical and Migration Properties of Biodegradable Whey Protein Isolate Packaging Films

Daniel Oyinloye, Adeleke Osho and Pranabendu Mitra, Optimization of Banana Flour Cookie Formulations based on Physicochemical Properties using Response Surface Methodology

Hari Kavya Kommineni, Amrutha Kilaru, Pratima Jampani, Manoj Maddipati, Kiran Mane, Parker Ward and Pranabendu Mitra, A Review on Isolation, Modification and Characterization of Taro (

Colocasia esculenta

) Starch

Hema Chandu Immadisetty, Mrudula Laxmi Durbhakula, Prativa Gaire, Sai Siddhardha Dasari, Sreeja Gade and Pranabendu Mitra, A Review on Applications of 3D Printing Technology in Food Processing

Hongdi Li, Elizabeth Her and Pranabendu Mitra, Optimization of By-product Cranberry Pomace Fortification in Gluten Free Cupcake Formulations based on Physicochemical, Textural and Sensory Properties

Kamal Hasan Shaik, Sambasiva Rao Bandla, Blais Hurst, Stephen Aduboffour, Venkata Ramana Ambadi and Pranabendu Mitra, Developing edible cutlery using whole wheat flour, all-purpose flour and rice flour as an alternative of non-biodegradable plastic cutlery

Rajesh Dangal, Kavya Bangaru, Sambasiva Rao Bandla, Venkata Ramana Ambadi, Kiran Mai Adari and Pranabendu Mitra, Processing and Quality Evaluation of Fruits Flavored Soy-Yogurt: A Review

Kiran Mane, Hari Kavya Kommineni, Jeevan Kumar Melmai, Manoj Maddipati, Gayathri Medarametla and Pranabendu Mitra, Development of Cranberry Pomace Fortified Active and Edible Packaging Films with a Blend of Potato Starch, Chitosan and Sorbitol

Lathika Venugopalan, Resha Tandukar, Kamal Hasan, Manikanta Yadlapalli, Prudhvi Sureddi, Tejasri Vanga and Pranabendu Mitra, A Review on Consumer Acceptance of Cultured Meat and Plant based Meat

Parker Ward, Prudhvi Sureddi, Kavya Bangaru, Tejasri Vanga, Lathika Venugopalan, Manikanta Yadlapalli and Pranabendu Mitra, Optimization of Plasticizer Glycerol and Sorbitol for Developing Biodegradable Packaging Films using the Blends of Seaweed Extract, Tapioca Starch and Ginger Extract

Tatiana Nasrallah, Jeevan Kumar Melmai, Gayathri Medarametlla, Narayana Moorthi Pachipala, Chandana Pakala and Pranabendu Mitra, Applications of Artificial Intelligence and Big Data in Food Industry

Vraj Shah, Akshar Patel, Neha Patil, Priyanka Shah, Harsha Vardhan Reddy Pashika, Chaithanya Pidikiti and Pranabendu Mitra, A review on quality characteristics of value- added pasta products.

Priyanka Shah, Neha Patil, Vraj Shah, Akshar Patel, Kiran Mai Adari and Pranabendu Mitra, Developing Edible Ice-cream Packaging Containers using the Combinations of Whole Wheat Flour, Rice Flour and Corn Flour

Rajesh Dangal, Jhansi Badineedi, Prativa Gaire, Areeba Ali, Sai Siddharth Dasari, Sreeja Gade, Stephen Aduboffour, Blais Hurst and Pranabendu Mitra, Effect of Hot Air Oven Drying Temperature on Physicochemical and Textural Properties of Dried Apples

Resha Tandukar, Parker Ward, Sameera Shaik, Pablo Sotomayor, Lathika Venugopalan, Manikantha Yadlapalli, Amrutha Kilaru and Pranabendu Mitra, Effect of Storage Temperature, Packaging Materials, and Chemical Pre-treatments on the Shelf Life of Fresh Cut Apples.

Sadhana Thokachichu and Pranabendu Mitra, Characterization and prediction of sorption isotherm phenomenon of brewers' spent grain fortified extruded cereal-like products using GAB modeling

Sreeja Gade, Rajesh Dangal, Sai Siddhardha Dasari, Resha Tandukar, Laxmi Durbhakula and Pranabendu Mitra, Optimization of Plasticizer Glycerol Content on the Physicochemical and Migration Properties of Biodegradable Tapioca Starch Packaging Films

Manikanta Yadlapalli, Tatiana Nasrallah and Pranabendu Mitra, Enhancing physicochemical, textural and sensory properties of peanut snacks using edible coating and hard cookies as primary packaging

Narayana Moorthi Pachipala, Chaithanya Pidikiti, Chandana Pakala, Harsha Vardhan Reddy Pashika, Tatiana Nasrallah and Pranabendu Mitra, Developing Edible Packaging Films using Xanthan Gum and Glycerol Plasticizer as an Alternative of Plastic Films