In 1954, the U.S. Supreme Court ruled in Brown vs. Board of Education that segregated schools were illegal, a landmark decision that helped fuel the civil rights movement over the next 15 years.
Seventeen years earlier, in 1937, the stage was set for that decision by another important case that has been largely overlooked for its significance, according to a new book by a University of Wisconsin-Stout professor.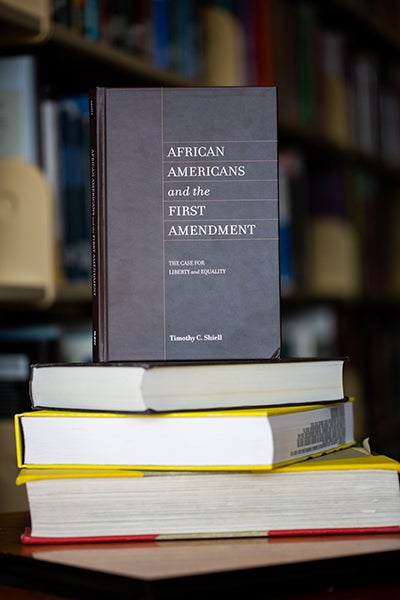 Tim Shiell devotes about one-fourth of his book, "African Americans and the First Amendment," to the case of Angelo Herndon, a black man and a Communist Party organizer who was arrested and charged in 1932 in Atlanta with insurrection after leading rallies and distributing party information.
Herndon was convicted in 1933 after a racially charged trial and sentenced to 18 to 20 years on a prison chain gang, although the prosecution argued for the death penalty.
It took four years, including several more defeats in court, but in 1937 a 5-4 vote by the U.S. Supreme Court, in a race-neutral approach to the case, ultimately ruled in favor of Herndon in Herndon vs. Lowry, saying his First Amendment rights were violated.
"It was the first time the court protected a black man's speech and the first time it struck down a southern speech restriction. It provided a precedent for future First Amendment decisions that continued to unite racial equality and liberty during the civil rights era," Shiell said.
The Herndon decision essentially said it's legal for Americans to protest peacefully, a key to the forthcoming civil rights movement.
Equal rights only in theory
The Herndon case underscores the reason for Shiell's book, the subtitle of which is "The Case for Liberty and Equality," or how he believes First Amendment rights are the foundation for equal treatment of all Americans.
That seldom has been the case in American history. Often, and especially in the case of African Americans, constitutional free speech and other rights have mostly applied to the white majority. Equality has been, essentially, a myth throughout much of American history.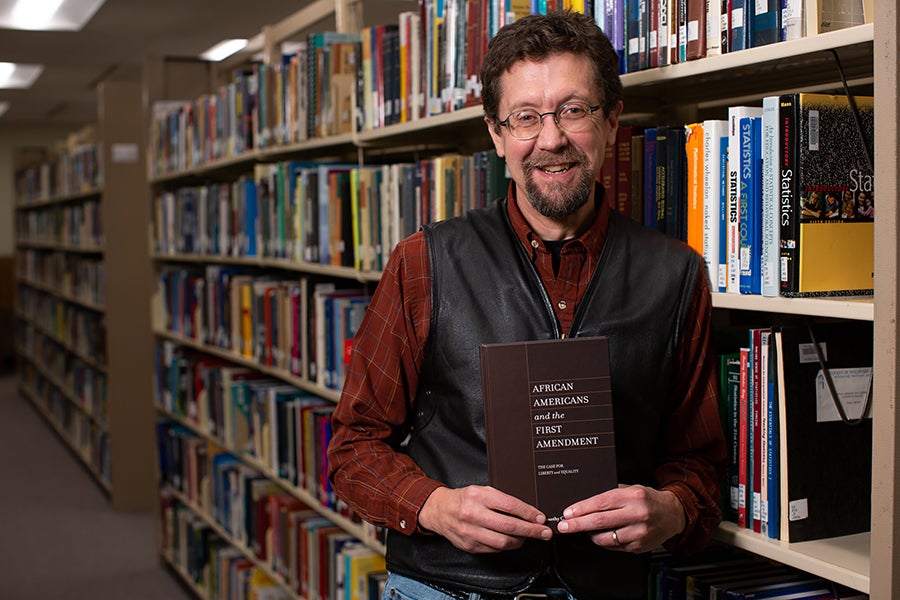 In other words, First Amendment Rights don't guarantee anything.
Shiell argues, however, that since the Herndon case the courts slowly have been aligning First Amendment rights with the laws of the land. As a result, after nearly 250 years America is closer to finally becoming a government for the people — all people.
"The modern era has really been since the 1970s. If there's a criticism (in the book of the courts), it's how long it took for these rights to be respected and enforced," Shiell said, noting that the courts and others believed the Constitution did not apply to state law.
Shiell teaches philosophy and is director of UW-Stout's Center for the Study of Institutions and Innovation, which held Free Speech Week Oct. 21-24.
The book was published in September by SUNY Press, from the State University of New York, part of the SUNY Series in African American Studies.
Liberty and equality go together
Shiell spent four years researching and writing to make the case for liberty and equality, mainly because some people see them as diametrically opposed, as liberty or equality. The problem is that free speech can serve as the foundation for hate speech.
"There are people who get away with verbal murder and hide behind the First Amendment," said Shiell, whose first book in 1998 was about campus hate speech.
Shiell writes in his new book that well-intentioned attempts to limit hate speech — in effect our freedoms — between 1880 and 1930 by African-Americans, Jews, Irish and others backfired in the long run.
The most effective way to bring about change is to alter public opinion organically through those same freedoms — speech, press, organization, he said. He cites the civil rights movement and the LGBTQ movement as examples of the courts being influenced by public opinion.
"You can't count on the government being on your side, so you have to use your power to convince others," he said.
Along with the Herndon case, the book's chapters are American Apartheid, dating to colonial times; the Civil Rights Movement, showing the historical progression of First Amendment rights; and Hate Speech.
Shiell, who researched more than 300 court cases, sees people like Herndon as heroes not just for minorities but for all Americans. "The rights we take for granted today, a lot of people had to fight really hard for — for a lot of years. A lot of the progress in First Amendment rights comes from the struggles of African-Americans and other minorities," he said.
He thanked a colleague, Associate Dean Bob Zeidel, and six UW-Stout students for feedback on his manuscript and said a Faculty Research Grant helped provide writing time in spring 2017 to finish the book.
Shiell noted that only a month after its release the book already is in libraries in the U.S., Canada, the United Kingdom, Australia, Germany, Netherlands, Israel, Nigeria, United Arab Emirates and Switzerland.
###
Photos
"African Americans and the First Amendment" by UW-Stout Professor Tim Shiell was published in September by SUNY Press.
Tim Shiell's book examines the struggles by blacks to realize the freedoms guaranteed to them in the Constitution.