University of Wisconsin-Stout senior packaging major Harrison North said he felt just like "a kid in a candy store" when he first saw the new packaging equipment made possible by a $1 million donation from Prent Corporation in Janesville.
"All of the new equipment just caught my eye," said North, of Rockford, Ill., who is president of the UW-Stout Packaging Association. "Everything looked high tech and brand new. I was excited to see everything. I was excited that the newer students would get to use it right away."
North, who graduates in December, thanked Joe and Tina Pregont for their donation of $500,000 in new lab equipment and an equivalent cash contribution to establish the Prent Packaging Equipment and Technology Fund.
Having the new equipment will ensure graduates from UW-Stout will work on the latest technology and be prepared to work in the industry, North added.
The endowment gift through Stout University Foundation will provide annual funding to maintain, repair and replace equipment and technology at the packaging laboratories in the Applied Arts Building.
On Friday, Sept. 14, Joe Pregont with Chancellor Bob Meyer unveiled a new sign, Prent Packaging Laboratories, as part of the Pathways Forward comprehensive campaign kickoff. Prent is a global leader in custom thermoform packaging for the medical, electronics and consumer industries.
"Stout has a very strong, warm place in my heart," said Joe Pregont, president and chief executive officer of Prent.
He graduated from UW-Stout in industrial technology with a packaging concentration in May 1981. He is also chairman of GOEX Corporation, a Janesville company that manufactures custom-extruded plastic sheet.
The goal of Pathways Forward is $35 million, and $30.6 million has been raised so far. Chancellor Bob Meyer announced an "aspirational goal" of $40 million during Friday's kickoff. The campaign runs through June 30, 2020.
"You've got to have the right tools," Joe Pregont said. "I would like to challenge other Stout graduates to come forward to support the schools they graduated from."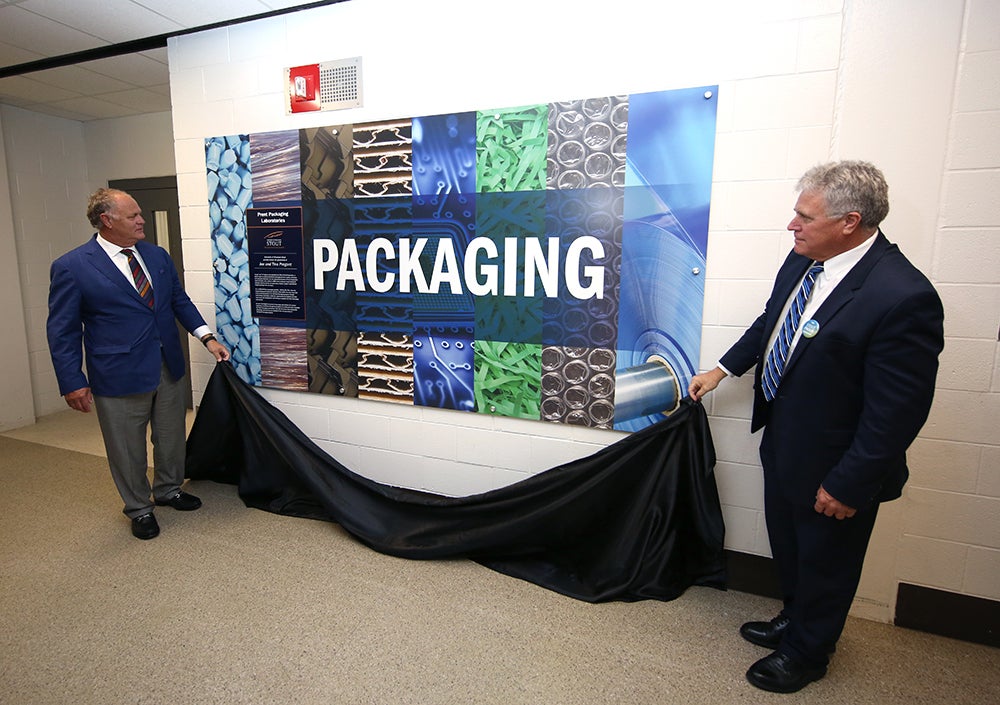 Robert Meisner, packaging program director, said during the unveiling that it was a momentous occasion for the program and students. "It's all the newest state-of-the-art equipment," Meisner said. "It's going to allow our students to do a lot of what is being done in industry."
Installed were new machines that test for tensile strength, coefficient of friction, water vapor permeability, gas permeability and headspace gas analysis. Also, existing equipment was upgraded.
Chuck Bomar, dean of the College of Science, Technology, Engineering, Mathematics and Management, said Pregont realizes the value of training for all graduates.
"You get it," Bomar said to Joe Pregont. "You understand what it takes to run a program and be current with equipment and technology. You very clearly understand philanthropy and the idea of paying it forward. You've become a role model."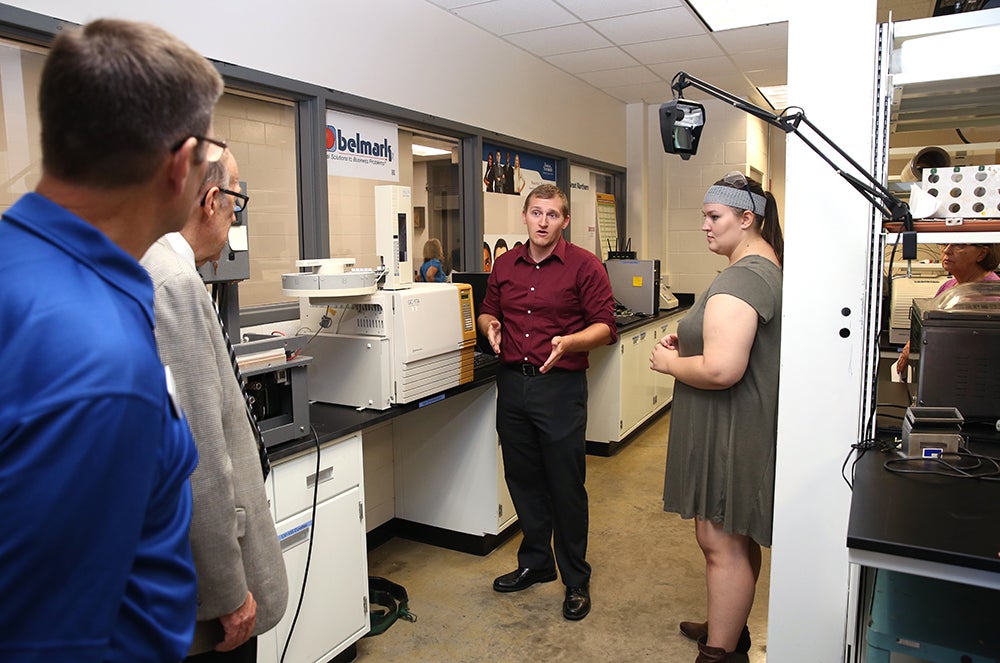 In addition to the $1 million for the packaging labs, Prent hires two interns from the packaging program each semester. Prent co-developed a medical device class at UW-Stout, and Joe Pregont serves as a guest speaker for several classes each semester.
Prent has hired 32 UW-Stout graduates; 17 continue to be employed there. Prent also provides two full scholarships each year, to a junior and a senior. The company provides packaging department materials and sponsors student events, including professional conferences and bus trips.
Chancellor Bob Meyer called Prent an amazing company and thanked the Pregonts for their generosity.
UW-Stout is Wisconsin's Polytechnic University, with a focus on applied learning, collaboration with business and industry, and career outcomes.
###
Photo
Joe Pregont and Chancellor Bob Meyer unveil the new sign for the Prent Packaging Laboratories.
New packaging equipment was shown during the Pathways Forward campaign kickoff events at UW-Stout on Friday, Sept. 14.