As director of the undergraduate program in criminal justice and rehabilitation, Rodney Maiden wants his students to leave University of Wisconsin-Stout not only with their diplomas but with relevant experience in the field.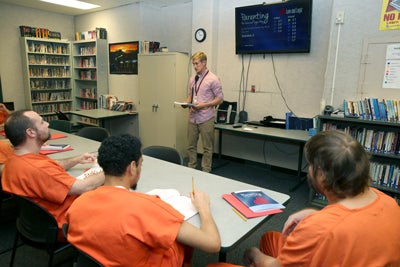 Consistent with the applied learning component of the polytechnic educational blend, the Bachelor of Science program requires students to complete two practicums.
"My goal is to afford students the opportunity to receive real life experiences in local, state and federal jurisdictions. Moreover, these experiences will increase their marketability to a demanding workforce," said Maiden, an assistant professor.
Two of those students are doing exactly that this fall. Wesley Hartkemeyer is working with the Dunn County Sheriff's Department while Robert Wood is interning with the Wisconsin State Patrol — Northwest Region based in Eau Claire.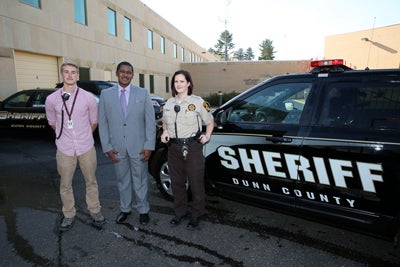 Hartkemeyer, of Eau Claire, is being supervised by Heather Pyka, program director for the Dunn County Jail. His duties so far have included teaching a financial literacy class for inmates, doing research for possible new inmate classes and on recidivism rates for offenders in the county's Treatment Court. He also created a newsletter for inmates that has been well-received, Pyka said.
Wood, of Farmington, Minn., is being supervised by Sgt. Dean Haigh. Wood is working directly with State Patrol officers on interstate and area highway patrol duties, court officer duties, commercial vehicle safety and weight enforcement, communications, radio installation and repair and general office duties, including writing reports.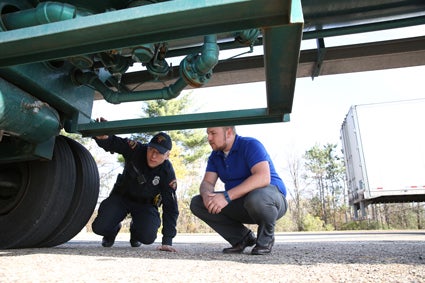 Hartkemeyer and Wood each will earn four academic credits for their practicums, which include university class time. Students must apply for the positions and go through an interview process. While onsite, they are evaluated regularly by their practicum supervisors.
Maiden sees practicums as one of the keys to making UW-Stout's program attractive to students. "My vision is to make this program one of the best in the nation," he added.
The criminal justice and rehabilitation program began in fall 2014 after approval in February 2014 by the UW System Board of Regents. With a focus on rehabilitation as opposed to just criminal justice, the program is unique in the Midwest and in other areas of the U.S.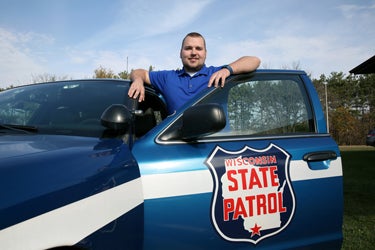 The rehabilitation aspect stresses education and training to promote positive behavioral change along with an understanding of factors that lead to unlawful behavior.
"The goal of the program is to teach students how to understand the offender and create positive change in the offender so they can contribute to society," Maiden said. "The numbers, nationally, are staggering for ex-offenders returning to society. They are expected to return to citizenship and contribute to society in a positive manner; however, they are faced with numerous challenges. This program prepares students to work with offenders pre- and post-incarceration. "
Students who major in criminal justice and rehabilitation are trained for jobs that include probation and parole agent, law enforcement officer, game warden, correctional treatment specialist and positions in juvenile services and court programs.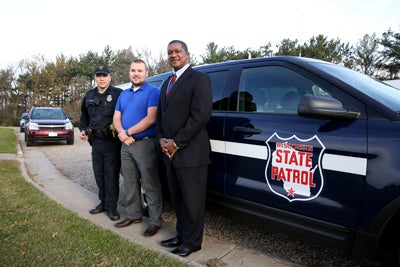 Learn more at the program website.
###
Photos
Top: UW-Stout student Wesley Hartkemeyer teaches a class for inmates at the Dunn County Jail as part of his practicum experience. 
Second: Hartkemeyer, left, is supervised by UW-Stout Assistant Professor Rodney Maiden and Heather Pyka, program director for the county jail.
Third: UW-Stout student Robert Wood, right, inspects a semitrailer with State Patrol inspector Ian Thompson at a weigh station on Interstate 94 near Menomonie. 
Bottom: Robert Wood has patrol duties during his practicum with the State Patrol.