A positive view of aging could add seven healthy years to one's life.
"That's pretty big," said Amanda Barnett, University of Wisconsin-Stout human development and family studies associate professor and gerontology specialization adviser. "Our minds are so powerful. The way we think about aging really matters."
It's so important to find a balance between the negative stereotypes of aging and the myths of the golden years, Barnett said. Storytelling can help find that middle place and help others develop a growth mindset and see that aging is not a time of decline but rather one of opportunity, strength and growth.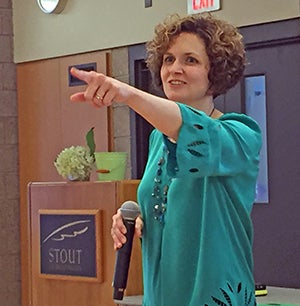 Barnett co-facilitated with Cristy Linse interactive sessions on the benefits of storytelling for developing a healthy mind and building social connection with family, friends and the community. Healthy Minds at 65+: Adopting a Growth Mindset Through Storytelling was held Wednesday, Aug. 14, at UW-Stout's Memorial Student Center.
The workshop was sponsored by the Initiative to Create the UW-Stout Center for the Study and Promotion of Health and Wellbeing.  Linse is the director of UW-Stout Initiative. The free event was sponsored through a grant from the UW-Stout Baldrige Cross-Disciplinary Collaboration Committee for Valuing People.
Storytelling can help with brain development and learning, Linse said. "The brain is like a muscle if you work it, it will grow and create different neural pathways," Linse said. "It helps to see the world in a new and different way.
"Storytelling is sharing an experience," Barnett said. "It doesn't have to be planned and formal."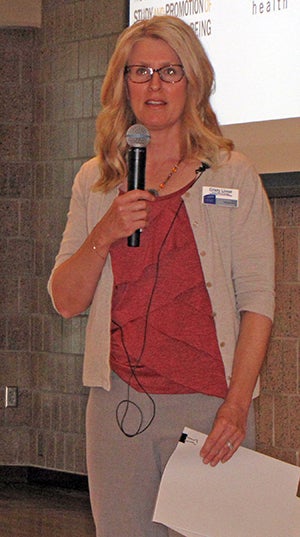 One of the goals is to increase intergenerational learning, Linse said. "We do hope to create an age-friendly community in Menomonie, and to build an age-friendly university by having these types of events. We want to encourage all educational ages at UW-Stout as well as enhance access for older adults to health and wellness programs."
Intergenerational learning can help keep seniors engaged and help younger generations learn about aging and reduce ageism, Barnett said.
Over 30 people attended the Healthy Minds at 65+ event.
Pat Garber, of Eau Claire, said she was impressed such an event was being offered. "I am really glad to hear age-friendliness is a goal at UW-Stout," she said. Garber, a UW-Stout audio-visual communication alumna, works part-time and volunteers at Trinity Lutheran Church in Eau Claire. Part of that is working with visits to older adults in the area. "This gives me ideas on how to encourage storytelling," she said, noting it will help seniors and visitors share.
Vicki Dueringer, of Eau Claire,  who is a nurse and the parish nurse at Trinity Lutheran Church, said she was impressed with the ideas for an intergenerational community and how the youth and seniors can benefit from it. "Storytelling goes both ways, youth sharing what they like and the elderly sharing too," she noted.
The idea for a health center at UW-Stout started about three years ago with Bob Salt, dean of the College of Education, Hospitality, Health and Human Sciences. The center could provide programs, conferences, workshops and other events for those in the health and wellness fields to help continue their learning and further enhance the health and well-being of surrounding communities. Yearly conferences could help the public learn more about health care options, including affordability and availability.
Faculty and students could conduct research and work with the public. An online giving page has been created to help establish the center, which is expected to be self-sustaining through grants and/or private funding.
###
Photos
Amanda Barnett, associate professor in human development and family studies, says storytelling can help develop a growth mindset.
Cristy Linse, director of the Initiative to Create the UW-Stout Center for the Study and Promotion of Health and Wellbeing