New University of Wisconsin-Stout vice chancellor for University Advancement and Alumni Relations Willie Johnson knows the importance each gift the university receives from donors and the impact they have on students.
"Donors want to have an impact on students or a program," Johnson said. "They love hearing students' stories."
Johnson, who most recently worked as vice president of Development and Alumni Relations at Illinois College in Jacksonville, Ill., and started at UW-Stout May 1, said one of the favorite parts of his job is when students receive scholarships and then meet the donors who gave the funds for that gift. "To see the looks on their faces and have that interaction is really gratifying," Johnson said. "Every gift has an impact. I don't know if people fully realize the impact those gifts have on students."
Donations for scholarships help students pay for school, housing and even food. Gifts to programs provide students the educational tools they need to graduate and succeed, Johnson said.
Johnson said he was attracted to UW-Stout because of its unique blend of education and preparing students for careers with internships. He found the dedication of faculty and staff to the institution attractive as well.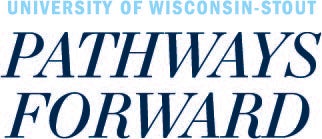 UW-Stout is still in the midst of the Pathways Forward comprehensive campaign. The goal of Pathways Forward is to keep UW-Stout moving forward with private support supplementing state funding. Pathways Forward endeavors to raise $35 million in three areas: Student Experience, Learning Environments and Program Innovation. Because of the success of the campaign so far, Chancellor Bob Meyer has announced an "aspirational goal" of $40 million. The campaign runs through June 30, 2020.
The campaign has been very successful, Johnson said. "The conversations I have had with staff and Chancellor Bob Meyer make me believe we will meet the $35 million goal and the $40 million aspirational goal," he added.
One of his goals will be to continue that successful campaign and work to retain those donors who support UW-Stout. "We want to maintain the momentum and be able to build on the engagement they've had up to this point," Johnson said.
His goal is to work with the provost, who will become the interim chancellor after Meyer retires in August, and the Stout University Foundation Board of Directors to determine future needs to continue to strengthen the university's programs.
At Illinois College, Johnson planned and implemented a $50 million comprehensive campaign. He has vast experience working in university development in the Midwest. He holds a master's degree in business administration from the Fuqua School of Business at Duke University and bachelor's degrees in business administration and social work from Wartburg College in Waverly, Iowa.
"Social work is about advocacy," Johnson said. "What I am advocating for now is the support of higher education. The soft and hard skills I learned in social work are very applicable to what I ended up doing."
Johnson replaces Mark Parsons, who retired April 1.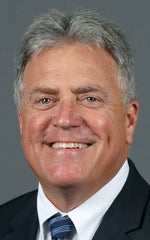 "I was impressed by the breadth of Willie's experience in elevating the performance of the fundraising teams he led," Meyer said in announcing Johnson's appointment. "I believe he will fit in well with the tremendous advancement and fundraising staff we have at UW-Stout and will lead them to even greater success with our benefactors and alumni."
Johnson and his wife, Sandy, have two grown children, Evan and Chelsea.
An avid walker, Johnson strives to cover four to five miles a day. He also enjoys visiting presidential libraries and museums and has been to more than half a dozen already. His favorite so far has been President John F. Kennedy's in Boston. "It is well done," Johnson said, noting he enjoys learning the history at the museums.
The Lyndon Baines Johnson Library and Museum in Austin, Texas, is on Johnson's bucket list. The 36 President grew up in a small town in Texas. "He took a broader view about civil rights and was a politician who did what was good for the country," Johnson said.
Johnson, who grew up in the Des Moines, Iowa, area, wants to have a positive impact on the university community. "What we are here for is the students," he noted. "We have to make sure they have a meaningful experience at this institution."
UW-Stout is Wisconsin's Polytechnic University, with a focus on applied learning, collaboration with business and industry, and career outcomes.
###
Photos
Pathways Forward logo
Chancellor Bob Meyer