The road to becoming a leader in smart manufacturing goes through UW-Stout, with its new, first-of-a-kind bachelor's program in automation leadership.
However, students beginning their higher education path this fall and beyond have two options as they pursue the innovative UW-Stout degree:
They can begin coursework at UW-Stout and then earn their 21 technical certification credits from SACA — the

Smart Automation Certification Alliance

— at an approved technical or community college anywhere in the country.

They can start at a technical or community college, earn SACA credits, then transfer and finish their automation leadership degree at UW-Stout.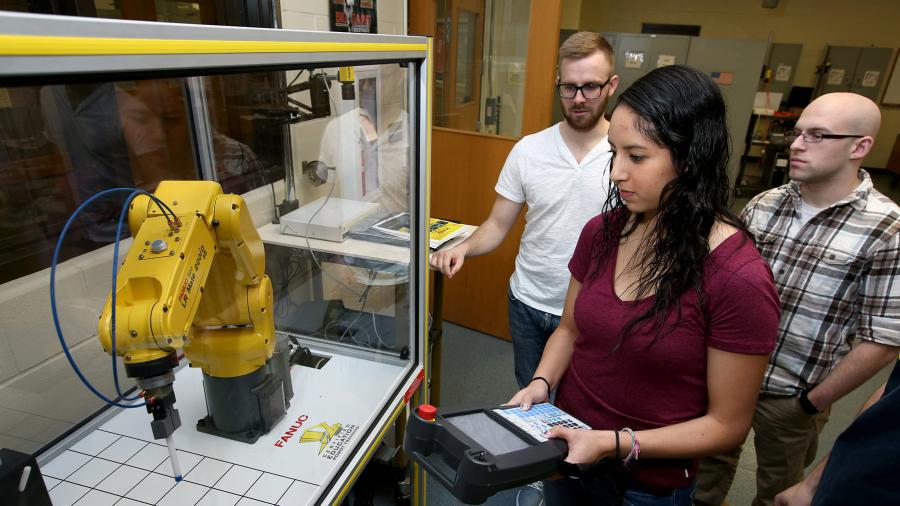 No matter the route, the online program is designed to be flexible. It supports traditional students out of high school, with the option to take courses while in high school. It also supports industry workers who want to finish a bachelor's degree, improve their skillset and boost their career.
UW-Stout is working with the Wisconsin Technical College System and other colleges nationwide because of national interest in the program. The goal is to create a network of SACA partners and provide a seamless credit transfer process.
Automation leadership addresses the new age of manufacturing — robots, artificial intelligence, cloud computing, analytics and more, called Industry 4.0, or smart automation.
Graduates will be able to:
Solve broadly defined engineering problems

Design Industry 4.0 and automation systems, components or processes

Analyze data produced by Industry 4.0 systems and utilize findings for continuous improvement

Apply Industry 4.0 technology to lead digital transformation projects for manufacturers.
The program also will develop students' skills in management, leadership and quality improvement through SACA-aligned core courses such as Project Management, Organizational Leadership, Lean Manufacturing, Digital Transformation, Internet of Things in Manufacturing and Automation Leadership.
Automation leaders in demand
Management positions in automation leadership are projected to grow 8% more than other leadership positions nationally through 2031.
State manufacturers that supported development of the program include Harley-Davidson, Kohler, Mercury Marine, Oshkosh Corp., Ashley Furniture, Generac, Greenheck Group and Plexus, as well as many medium and small manufacturers.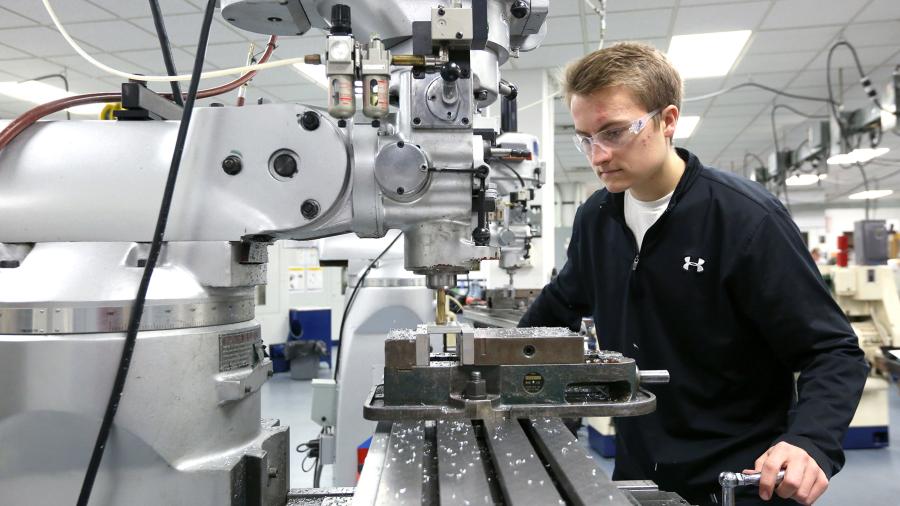 "Industry partners have asserted that their workforces need upskilling in automation leadership and requested this program to fulfill that need," said Glendali Rodriguez, UW-Stout provost and vice chancellor for Academic Affairs.
Matt Kirchner, a national advanced manufacturing expert and SACA board member, said that "people with these skills are in unbelievably high demand. This degree hits the mark with precision and does so in a genuinely innovative fashion.
"Having worked with educators across the country and world we can say with full confidence that this degree is the first of its kind – anywhere. The integration of industry-backed stackable credentials from the Smart Automation Certification Alliance, the alliances with technical colleges and the hands-on nature of the degree are unmatched," Kirchner added.
UW-Stout's program was approved June 9 by the UW System Board of Regents. Enrollment is open for the fall semester.
"We are excited for the opportunity to partner further because we recognize that both our students and our industry partners are looking for this type of degree and appreciate the flexibility that UW-Stout is able to offer," said Darren Ackley, vice president of learning at Northcentral Technical College based in Wausau, which has an Industry 4.0 Smart Manufacturing Lab.
"This will be a great option for alumni and current students, as they will have the opportunity to complete their bachelor's degree without having to move or quit their current job," Ackley said. "By ensuring that WTCS students have the ability to transfer between WTCS schools and guaranteeing the acceptance of SACA certifications at UW-Stout regardless of the degree program, this pathway simplifies the credit and knowledge/skills transfer for students."
Automation leadership is a good fit with UW-Stout's already strong programs and faculty in science, engineering and technology. The program also aligns with the mission of UW-Stout's Discovery Center, the primary outreach and engagement organization for regional businesses. The Northwest Manufacturing Outreach Center is part of the Discovery Center.
###