University of Wisconsin-Stout senior Dylan Lubs remembers the teacher who changed his life.
His fifth-grade teacher in Chippewa Falls, Aaron Merconti, was the first male teacher Lubs had ever had. "He was someone I could relate to as a father-type figure and look up to as a true role model," Lubs said. "Without realizing this at that time, I strived to be like him and attain leadership skills to equal his."
Lubs, who graduates in May with a degree in early childhood education, said male teachers give students a different perspective. "That's what has empowered me to want to be a teacher," Lubs said. "I know I can make a difference in the lives of children."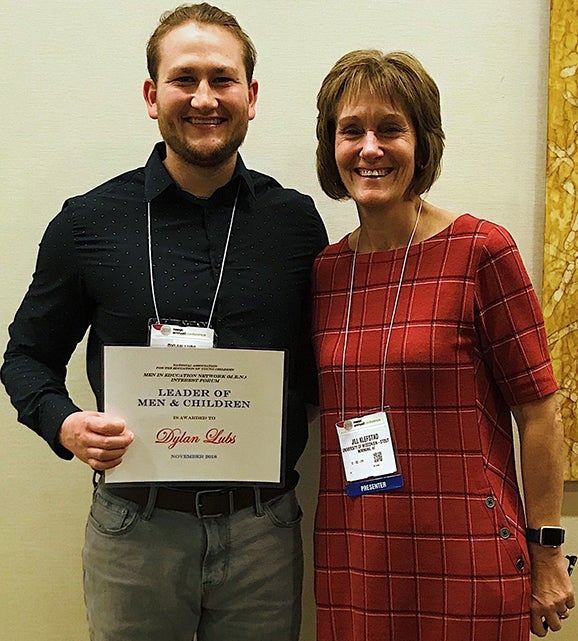 Lubs on Nov. 15 received the Men in Education Network Interest Forum Leader of Men and Children Award in Washington, D.C., at the annual National Association for Education of Young Children conference. He was nominated by Professor Jill Klefstad.
NAEYC is a nonprofit association representing early childhood educators, education teachers, paraeducators and others. The award is given to up-and-coming strong male teachers in the field.
"It has never been given to a student before, but the committee felt that supporting young male teachers in the field of education is crucial for young children," Klefstad said. "I expect that Dylan will do great things for children, parents and the community in which he teaches.
"Dylan is a team player and a natural-born leader with the vision to anticipate the 'what next' and to make the most of any situation he is in. I am excited to watch as Dylan makes his mark as an early childhood education teacher," Klefstad said.
Lubs said he did not know he was receiving the award until he arrived at the ceremony. "I am humbled," he said. "It was a great way to be recognized for all the hard work."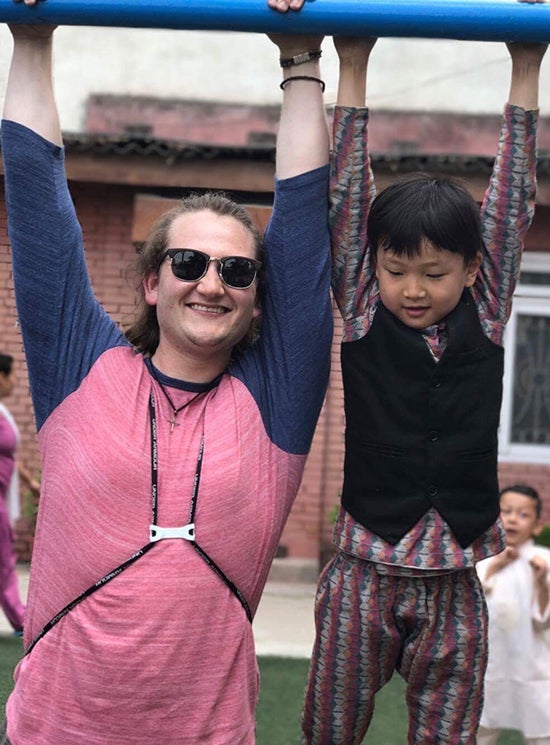 While at UW-Stout, Lubs has embraced every opportunity to learn to be the best childhood educator possible. He observed and taught in various classrooms from birth to third grade. He also participated in a research project with Klefstad that examined dispositions of male early childhood educators by interviewing and visiting them.
Klefstad said on each visit Lubs would identify strategies the teachers used to be successful, and she recalled him saying: "I'm going to use that someday."
As part of a faculty-led study abroad experience, Lubs traveled to Nepal for a month in May 2017 with Sapna Thapa, associate professor of early childhood education.
"I had never thought about study abroad," Lubs said. "She talked about how we would go to her country and teach in elementary schools. It was a little out of my comfort zone, but having a professor who came from Nepal helped. It's a (developing) country. They don't use technology. A lot of lesson planning was looking at a simple object outside and teaching from that. I had to be more creative."
Thapa said Lubs showed how much he loves the profession and cares about culture and diversity. "He was open-minded, adaptable and very, very enthusiastic about all the new experiences that he was undertaking," Thapa said.
"Dylan showed perseverance, resilience and a strong sense of teamwork and collaboration. I think he also developed a deeper love for traveling and teaching in diverse contexts. He is amazing as a teacher, and I think he will be a tremendous asset in the profession wherever he may be placed. I look forward to seeing him change the world, one child at a time."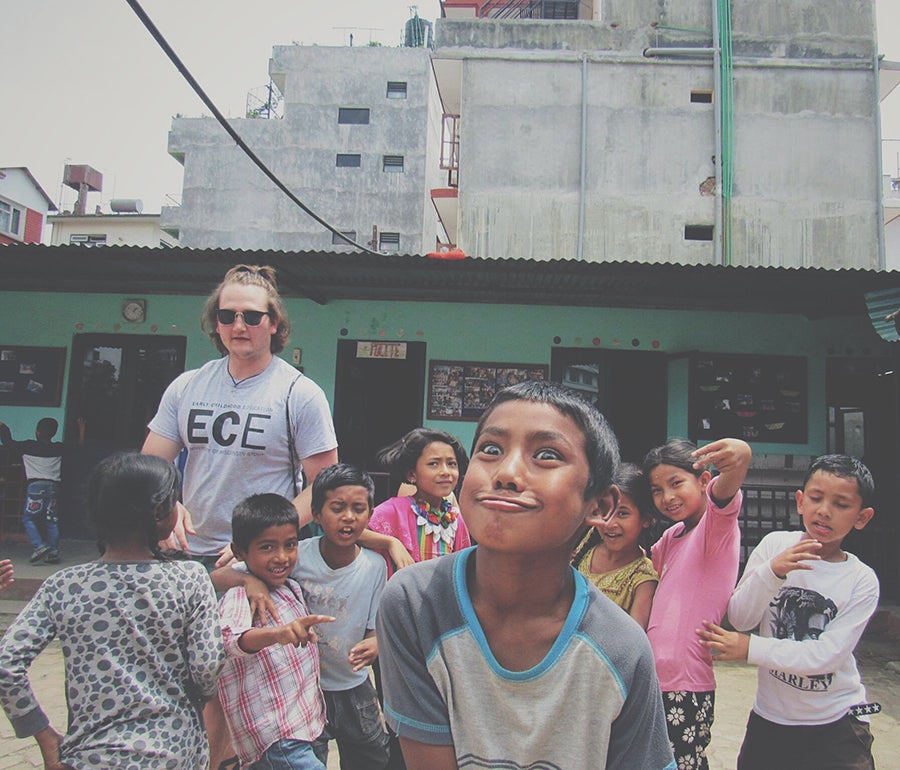 Once he studied abroad, Lubs said he was convinced early childhood education was the right career for him. He wants to teach children in kindergarten to third grade and not only make a difference in their lives as they grow emotionally and socially but also encourage other men to consider elementary education careers.
According to the website, MenTeach.org, in 2017 approximately 712,000 men were employed teaching preschool and kindergarten and nearly 3.3 million in elementary and middle school. Men don't often consider careers in early childhood education.
Lubs, who is president of the UW-Stout Men in Education student organization, said he hopes more men will consider early childhood education as a career. "I try to advocate if you enjoy being around children and if you think you can effectively teach; you should go for it," he said. "It is a very rewarding job. You have a chance to grow as an individual."
He also encourages anyone who has the opportunity to study abroad. "It is a once-in-a-lifetime opportunity," Lubs said. "I got the opportunity to really be a part of another culture. That experience becomes a part of you and it stays with you. It can be real life-changing. You have to take advantage of that."
Lubs, who graduated from Chippewa Falls Senior High School in 2015, strives to model leadership toward peers, looks forward to meeting new people and getting to know them and strives toward equality and kindness toward others. "These traits stand out to me because I believe it is exactly what education needs right now," Lubs said. "My dream is to someday be the teacher that Mr. Merconti was to me."
UW-Stout is Wisconsin's Polytechnic University, with a focus on applied learning, collaboration with business and industry, and career outcomes.
###
Photos
UW-Stout student Dylan Lubs on Nov. 15 received the Men in Education Network Interest Forum Leader of Men and Children Award in Washington, D.C., at the annual National Association for Education of Young Children conference.
Lubs with Professor Jill Klefstad after receiving the national award given to up-and-coming strong male teachers.
Lubs said studying abroad assured him he chose the right career in early childhood education.
Lubs, pictured in a playground area with students, visited Nepal and taught there for a month. He encourages others to study abroad and learn about other cultures.