Wisconsin's lieutenant governor saw firsthand on Monday, Feb. 28, how University of Wisconsin-Stout is doing its part to help ease the state's labor shortage. 
Mandela Barnes visited the university's Spring Career Conference, which got underway Monday. More than 340 employers from across the state and U.S. were recruiting students for co-ops and internships and interviewing soon-to-be graduates for full-time jobs. 
Jobs are available. A recent Wisconsin Manufacturers & Commerce survey found that 88% of Wisconsin employers are having difficulty finding workers. 
UW-Stout students are available as well. About 2,000 of them were expected to attend the weeklong conference at the Memorial Student Center. 
"It's good to be here on a career conference day. Stout is filling workforce needs, and this is how it happens," Barnes said. 
He also visited the university's plastics lab, where he learned that demand for the school's plastics engineering majors is greater than the supply, resulting in 100% employment of graduates. 
Many of UW-Stout's 45 undergraduate programs boast a 100% employment rate within a year of graduation. The university has a longstanding employment rate, even during the pandemic, above 97% for recent graduates. 
Accompanied by Chancellor Katherine Frank and Provost Glendali Rodriguez, Barnes talked with representatives from two hospitality companies, Milwaukee-based Marcus Hotels and Resorts and the Little Nell Hotel Group of Aspen, Colo. They were looking to hire hotel, restaurant and tourism management students. 
The Little Nell hires five to seven interns a year from UW-Stout and has alumni who are full-time employees as well. 
"They're the hardest-working interns we have. They have that Midwest work ethic. That's why we come back," said Pete Hayda, managing director of sales and marketing, who was wearing a "Stout graduate" face mask.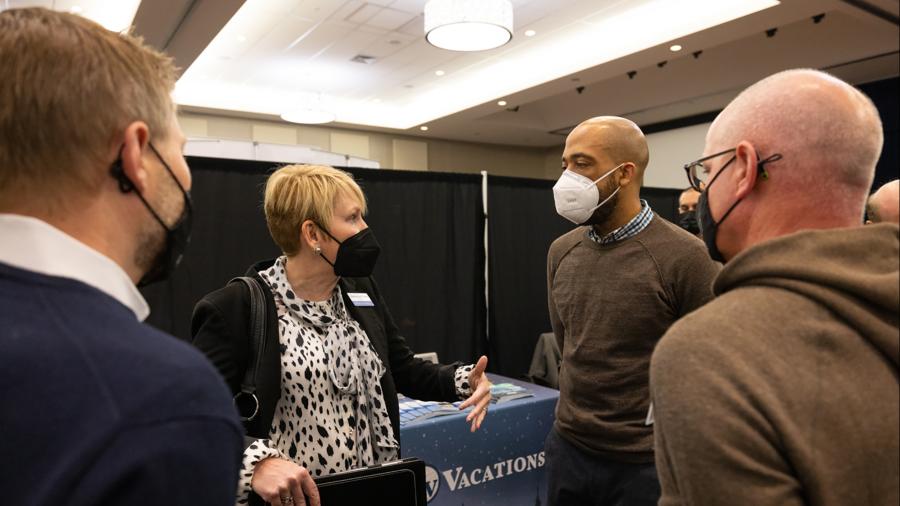 Hayda and Chris Kandziora, senior vice president of sales and marketing at the Little Nell's sister property Ojai Valley Inn in Ojai, Calif., also return to the career conference because they are alumni of the HRTM program, Hayda from 1980 and Kandziora from 1999. 
They talked with Barnes about the importance of state funding for the university's planned renovation of Heritage Hall, where the HRTM program and School of Hospitality Leadership — ranked one of the best in the world — are based. 
The program helps provide skilled, management-track graduates for Wisconsin's $14 billion a year tourism industry. 
Barnes agreed. "It's important that we fund our university system and technical college system. If they're underfunded, we won't be able to fill these workforce needs," Barnes said. 
Barnes spoke with two plastics engineering students who were in the lab, one of them a senior from New Jersey who chose UW-Stout because of the nationally recognized program. The student explained that he has already accepted a full-time job, upon graduation in May, with the company at which he interned. 
It's a common scenario among UW-Stout graduates — a co-op or internship experience found through the career conference leads to beginning a career with the same company, Frank told Barnes. 
Frank said one of UW-Stout's goals is to produce highly skilled or "triple threat" graduates, who have a degree, an applied or experiential learning experience such as an internship, and a professional credential, such as an industry certification. 
The WMC survey also showed that 44% of state businesses can't find qualified workers. All of UW-Stout's undergraduate and 20 Graduate School programs have an experiential learning component. 
Plastics Professor Wei Zheng told Barnes that "we teach a lot of hands-on skills" in the engineering program, and students leave with an average starting salary of $66,000. 
"They come to Stout, get into this program, and they get a job — and a good one," Frank said.
Part of UW-Stout's FOCUS2030 strategic plan is to provide "integrated learning experiences that engage students in envisioning new possibilities, achieving their goals, and excelling in our global and diverse society." 
###