Seth Langreck has received the University Staff Employee Appreciation Award for January at University of Wisconsin-Stout.
Langreck, of Eau Claire, has worked at UW-Stout for two years in the Office of Research and Sponsored Programs, including an administrative role with the Institutional Review Board. He has a bachelor's degree in English education from UW-Eau Claire and a master's in English-writing from the University of Minnesota-Duluth.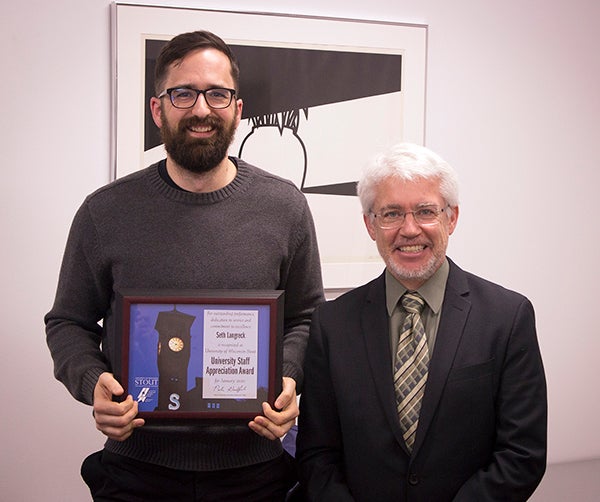 Langreck's nomination said: "Seth goes above and beyond in his many roles, where he assists students, faculty, staff and administrators across campus. Despite sometimes challenging deadlines, Seth has a smile and never waivers from his professional demeanor. His professionalism stands out; he is kind, respectful of others and a fantastic team player. Others who have interacted with Seth continually comment on his personality, his work ethic and the ways in which he makes everyone feel that they are the most important. His customer service skills are top notch. He is very professional and deserves to be recognized. Seth manages many different aspects of the ORSP and ensures that everything he does exceeds expectations. He is a true asset to UW-Stout."
Interim Chancellor Patrick Guilfoile presents each winner with a certificate of recognition, a UW-Stout travel mug and a UW-Stout blanket.
Students, faculty and staff may nominate a university staff member who demonstrates a commitment to excellence and the university community.
The award, in its 14th year, was established by the Chancellor's Office and is co-sponsored by the University Staff Senate.
###
Photo
Seth Langreck, left, received the University Staff Employee Appreciation Award for January at UW-Stout from interim Chancellor Patrick Guilfoile. / UW-Stout photo by Ryan Dolan