Fedi Soltani is majoring in applied mathematics and computer science. He is at UW-Stout with the Thomas Jefferson Scholarship Program's Tunisia Undergraduate Scholarship Program (Tunisia UGRAD), sponsored by the U.S. Department of State. Through this year-long program encouraging exploration of American culture, community service, and professional internships, participants develop a broader and nuanced understanding of U.S. values and become 21st-century global citizens prepared to contribute to the economic growth and development of Tunisia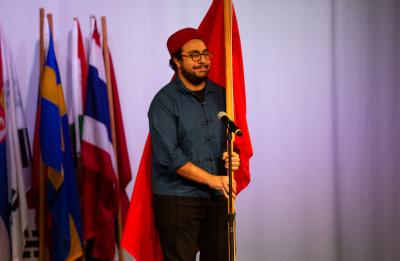 The International Student Tuition Scholarship will help Soltani pay for his schooling. And he sees the value in the scholarship's requirements.
"The requirements of the scholarship help me to gain confidence in my social and communication skills. It helps me to build the best network by meeting people in the community and to meet with community leaders. It's a nice thing to do," Soltani said.
Soltani was a founding member of Rotaract Esprit, a young professionals association back home. He helped coordinate blood drives and organized food drives to supply meals to those in need after Ramadan. Volunteering alongside his brother, Soltani gained the confidence to help his community.
He now volunteers with the Rotary Club of Menomonie. He helped on Rose Delivery Day, delivering roses around Menomonie to raise funds for service projects. He'd like to start a Rotary International in Menomonie to help members create connections between continents.
Soltani's most memorable experience happened two weeks into his time at UW-Stout. He was biking back from a trip to Devil's Punchbowl, a Menomonie landmark. He saw a woman in her tomato garden and remembered his family garden back home.
"I stopped to talk to her. From her I learned about Tuesday's Table at St. Joe's Catholic Church," Soltani said.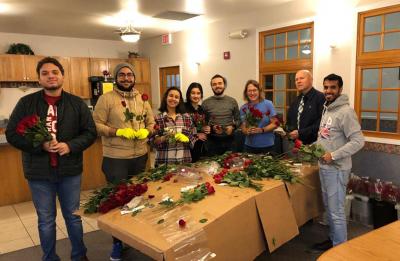 While volunteering at Tuesday's Table, a free community meal, Soltani met Gwen Doyle with St. Joe's Youth Faith Formation. Doyle introduced Soltani to St. Joe's Wednesday nights children's program.
Remembering his niece and nephew back home, Soltani enjoys working with the youth program. He helps the kids study their faith and teaches them what it is to be a good person. He's also learning what it takes to be a good teacher.
"Fedi is wonderful!" Doyle said. "He came early to set up tables, came to our worship service to sit with the kids, helped clean up and helped with computer issues. Everything I asked him to do, he said, 'No problem.' He was such a joy to have here and has a very positive attitude. He's an outstanding young man!"
As a Muslim, working at a Catholic school is a unique experience for Soltani.
"It's good to know we can live together and learn how people co-exist," he said. "It doesn't matter who you are. It's what you do that matters."
Soltani has one year left to finish his degree. He'd like to return to UW-Stout for his master's. In the meantime, he plans to visit Silicon Valley. "As a tech guy, this is a dream," he said.