Cranberry pomace, a by-product of cranberry juice, rich in fiber and antioxidants, can help improve the shelf life and texture of cookies, according to research by a University of Wisconsin-Stout student.
Rushali Mistry, a graduate student studying food and nutritional science from India, won the poster presentation at UW-Stout's Research Day, earning the WiSys Innovation and Commercial Relevance Award, which includes a $100 cash prize.
A virtual Research Day was held April 22, but student and faculty research are available to view by faculty, staff and students on Canvas until Friday, May 7.
In a virtual award presentation, Jennifer Souter, director of patents and licensing at WiSys, said Mistry's research showed a high potential for impact on the economy and presents a great opportunity for a new and innovative commercial product. "The exciting project demonstrates the value of cranberry pomace in a cookie that will increase shelf life and help maintain texture," Souter said.
In the abstract of the research poster, which was part of Research Day, Mistry and UW-Stout assistant professor Pranabendu Mitra of the kinesiology, health, food and nutritional sciences department, noted the research was supported by a WiSys Spark Grant. The grants are intended to support research projects designed to demonstrate the commercial potential of a new concept, technology or invention and to highlight the need for and type of additional development support that would be required to take the technology closer to the marketplace. Cranberry pomace was donated by the Cranberry Network in Wisconsin Rapids, which represents the Cranberry Cooperative of the Americas.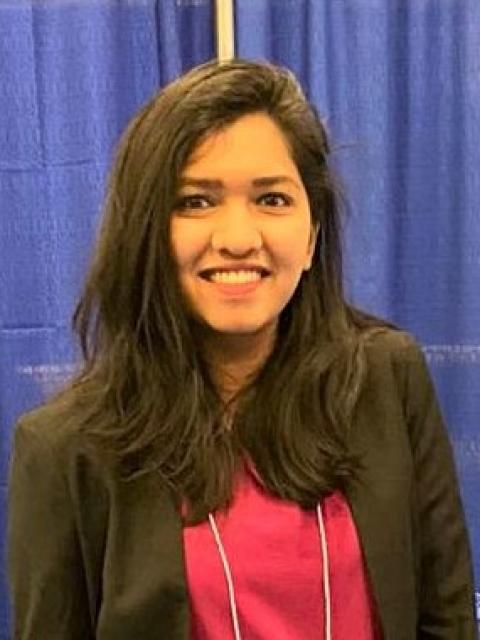 Customers are interested in healthy diets and think food items are not meant to just satisfy hunger but also provide vital nutrients, the research poster stated. Interest in foods rich in fiber and antioxidants has grown in the last decade. They noted further research could be done using a large-scale sensory analysis and to include the consumer acceptance of the value-added cookies.
"I am very excited to win the WiSys Innovation and Commercial Relevance Award," said Mistry, who graduates Saturday, May 8. "The award recognized my research work and will motivate me to conduct further higher levels of research work. I am thankful to WiSys and my supervisor Dr. Mitra, who motivated me and provided great support."
Using a fruit juice byproduct helps reduce the raw material cost of the cookie, the research poster noted. Souter also noted using byproducts can create jobs and support agriculture in Wisconsin.
A paper on the "Optimization of Wheat Flour, Pumpkin Flour and Cranberry Pomace Blend Formulations Based on Physicochemical Properties of Value-Added Cookies" authored by Mitra, former graduate teaching assistants in the food and nutritional science department Razu Thapa and Binu Acharya, and Md. Abdul Alim of the Bangladesh Agricultural University, was selected by the Journal of the Saudi Society for Food and Nutrition as the best paper of 2020.
The research was funded by the Maybelle Ranney Price Professorship, a UW-Stout professional development grant.
More than 60 virtual posters and presentations were made for Research Day, which is sponsored by the Stout University Foundation and the Office of Research and Sponsored Programs.
"Students you should be so proud of your accomplishments, and the celebration of creative activity and research is really stunning," said Chancellor Katherine Frank during an introduction to research Day.
Researchers of the Year
Researchers of the Year were also named as part of Research Day.
They included:
Skoglund's Research Day poster was "Changes in Student Social Interactions Due to COVID-19." She looked at surveys and interviewed students virtually about how they have changed the way they interacted during the pandemic.
Students reported decreased social interactions, and many stressed about the difficulty of online school and feeling isolated. Some comments received included "… everyone is so busy and tired that no personal connections occur," and "My social relationships are failing."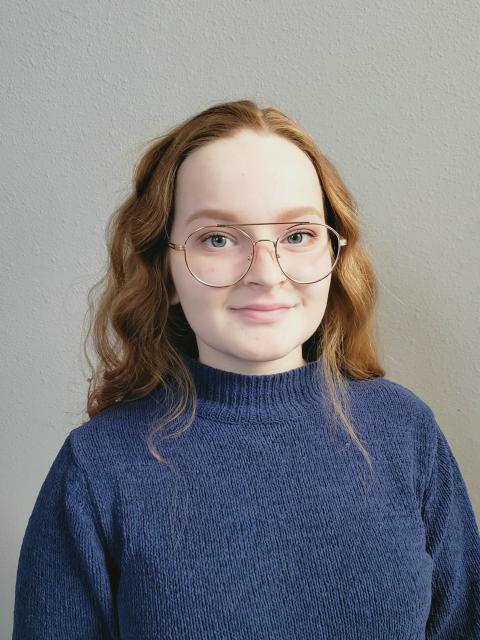 Research indicates universities must create additional virtual resources for students and further research to identify and develop specific solutions to student concerns, Skoglund determined.
"I decided to research the impacts of COVID-19 on students' social interactions because I was witnessing these drastic changes in my own life and those around me," Skoglund said, noting Professor Tina Lee and Assistant Professor Zach Raff, both in the social science department, were a tremendous help.
"Universities have been trying incredibly hard to help with these changes and are doing their best to create resources that address them, but I could see that there wasn't much (if any) research for them to base their decisions on. This is such a unique situation and I felt that it was really important that we started researching its effects now."
Skoglund knew the research results were going to be negative but was surprised by the amount of distress in student responses. "Very few students spoke of any positive changes they were seeing during this time, and many students seemed to feel as though this was the worst they've ever felt," Skoglund said.
"Some of the responses I got felt like students had just been waiting for someone to ask them how they were feeling, so I'm grateful that I could provide some sort of outlet for them, even if it only provided a little bit of relief."
Skoglund believes future research needs to look at which COVID-19 resources students used and which were effective. "We can look at whether resources are increasing student socialization if students' mental health is improving while using these resources, or which additional resources students would like to see implemented," Skoglund said.
"Second, we need to investigate if any groups of students are being disproportionately impacted by COVID-19 because, if there are groups that are seeing more negative effects, then we may need to address those issues differently. And, lastly, we can't forget that transitioning back to 'normal' will also bring about its own issues, so I think we should start preparing to look into what problems may arise during that time. But, overall, there are so many avenues of research that someone could take having to do with the COVID-19 pandemic, and I'm sure we're going to see a lot of research coming out in the future."