Artist Steve Alexis believes jewelry tells the wearer's story.
Alexis, of North Miami, Fla., graduated Dec. 19 from University of Wisconsin-Stout with a degree in studio art and a concentration in metals and contemporary art jewelry. He also makes paintings, sculptures and ceramic vessels using metal, plastic and found and reclaimed objects.
Alexis' jewelry made from metals and thermoplastics was shown at the virtual New York City Jewelry Week in November and is in CraftBoston Holiday 2020 that continues virtually through December His jewelry is available at Gallery 360 in Minneapolis  and on his website stevealexis.co.
He decided to attend UW-Stout as a mechanical engineering major. "Somewhere around my second year, I realized I didn't have a passion for engineering and the sciences," Alexis said. "I took my first art metals class and I found myself spending more time in the studio."
At UW-Stout, Alexis said he has been lucky to have knowledgeable professors, who challenge him to continuously improve his artwork. "I am not sure how long it would have taken me to become an artist, or if I would have ever discovered art had I not happened to attend UW-Stout," he said.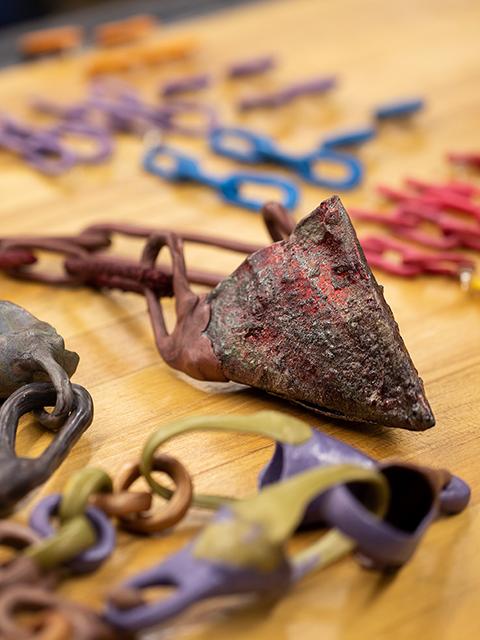 Jewelry is special because it is art that people choose to wear, creating interaction between the human body and the work. "You have a different relationship with jewelry," Alexis said. "There is a fair amount of commitment required to wear jewelry. To be able to wear certain forms of jewelry you need to pierce a hole in your body and keep the wound from closing.
"The display of jewelry is also the commitment in knowing you're revealing more about yourself than you are adorning," Alexis added. "People use physical appearance to glean insight and make assumptions about those around them. What you wear and how you appear become who you are. There is a union between body and jewelry."
When he first took a sculpture class, Alexis created large pieces from thermoplastic that looked like antlers across the wearer's head, face and chest.
He enjoys working with thermoplastic, in particular, because he can physically hold the material in his hands and shape it to create the art pierce. "It feels more intimate," Alexis said. "I can leave fingerprints where my hand has lain. The artist is part of the artwork."
Masako Onodera, associate professor in the department of art and art history, said Alexis' jewelry is large, colorful and unique.
'Listens and dances' with materials
"He doesn't control materials, rather listens and dances with them," said Onodera. "His work appears opposite of his quiet personality as if they are uncovering his secret nature to the viewers for him.
"Body adornments he makes are intuitive, tempestuous and dynamic," Onodera added. "They are not everyday jewelry pieces. They are artwork on the body."
Alexis was featured in Commence Jewelry, an online hub for graduating students, educators, curators, historians and collectors, supporting rising jewelers and metalsmiths from within the maker community.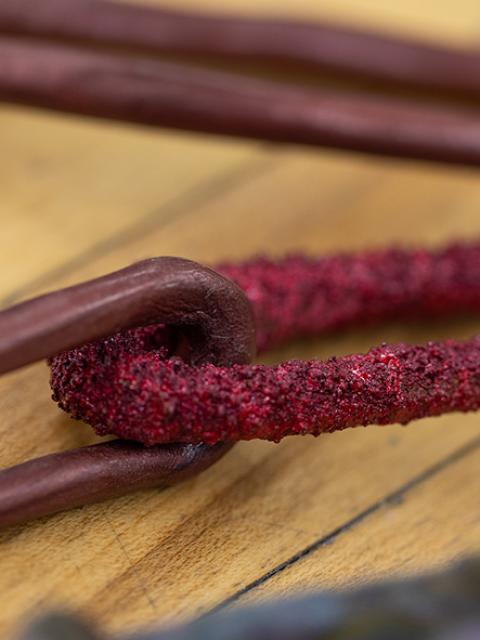 Tom Hollenback, UW-Stout sculpture professor, said he always looks forward to what is next in Alexis' work.
"Steve has a strong interest in materials and in their expressive and associative potential that is evident throughout his work," Hollenback said. "I have enjoyed seeing how comfortably he moves among the disciplines of sculpture, jewelry and painting, carrying elements of one into another to create a diversified but interconnected body of work."
Daniel Atyim, associate professor in drawing and foundation design, said Alexis stands out as a studio art graduate  with his focus and interest in a wide range of media.
"He creates his work and explores various materials with an urgency that is unlike his peers," Atyim said. "Not easily satisfied, he spends hours focused on developing his most recent projects. Through a diverse array of media from metal to plastics, his jewelry work foregrounds his interest in the primordial. Steve can appear reticent at times, but his work never is. Frequently challenging ideas of beauty, he uses the human body as a display for his work, which can appear confrontational. Regardless of the final form, Steve's work is new yet familiar."
Micheels Student Artist-in-Residence
In 2019, Alexis was named a Bud and Betty Micheels Student Artist-in-Residence at UW-Stout. The program provides students of all majors an opportunity to explore the relationships of art and technology. Recipients receive a $2,000 stipend for the academic year and up to $1,000 for materials-related expenses and space to work in. Award winners are honored by two year-end exhibitions of their work, in Furlong Gallery in Micheels Hall and in the University Library. One piece from each recipient is donated for the permanent collection housed at the library.
"Any exhibit I have been a part of has made the dream of being an artist more real," Alexis said. "It makes me realize it is not too crazy of a dream. It is possible with a lot of hard work. The Bud and Betty Micheels Student Artist-in-Residence was a pivotal moment in my undergraduate degree. I was creating art and I could continue my research and project work."
Onodera said the contemporary art jewelry area encourages students to apply for juried exhibitions their senior years to experience the competitive field outside of the classroom. Alexis showed his commitment to being an artist and took those experiences seriously.
"He was in the studio working all the time and made many impressive artworks beyond class assignments," Onodera said. "I think he applied to many juried exhibitions to expose his work outside of the classroom. I believe his early success is an outcome of those two combinations."
In his artist's statement, Alexis said the exploration of materials is a conduit to his work process. "I create objects to convey emotion, emphasize the process of making and to portray a sense of the instinctual nature of my work. These objects serve as the actualization and physical embodiments of sentiment, by which the maker and viewer may become aware and respond to them."
After graduation, Alexis plans to continue to create artwork and eventually plans to attend graduate school.
"If I truly want to become an artist, I have to be in the position to learn more about my disciplines and do more research," he said.
In addition to metals and contemporary art jewelry, UW-Stout offers studio art concentrations in ceramics, comics, contemporary sculptural practices, drawing, painting, photography and printmaking. The university also has Gallery 209, a student art gallery that offers student artists the opportunity to present their works professionally.