Two University of Wisconsin-Stout students have an idea that could make spotting foods people are allergic to as easy as picking up a fork.
Eli Lemery and Ellie Stringham, both sophomores in retail merchandising and management, came up with the idea for the AllergiFork. Using artificial intelligence, the fork would light up in different ways when it came into contact with dairy, gluten or nuts.
"Forty percent of children with food allergies have a serious allergic reaction," said Lemery, of Madison.
According to Food Allergy Research and Education, one in 13 children have food allergies and 30 percent of children are allergic to more than one food. Food allergies in children increased by 50 percent between 1997 and 2011.
Stringham has gluten allergies. "I wanted to come up with something I could do to make it more comfortable for people to know there is something in the food they are allergic to," she said.
They are planning an app on a cell phone that would track where the fork came into contact with an allergen.
AllergiFork is part of the Made at UW-Stout mark designated to identify creative ideas, designs, processes, innovations and products owned and created by UW-Stout students, staff, faculty and alumni and when the proof of concept phase has been achieved at the university.
AllergiFork also could also be used by others who just want to limit dairy and gluten in their diets. "It could be for people who want to eat healthier," said Stringham, of Appleton.
Lemery and Stringham plan to work with WiSys and possibly take their idea to market. WiSys supports the creation and transfer of innovations from the UW System to the marketplace.
AllergiFork was part of the recent College of Science, Technology, Engineering, Mathematics and Management biannual STEMM Expo on campus.
Another Made At Stout branded idea at the STEMM Expo was MORE, an idea by Emma Harris, retail merchandising and management, to help provide feminine hygiene items for girls in need.
One in five girls each month misses school because of lack of access to feminine hygiene items, said Harris, of Kaukauna, who will begin working Monday, Feb. 4, at Kohl's corporate headquarters in Menomonee Falls as a product development trainee. She graduated Dec. 15.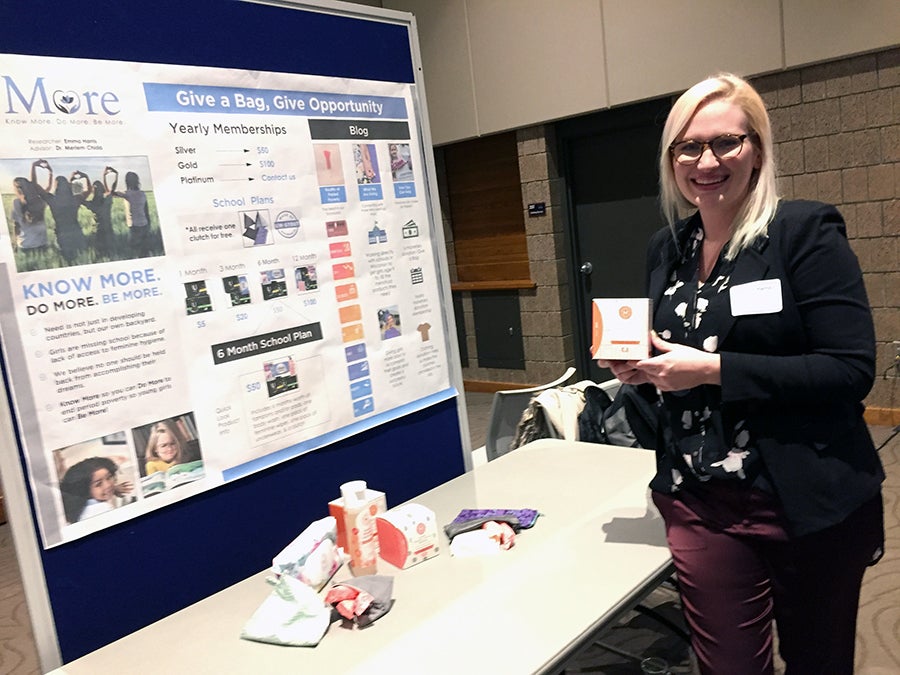 MORE would facilitate donations to buy feminine hygiene products for girls. For example, a one-month supply for one girl could be purchased for $5. The supplies would come in a pack that was branded by Made at Stout, Harris said.
"We need to help girls here," Harris said, noting one in eight women live in poverty in the world and 35 U.S. states charge taxes on tampons. "We need to keep girls in school. Ideally, I would like to turn it into a nonprofit organization. I need to get good people behind me to execute this."
Harris plans to start the nonprofit organization later this year. "We want to know more, so we can do more to help each other more," Harris said.
UW-Stout is Wisconsin's Polytechnic University, with a focus on applied learning, collaboration with business and industry, and career outcomes.
###
Photos
Made at Stout logo
UW-Stout recent graduate Emma Harris wants to start an organization that would facilitate donations to help provide feminine hygiene products for girls in need.