Two faculty members at UW-Stout have been named to the Board of Examiners for the Wisconsin Forward Award, which is the Malcolm S. Baldrige National Quality Award program for Wisconsin.
As examiners, Andrei Ghenciu and Kevin Wilkinson will review applications from organizations that apply.
Ghenciu is an associate professor in the mathematics, statistics and computer science department. Wilkinson is an assistant professor in the operations and management department.
Previously, Professor Maria Alm, dean of the College of Education, Hospitality, Health and Human Sciences, was a Wisconsin Forward Award examiner.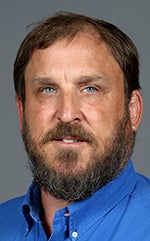 UW-Stout Assistant Chancellor Meridith Wentz is an examiner for the national Baldrige award. UW-Stout received the Baldrige national award in 2001, the first and only four-year institution to be honored.
According to the Wisconsin Center for Performance Excellence website, the Wisconsin Forward Award is Wisconsin's premier recognition for workplace excellence. It was created in 1997 by Gov. Tommy Thompson and the Council for Workforce Investment to advance Wisconsin organizations in the international marketplace and to enhance learning, continuous improvement and enterprise performance.
The award honors state organizations that have "sharpened their competitive edge" and are impacting economic development locally or beyond.
"By understanding and applying the WFA/Baldrige criteria, Wisconsin organizations can increase their ability to complete in the global marketplace, meet the growing demands of customers and remain competitive. Organizations like these will produce good jobs, a skilled workforce and a strong economic future for Wisconsin," the website says.
The 2017 winners were Columbus Community Hospital, Concordia University Department of Education, Curative Care Network, Goodwill Retail Services, MetaStar, Royal Credit Union, School District of Janesville and West Bend School District.
###
Photos
Andrei Ghenciu
Kevin Wilkinson